Looking for a GoPro Cyber Monday deal? You're in the right place. Hundreds of Cyber Monday camera deals have been appearing since Thanksgiving ended and the sale season begun... and we are continuing to scour the web bring you the best GoPro action cam offers.
UPDATE: Cyber Monday is here and so are some incredible GoPro deals. We will be updating this page throughout the day so if you don't find the right deal for you, keep checking back for the best GoPro Cyber Monday deals.
Our best advice is to set yourself a rough budget, and if you see the right product for the right price in a deal below, then go for it. Yes, the price might drop again a little more on the day – but you also might not see that deal again, and missing out entirely is worse.
On this page, you'll find the very best GoPro Cyber Monday camera deals. Scroll down to see the biggest discounts we've seen so far...
Latest Go Pro Cyber Monday deals
US: GoPro Cyber Monday deals
UK: GoPro Cyber Monday deals
GoPro Cyber Monday accessory deals
There's a few good reductions to be had on GoPro accessories. Pick these up for a great stocking filler for Christmas, or just as a little treat for yourself.
GoPro Black 3-Way Arm: £46.61 (was £69.99)
GoPro Shorty Mini Extension Pole with Tripod: £29.99 (was £39.99)
GoPro Rechargable Battery: £17.99 (was £24.99)
GoPro Chesty chest harness: £25.49 (was £39.99)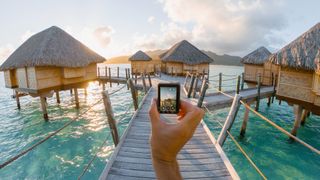 Black Friday and Cyber Monday GoPro deals: when will the best ones go live?
Predicting exactly when the best GoPro Black Friday camera deals are likely to be unleashed is tricky. Last year, deals started to appear a few days before the big date, with larger retailers such as Amazon starting to drip feed in the deals from as early as 17 November – a full 10 days before Black Friday. This is a pattern we've seen repeated this year...
In terms of Cyber Monday GoPro deals, we expect to see them start to appear from midnight on the day itself. With Amazon, it's often the case that Lightning Deals appear throughout the Cyber Monday 24-hour period.
Handy retailer links
One of the other big questions when it comes to Black Friday is where you'll find all the best Black Friday and Cyber Monday deals this year.
Apart from our own page here, the best value deals tend to be scouted via Amazon, eBay, B&H Photo and BestBuy. In the UK we have seen some great offers from Wex Photo, and from Park Cameras, too.
GoPro Black Friday price tracker
Read more:
The best Black Friday deals for 2018
The best GoPro cameras for 2018
The best GoPro accessories in 2018