Looking for a GoPro Black Friday deal? You're in the right place. Hundreds of Black Friday camera deals have started to drop already – and although we're still a few days away from the official start of Black Friday (23 November) and Cyber Monday (26 November), there are already some juicy GoPro Black Friday deals to be found.
The question is: should you buy now – or will we see better offers on the day? Certainly in previous years we've seen the best Black Friday and Cyber Monday GoPro deals on the actual day. But things are changing: with retailers looking to move away from quick spikes of sales (which deplete stock levels and crash servers) and instead towards a more prolonged sales period, we're seeing more deals starting a lot earlier.
Our best advice is to set yourself a rough budget, and if you see the right product for the right price in a deal below, then go for it. Yes, the price might drop again a little more on the day – but you also might not see that deal again, and missing out entirely is worse.
On this page, we'll be curating the very best Black Friday and GoPro camera deals, followed by the best Cyber Monday GoPro camera deals. Scroll down to see the biggest discounts we've seen so far...
Latest Go Pro Black Friday deals
US: GoPro Black Friday deals
UK: GoPro Black Friday deals
Black Friday and Cyber Monday GoPro camera deals: what else we expect to see
The big question: which cameras will see the best GoPro Black Friday and Cyber Monday deals on the actual days? The fact that the company has just released its latest model, the Hero 7, suggests that you'll be able to pick up some amazing bargains on older models, such as the Hero 6 and the Hero 5. Older cameras are still great, especially if you're on a budget.
In the US, there are already some good deals on these older models, including the following:
GoPro Hero 6 Black: $349.99 (was $399.99)
GoPro Hero 5 Black: $249.99 (was $299.99)
GoPro Fusion 360: $599.99 (was $699.99)
We wouldn't be surprised to see retailers such as Amazon including various GoPro models, particularly the popular Hero 5 version slashing the prices, or including them in a Lightning deal as Black Friday approaches.
Meanwhile, in the UK, it's a little harder to find such good bargains. Hopefully as Black Friday and Cyber Monday rolls around, retailers keen to sell off any remaining older stock may slash prices.
We've found a few good deals:
GoPro Hero 5 (certified refurbished): £219.99
GoPro Hero 6 Black: £319.99
GoPro Hero 7 White: £169.99
GoPro Hero (2017): £174 (save £25)
Our predictions? We think there's a high chance that the US will see the best deals on the popular action cameras, with possible further reductions to the Hero 6 and Hero 5 models. In the UK, we'd also hope that Hero 6 and Hero 5 models will have some dramatic reductions, depending on stock levels.
As soon as we start seeing Black Friday deals on GoPro cameras appearing, we'll post the best ones here.
GoPro Black Friday accessory deals
There's a few good reductions to be had on GoPro accessories. Pick these up for a great stocking filler for Christmas, or just as a little treat for yourself.
GoPro Black 3-Way Arm: £46.61 (was £69.99)
GoPro Shorty Mini Extension Pole with Tripod: £29.99 (was £39.99)
GoPro Rechargable Battery: £17.99 (was £24.99) – exclusive for Amazon Prime members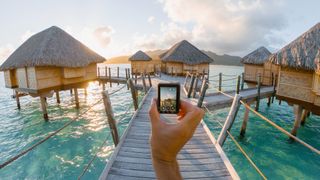 Black Friday and Cyber Monday GoPro deals: when will the best ones go live?
Predicting exactly when the best GoPro Black Friday camera deals are likely to be unleashed is tricky. Last year, deals started to appear a few days before the big date, with larger retailers such as Amazon starting to drip feed in the deals from as early as 17 November – a full 10 days before Black Friday. This is a pattern we've seen repeated this year...
In terms of Cyber Monday GoPro deals, we expect to see them start to appear from midnight on the day itself. With Amazon, it's often the case that Lightning Deals appear throughout the Cyber Monday 24-hour period.
Handy retailer links
One of the other big questions when it comes to Black Friday is where you'll find all the best Black Friday and Cyber Monday deals this year.
Apart from our own page here, the best value deals tend to be scouted via Amazon, eBay, B&H Photo and BestBuy. You may also see some appearing on the GoPro website, too.
As the date gets closer, we'll be scouring the web to find the very best GoPro Black Friday and Cyber Monday deals. Make sure to bookmark this page and check back in throughout November to find more great bargains.
GoPro Black Friday price tracker
Read more:
The best Black Friday deals for 2018
The best GoPro cameras for 2018
The best GoPro accessories in 2018