First time in the photo pit? You'll want to be prepared for anything with some of the best lenses for concert photography to ensure that you can capture incredible live shots in pin-sharp detail - no matter where you're shooting from - be it the soundboard, stage, or even the very back of the venue.
Music photography is probably one of the most daunting areas of our profession to get into, there are countless rules and restrictions to abide by, communities online can be extremely harsh and gate-keepy, security might shout at you and can be a little sexist, and your first time in the photo pit will probably leave you a bit starstruck, filled with adrenaline, or even nauseated (been there).
But don't worry too much, as shooting your first gig is also the best feeling in the world, and you'll soon be on track to receiving regular photo passes once you get your foot in the door and build a worthy portfolio. You'll most likely need to start in smaller local venues and work your way up to the bigger and better arenas with greater lighting.
We've picked out the absolute best lenses that you can buy for live concert photography right now to make sure you're off to a good start. But not just the pricey ones, as we know that not everyone is a pro and has an unlimited budget. So, on this list, you'll find a mix of top-shelf optics, mid-range choices, and cheap but high-quality lenses tried and tested by us that you can rely on.
Which lens do I need?
In most cases, the best lenses for concert photography are those that you're already familiar with. As constant lighting changes, moving subjects, and limited time (you can only shoot the first three songs!) will mean that you need to be pretty on the ball - and having a lens that you've used countless times will help you with this.
Top-end zooms will generally be used if your access limits you to shoot from the soundboards, sometimes referred to as the mixing desk, which can be in the center of the crowd or much further back towards the rear of the venue depending on capacity. If you're after a tightly cropped portrait of a musician then you might even need to invest in a telephoto.
There are options out there for a range of different mounts, manufacturers, budgets, and sensor sizes. You just need to plan ahead for what kind of images you'd like to get, and where you're allowed to go within the venue to get them, to determine which lenses you'll need to pack.
Rules of the photo pit:
Why you can trust Digital Camera World Our expert reviewers spend hours testing and comparing products and services so you can choose the best for you. Find out how we test.
With all that in mind, there's just a few extra things you might need to know before diving into gig photography. Firstly, as mentioned above, most venues and shows will implement a 'first three, no flash' policy which means you cannot use any kind of flash whatsoever unless told otherwise, and you can only shoot the first three songs of a setlist for each band or artist.
There are a few different reasons why this rule exists, but it was primarily introduced in the 1980s to stop photographers from capturing artists once they start to melt and get all sweaty under the stage lights. And it's also to stop you from blocking the front row of the crowd all night and getting in the way of security.
It's also important to be hyper-aware of your surroundings at all times, that includes not blocking other photographers who are in the pit with you, keeping an eye on crowd surfers, and protecting your gear from air-borne alcohol.
Aside from that, have fun!
Best lenses for concert photography in 2023
Primes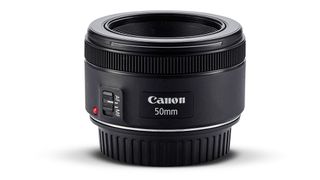 You cannot go wrong with a nifty fifty, and this focal length is superior not only for photographing live music in a smaller intimate venue, but can be used to capture the crowd and atmosphere too. Wide enough to capture the whole band when stood back, but not too wide to cause distortion, a 50mm can be used for on-stage portraits without missing any of the action from being too cropped.
This particular lens might not be very useful if you're shooting outside of the photo pit or from the crowd, and the inability to zoom might let you down if you need some photos of the drummer tucked away at the back, but nonetheless, it's a workhorse lens that you should definitely have in your music photography arsenal.
Pair this lens with a Canon EOS 5D Mark III and you've got the perfect starter setup to photograph any local gigs or backstage portraits.
See our best 50mm lens guide for other mount options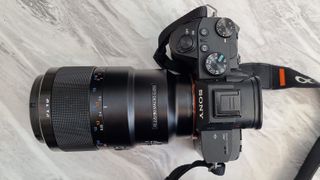 While this 90mm lens might be designed and intended for macro photography, I've been using this lens to photograph portraits lately as well as gigs, and have been able to create some stunning on-stage portraits with a nice blurred bokeh.
The 90mm focal length is great for shooting from the photo pit if you're close enough to the artist to have them fill most of the frame, yet not too close that you miss out on the action or other key details of the image from being zoomed in.
The f/2.8 maximum aperture will go a long way to helping you deal with low light situations and potential noise too. It's definitely worth giving this lens a try for portraiture, specifically for on-stage portraits when shooting from the photo pit, as well as at more intimate venues where there's no pit and you're able to get the ideal distance from the performer for a clean portrait shot.
See our guide to the best macro lenses for other mount options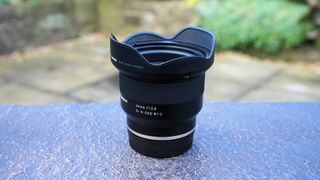 This lens from Tamron is small but mighty! For gig photography, it's one of the best wide-angle lenses you can get (at a super affordable price secondhand) to capture the on-stage action without needing to opt for a fisheye lens.
If the musician or band you're photographing like to jump around and perform kick splits and crowd spits, play guitar back to back with another person, stand on top of the drum kit to entice the crowd, fire off a confetti canon - you get the idea - then this is the lens that you'll want to keep close by for capturing the unexpected.
The Tamron 24mm is not only wide, but exceptionally sharp, and the F/2.8 maximum aperture is fantastic for low-light conditions. This lens is also versatile enough for both wider stage shots, as well as closer range portraits for shooting at more compact venues such as clubs and pubs.
Pro tip: Pair this lens with the Moment CineFlare Gold Streak Filter for amazing experimental on-stage light flares to take your shots to the next level.
Zooms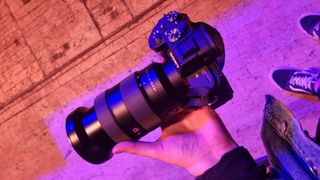 This focal length of 24-70mm is considered to be the dream sweet spot for music photographers, adept for those wider stage shots as well as tight musician on-stage portraits. A favorite among music photographers for its versatility, if you can only take one lens to a show then make it this one.
Now, lenses with this particular focal range don't come cheap due to their popularity, but on the plus side, are available in pretty much all lens mounts with Canon offering its own Canon EF 24-70mm f/2.8L II USM variant, as well as the similar NIKKOR Z 24-70mm f/2.8 S and highly popular Sigma 24-70mm f/2.8 AF DG DN Art lens.
There's also a version IIof this lens having been upgraded slightly, but for the added cost, it still doesn't have optical stabilization. If you're the type of photographer that prefers using primes, then you could definitely get away with using a wide prime, and a more macro-telephoto prime together by pairing a 24mm with, say, a 90mm lens for a show and switching between them or having two bodies, but zooms provide the luxury of not having to switch between lenses.
Check out our guide to the best standard zooms for other mount options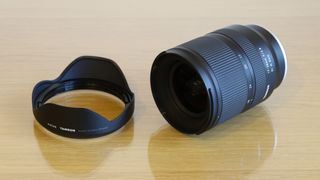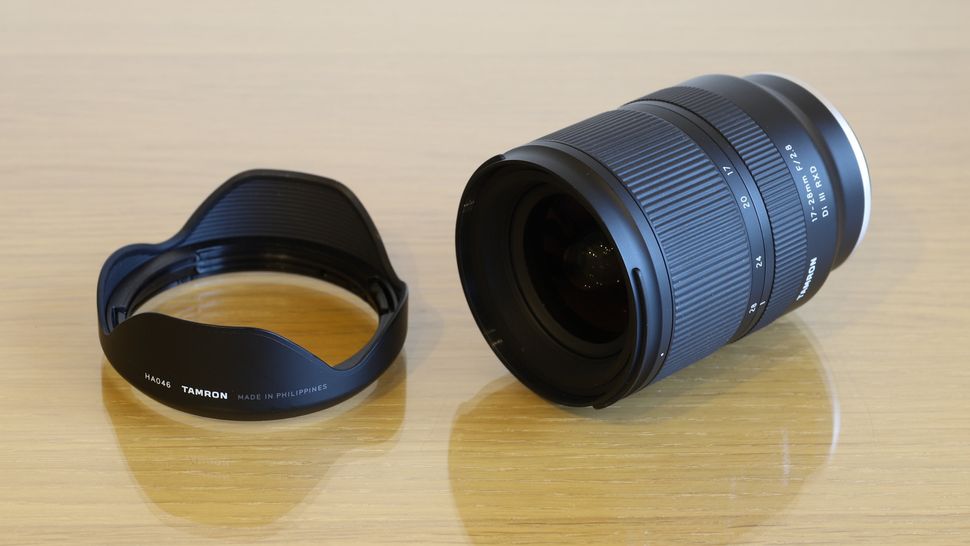 Another dream focal length for gig photographers is the 17-28mm, offering a range of wide angles to play around with and capture the atmosphere of a venue, while it can also work for portraiture too if you're close enough to the artist, or for taking backstage portraits before they head out on stage.
Tamron's range of f/2.8 lenses for Sony mirrorless cameras are not only surprisingly lightweight but they're also really good quality with a tough, weather-sealed design, and the Tamron 24mm prime (above) is no different either.
Autofocus with this lens is near silent thanks to Tamron's RXD (Rapid eXtra silent stepping Drive) stepping motor. This lens is compatible with Sony's sensor-shift stabilization which is just as well since it doesn't have any optical image stabilization of its own for you to utilize. Images produced by this zoom are sharp from corner to corner, and color fringing and distortions are minimal.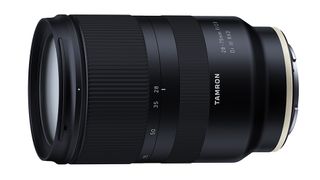 Another contender from Tamron, this 28-75mm lens covers the extended focal range that the previous lens misses out on, and when paired together, they make the ultimate dream team to ensure you have every possible focal range covered when shooting shows. You'll most likely need something greater than 75mm if shooting from the soundboard or back of house, though.
Tamron lenses are also an excellent choice for those who don't wish to splash out on branded lenses that are often double if not triple the cost. I've never had any issues from shooting with Tamron lenses on my Sony A7III, though I'm yet to purchase one for my Canon EOS 5DS to use for gig photography, as the body alone can be way too heavy without adding a zoom onto the overall weight.
Fisheyes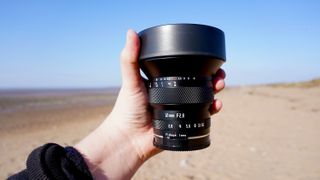 This fisheye lens from AstrHori is one of the most affordable lenses on the market right now, currently priced at less than US$300 / £200 at the time of writing. As far as fisheye lenses go, this one is pretty great, despite its low price - and very sharp when focused correctly. You might find that the edges of the image will start to blur and distort slightly, so try and keep your focus in the center where possible.
It captures the scenes of the stage in all its magnificent detail and has a helpful clicked aperture ring to adjust your f-stop on the fly while shooting and adapting to the constant lighting changes.
Take a look at our full AstrHori 12mm f/2.8 Fisheye review.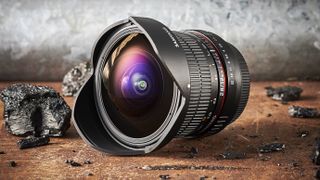 Despite being a diagonal 180 degrees lens rather than a more circular fisheye lens, this Samyang optic is designed for full-frame cameras and offers impressive image quality in all options, but should be used carefully for music photography as it can even be a little too distorted for portraiture and wider stage shots.
With that said, if you manage to get the artist in center frame, the scene wil warp around them and create an awesome affect. Probably best used for the heavier genres of music with electric guitars and fire cannons as opposed to softer shows with acoustic musicians. For the more casual shows, try a prism instead.
Smartphone Lenses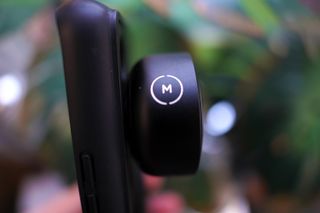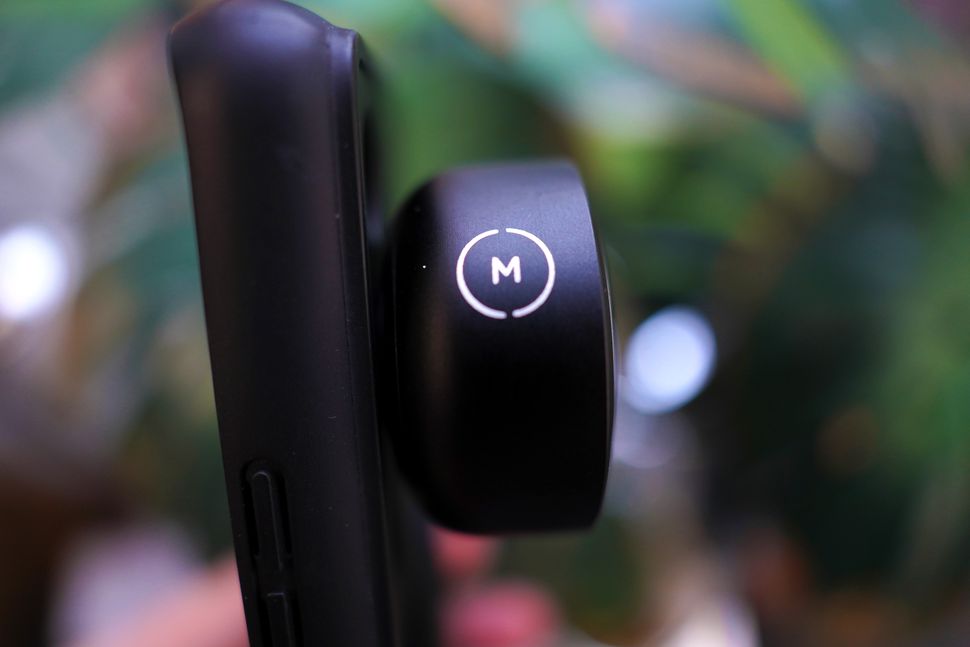 Sometimes, it's not always possible to take your camera into a show if you don't get approval or credentials in time. And that's where this fisheye lens from Moment comes in handy for capturing a wider scene with a creative flair.
Granted, you might need to be pretty close to the barrier for it to have the best effect on photographing a musician, but even from the middle of the crowd - it'll capture amazing photos of any mosh pits happening around you!
A compatible Moment phone case or drop-in lens mount is required to use this M-series lens, and offers seamless integration with your phone using a twist feature that locks the lens securely onto your device and won't easily fall off.
This is undoubtedly one of the best lenses for iPhone and Android smartphones, and ideal as a starting point for those wanting to give the process of shooting fisheye a try, before committing to a costlier lens for your DSLR or mirrorless camera body.
See our full Moment 14mm Fisheye lens review.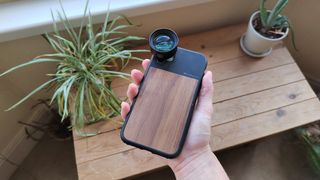 Smartphone photography isn't ideal in competing with the best professional cameras to get "the shot", but if you're stuck shooting from the crowd instead of the photo pit at a concert then you'll definitely benefit from having this miniature telephoto in your smartphone lens arsenal.
Another contender from Moment, this lens for your smartphone offers the equivalent to a 2x optical zoom, which may not seem like an awful lot, but you notice the smaller differences when shooting with a smartphone. Images are sharper with this lens and colors appear to be more vibrant, too.
Optical zoom is always going to be better than digital zoom so if you find yourself regularly using the zoom feature on your phone, invest in a zoom lens instead. It's great for both photos and videos and when you're not using it you can store it safely as it comes with a secure rubber lens cap and a material carry case.
Read our full Moment 58mm lens review for more details
How we test lenses
We test lenses using both real-world experiences from our writers and reviewers, as evidenced through sample images, as well as our own in-house lab tests carried out by our trained and experienced lab manager. We find that the combination of lab and real-world testing works best, revealing different qualities and characteristics while avoiding the results being biased.
Having been a gig photographer in practice from the age of 14, I can certainly vouch for the lenses in this guide all being suitable for music photography. However, also being a university student on a budget meant that I've always been drawn to the more affordable lens options over the professional branded choices.
Our lab tests are carried out in scientifically controlled conditions, using the Imatest testing suite, which consists of custom charts and analysis software that measures resolution in line widths/picture height, a measurement widely used in lens and camera testing.
• You might also be interested in our interviews with music photography legends; David Hogan, as well as Denis O'Regan, and not forgetting Jennifer McCord. And this is everything you need to know about music photography from the experts.
• Need some inspiration? See the winners from the first-ever So.Co Music Photography Awards, as well as the Abbey Road Studios Music Photography Awards which was judged by Rankin!