If you're looking for the best Insta360 One RS deals, you've come to the right place. Since its release, the Insta360 One RS has been spoken about non-stop in the world of action cams – and it has been highly coveted for how it can advance your footage with 4K and 6K widescreen and 5.7K 360° video recording.
Using a three-part design – one battery, one processor and one of three quick-swapping lenses – the One RS effortlessly transforms from a traditional action cam to a creative 360 cam. A new high-performance 4K Boost Lens along with a 1/2″ 48MP image sensor now offers stunningly detailed wide-angle videos and photos, while a powerful Core offers better in-camera stabilization and crisper audio.
• Check out our full Insta360 One RS review
As a modular camera system, the new lens and Core are cross-compatible with the preceding One R generation as well, enabling creators to upgrade their camera at their own pace. The previously-released 5.7K 360 Lens unlocks endless creative possibilities, with the Invisible Selfie Stick effect and 360 reframing. Meanwhile, the 5.3K 1-Inch Wide Angle Lens co-engineered with Leica continues to offer unparalleled image quality thanks to its 1-inch sensor. No matter which lens is installed, the action camera is tough, rugged and waterproof to 16 feet (5 meters)
With the pandemic and resulting electronic chip shortages causing havoc in the global camera industry, retailers are struggling to stock enough of some of the most popular models. But don't despair! We've scoured the web to find retailers near you who have the best Insta360 One RS deals for order or in stock right now.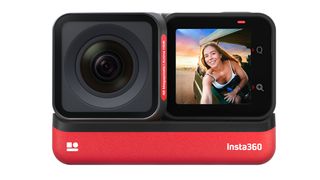 The new 4K Boost Lens is the go-to choice for athletes, adventurers and creators to capture vibrant and detailed action shots. With an upgraded 1/2″ 48MP image sensor, the new lens shoots sharp 4K at 60fps videos and 48MP stills.
Two innovative new modes are also available on the 4K Boost Lens. The first mode is Active HDR, a game-changer for action sports shooting. While HDR modes on other action cameras are limited to stationary use due to ghosting challenges, Active HDR is specifically designed for action.
Active HDR keeps your video stabilized as you move, minimizing ghosting and revealing details in the highlights and shadows that other action cameras miss. The second cutting-edge option is 6K Widescreen mode. Taking full advantage of the 48MP sensor, this mode outputs ultra-high-resolution 6K footage with a classic 2.35:1 ratio for a cinematic widescreen look.
With its interchangeable lens design, the Insta360 One RS ensures creators always have the best tool for the job. While the 4K Boost Lens is ideal for zeroing in on details, the 360 Lens is perfect for when you want to focus on the action, not on your camera.
Whether you're motorcycling, skiing or just kicking back with friends, getting creative shots is effortless with the 360 Lens. All you have to do is hit record and let the camera capture everything in 5.7K 360 degrees. Later, you can choose your favorite angle (or multiple angles) and export it as a flat video that can be shared just like any other video.
The 360 lens also enables creators to capture impossible third-person views of themselves as they're in the moment. Thanks to the camera's dual-lens design, the selfie stick is automatically stitched out of the final footage, resulting in incredible video-game-like angles.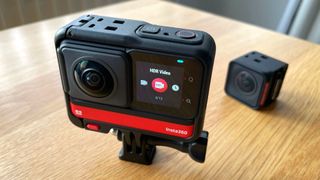 Read more:
Insta360 ONE RS review
GoPro Max review
Best action cameras
Insta360 One X2 review
Best waterproof cameras