Looking for the fastest, most future-proof handset? The best 5G phones are without doubt your best bet. Depending on your location, the 5G infrastructure may still not be fully installed, but make no mistake – this is the technology that is going to drive the future of data, and 5G phones are your opportunity to get on board early.
So what is 5G? Well, in short, 5G delivers faster mobile internet than we've ever had access to before. And this is transformative for your workflow; whether you're waiting for that tutorial to download or for that album to sync on Lightroom mobile, having a faster mobile internet connection will save you serious time. 
The best camera phones are obviously about the camera, first and foremost, but 5G will inevitably improve the whole experience – especially with 4K video and high-resolution photos becoming an increasing part of our everyday imaging.
It is worth noting at this point that even the best iPhones do not have 5G. We expect Apple to enter the arena with the iPhone 12 later this year, but if you're looking for a 5G option right now then you're looking at an Android handset.
In theory 5G is capable of speeds as high as 50Gbps, but you won't get anything close to that just yet;  using the Samsung Galaxy S10 5G on Vodafone in the UK, we were maxing out at about 200Mbps in the few spots 5G available around London. Though obviously 5G speed and coverage is only going to improve. 
What 5G phones are available now?
At the time of writing, there are no 5G iPhones, only Android phones. These include the Samsung Galaxy S20 Ultra 5G, Samsung Galaxy S10 5G, OnePlus 7 Pro 5G, Oppo Reno 5G, Xiaomi Mi Mix 5G, Huawei Mate 20X 5G and the LG V50 ThinQ 5G. 
When will Apple follow suit? It is widely anticipated that the iPhone 12 will introduce at least one 5G option, as Apple is being as conservative (or, to be more charitable, 'considered') as ever when it comes to rolling out a new technology. 
Should I get a 5G phone?
Whether you should buy a 5G phone now really depends on two things: what you need from your phone, and where you live. If you frequently tether your phone's mobile internet and download huge files on the go, it might be worth investing in 5G sooner rather than later – provided it's on its way to your region. 
Bear in mind that 5G is currently only available in big cities, and only in a handful of them around the world. So if you want to know when it's coming to you, check with your local network provider.
If you think that the new technology is for you, then let's dive into the best 5G phones available right now…
The Galaxy S20 Ultra is Samsung's ultimate Android phone. There's an optical zoom with around 4x magnification, a 108MP primary sensor, a 12MP ultra-wide, and a time of flight depth sensor for good measure. The consistent quality of these sensors stands out, with great image quality on offer at all native focal lengths. However, its much publicized "100x Space Zoom" photos look bad; add all the clever processing you like, we're still zooming into a 5x image here. But the results are excellent at 10x zoom and acceptable at 30x zoom. This alone is a big achievement. 
What's missing? The S20 Ultra does't have 4K video stabilization in the same league as the iPhone 11 Pro, but it can capture non-stabilized 8K. Shoot with a tripod in sunlight and the results are often excellent. The 120Hz screen is superb, but other core elements vary by territory. In the UK the phone uses an Exynos processor, which leads to slightly disappointing stamina given the 5000mAh battery capacity, but the phone has the Snapdragon 865 in the US. Judging by our experiences with the two chipsets, the Snapdragon is better.
A few eyebrows raised when the OnePlus 8 Pro arrived and became the most expensive phone the company had made to date. However, it does have some major upgrades and is still one of the most affordable top-end 5G phones.
The primary camera sensor is bumped from the Sony IMX586 to the 48MP IMX689. This is a large 1/1.4-inch chip. Night photos look better than the OnePlus 7 Pro's even when used with the Night Sight mode, low-light video is brighter and pixel-level detail looks cleaner and more confident during the day.
Its ultra-wide camera has the same sensor as standard OnePlus 8's main one and the phone is a surprise hit for macro photography, too. Zoom images aren't best-in-class, though – it has a 3x mode, but uses a 13-megapixel sensor cropped to take 8MP images, rather than a true 3x lens.
There's a fourth camera, too, a highly unusual 5MP photochromatic one that can see through certain kinds of plastic. However, all its images look pretty poor, and quite strange. This the only truly weak part of the OnePlus 8 Pro camera, though, and video capture uses both electronic stabilization and OIS for smooth footage.
The rest of this 5G phone is great, with a huge, excellent 120Hz 6.78-inch screen, tasteful glass and aluminium design and loud speakers.
There's no getting around the fact that standalone, the Moto Z4 is neither a flagship phone nor is capable of 5G data speeds. With its mid-range processor, single camera and tapered spec-sheet, it won't be the best choice for keen photographers who want a top-quality cameraphone experience.
However, if you want to go for something future-proof, aren't ready to pay the 5G premium yet, and don't need a flagship model, this could be the perfect phone for you. Thanks to its modular design, you can clip a 5G module onto the back of the Z4 to enable 5G capabilities down the line. While the module isn't cheap (it'll set you back in excess of $300), when the service is a bit more widespread at least you'll have this option – something no other phones offer right now. 
As for the rest of the phone, the Z4 has a large 6.4-inch OLED screen and is powered by a Qualcomm Snapdragon 675 processor, which is coupled with 4GB RAM. The sole camera is 48MP with an f/1.7 aperture, and a 3600mAH battery keeps things ticking along.
The Samsung Galaxy S10 5G is like the Swiss Army Knife of 5G phones – it has a gorgeous pin-sharp screen, six cameras with cutting-edge depth-sensing tech, a huge battery and loads of storage. And let's not forget, it's one of only two 5G phones available right now with a headphone jack. 
The S10 5G has four cameras around the back. In a similar setup to that of the Galaxy S10, these cover wide, ultrawide and telephoto options. Unlike the other S10s though, these are supplemented by a time of flight (ToF) camera, which can detect depth more accurately than traditional cameras, delivering more precise artificial background blur across photos and videos.
The phone's large 6.74-inch screen is a Dynamic AMOLED panel with sensational colour accuracy, depth and vibrancy. On the top right of the screen is a cutout that houses the front 10MP camera, which is coupled with a ToF sensor for portrait mode selfies and video.
Read the full Samsung Galaxy S10 5G review.
In other territories, the LG V50 ThinQ 5G ships with a Dual Screen case – a fun gadget lover's dream that gives you plenty to tinker with while adding protection, turning into a handy kickstand for movie-watching or support when photo-taking. In the US, though, it's worth checking with your retailer whether you'll be getting one included before you pick up the V50 ThinQ 5G.
As for the rest of the phone, it's loaded up with a flagship Qualcomm Snapdragon 855 processor, features five cameras – two on the front and three on the back, and even crams in a quad-DAC for excellent wired audio. Audiophiles can also rejoice at the fact that the V50 ThinQ 5G is one of only two native 5G phones with a headphone jack.
The design may feel a few years old, and it's not going to win a head-to-head in any single category, but the ThinQ 5G's features still combine like Voltron to offer a compelling option if none of the more obvious choices take your fancy.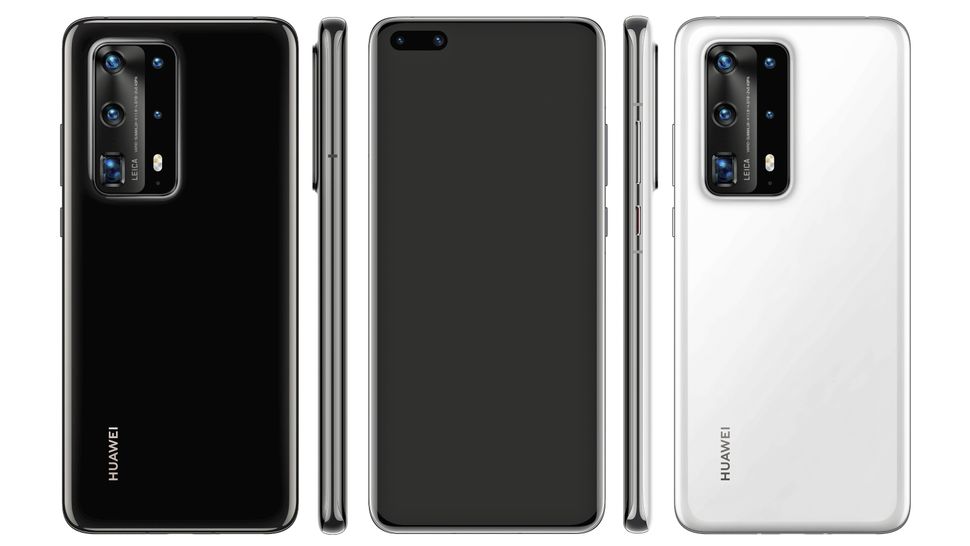 The Huawei P40 Pro is a beauty – just look at it! Huawei's hardware has always been top quality, and its latest flagship is no different. The camera is everything you would expect from a Huawei handset, delivering stacks of soft-focus depth to pictures, balanced against plenty of detail.  Like other phones with a ridiculous zoom, it's better on paper than in practice – you probably won't use the 50x digital zoom more than a few times, though the 5x optical zoom is genuinely useful. 
The 50MP High-Res images don't pop as much as software-assisted lower-res shots, but all cameras produce very impressive results. The video is among the best we've ever used on a phone, and will be a boon for content creators. Ultimately, the lack of Google leaves this handset with a severe handicap for most people, but if you're happy to pay the premium then the P40 Pro's camera is about as good as it gets. 
There's also the Huawei P40 Pro Plus to consider, if you want even higher firepower for your handset.
In full: Huawei P40 Pro review
The Huawei Mate 20X 5G is the phone to go for if you're in the market for a multimedia powerhouse. Its gargantuan 7.2-inch screen was the biggest mainstream display around upon launch, and still makes almost everything else seem tiny – and anything you watch on it look stellar. 
This was the best phone for 5G early adopters, and is still a formidable choice for anyone who want to download and stream the highest resolution content with no buffering time. Videogames on the Mate 20X Pro look immense, and the Kirin 980 processor powering everything along with 8GB RAM will ensure that they will play back smoothly.
Its three cameras capture three different zoom ranges, from a 16mm ultra wide-angle through to an 80mm telephoto camera, offering plenty of versatility from an imaging point of view. Oh, and the phone's video stabilization is fantastic, too. 
Read more:
• The best camera phones you can buy today
• Which is the best iPhone for photography?
• The best flip phones and fold phones
• The best add-on lenses for iPhone and Android phones