Watch video: What is a prime lens?
Whatever you love taking pictures of, there are all manner of lenses out there to choose from. Wide-angle lenses, telephoto lenses, macro lenses, tilt-shift lenses… but they all fall into two distinct categories: zoom lenses and prime lenses.
• See the Digital Camera World A-Z Dictionary of photography jargon
Zoom lenses are pretty self-explanatory. These are optics with a variable focal length, enabling you to zoom in or out across a range of lengths. So with a 12-40mm lens, for example, you can zoom from 12mm to 13mm, 14mm, 15mm… all the way up to 40mm.
However, where a zoom lens has a variable focal length, a prime lens has a fixed focal length. So a 45mm prime lens has roughly the same reach as the 12-40mm at its telephoto end, but it one can only shoot at 45mm.
On the 12-40mm lens, if you want to shoot at 17mm or 25mm, all you have to do is turn the zoom ring. However, if you want to shoot at those focal lengths using prime lenses, you will need to buy a separate 17mm and 25mm lens. So why would you want the limitation of a lens that doesn't zoom?
It's all a matter of compromise. Because a zoom lens has to cover a large number of focal lengths, it requires a more complicated optical formula to accommodate them. And because there's so much additional correction required, and more glass elements, there's much more scope for aberrations and optical imperfections.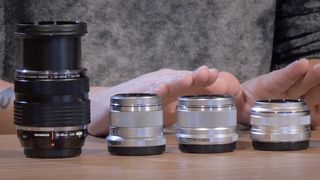 This makes a zoom lens a bit of a jack of all trades, master of none. A prime lens, on the other hand, has a single finely tuned optical formula that is optimized for one specific focal length. So unlike the jack of all trades, this prime lens only has to master one trade – or one focal length. The result is that prime lenses are almost always optically superior, producing sharper images with fewer aberrations.
In addition, primes can be far, far faster than zooms. Standard professional zoom lenses have an f/2.8 aperture, and even the fastest optics like the Canon RF 28-70mm f/2L USM only hit f/2. Primes are absolute Ferraris in comparison, with lenses like the Nikkor Z 58mm f/0.95 Noct rendering blurry backgrounds that are impossible for a zoom.
There are trade-offs, of course, the most obvious one being that primes can't zoom in or out – though you can "zoom with your feet" by physically moving closer or further away. And this is arguably a better way to take photographs, as you are constantly moving and searching for the best angle and composition, rather than lazily zooming in or out and accepting whatever your lens gives you from a fixed position. Indeed, many professionals only use prime lenses for this reason.
Another trade-off is the price, as a single prime lens can be the same price as a zoom – and of course, not only does it cost more to but multiple primes, you also need a bigger bag to carry them all. Still, for premium optical performance, the best low light performance and the shallowest depth of field, prime lenses can't be beaten.
So if you want sharper, faster, and potentially more creative shots, think about ditching your zoom and going prime time.
Read more:
What is a bridge camera?
What is aperture on a camera?
What is depth of field in photography?