Watch video: What is a bridge camera?
It looks like a DSLR, but it has a fixed lens and the huge zoom range of a point-and-shoot. Meet the bridge camera – a specialist system that literally bridges the gap between all-purpose point-and-shoot convenience and the high-end features and functionality of a full-fat DSLR camera.
• See the Digital Camera World A-Z Dictionary of photography jargon
Because it embraces the familiarity and simplicity of a point-and-shoot, a bridge camera is a great option for those wanting to experience more advanced aspects of photography without diving in at the deep end of the DSLR pool.
Bridge cameras feature some of the physical controls and dials of a DSLR, and many of the same manual settings.
This means you can benefit from things like shooting RAW images, which enables you to capture much larger image files with more information and scope for post production than standard JPGs.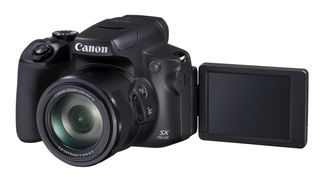 High end bridge cameras even boast features like phase detect autofocus – the advanced AF system found in DSLRs – as well as high frame rates for continuous shooting, making them suitable for capturing fast action like sports.
Perhaps the biggest boon of a bridge camera is the enormous zoom range offered by their fixed lenses. It's quite common for a bridge to offer a 35mm equivalent range of 24-600mm, which will cover you for everything from wide-angle environmental shooting to long-range telephoto work. Nikon even offers a bridge with a whopping 24-3000mm range!
They even offer 4K video shooting, with fully articulating LCD touchscreens, enabling you to shoot cutting-edge footage whether you're filming the kids playing football or you're creating content for YouTube.
So these are the ultimate all-round performers, right? Well, while bridge cameras offer beginner-friendly ease of use unmatchable all-in-one focal ranges, they do compromise on one key area: the image sensor.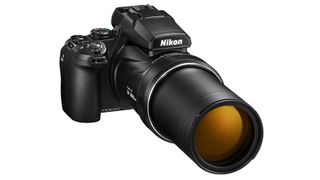 Because lenses with these enormous zoom ranges wouldn't be possible with larger sensors, bridge cameras have traditionally used the kind of 1/2.3-inch sensor that you find in smartphones. Cameras with these sensors produce noisier images with lower quality, but greater zoom capabilities.
More advanced bridges now use 1-inch sensors, which result in better image quality but with less impressive zoom ranges. So choose a camera with a 1-inch sensor if image quality is more important, or a 1/2.3-inch sensor if versatility is your priority.
Bridge cameras are great all-in-one devices for families and amateur photographers, combining the simplicity of point-and-shoot cameras, the features of DSLRs, and the kind of focal range you'd usually need a pair of binoculars for!
Read more:
What is a mirrorless camera?
What is aperture on a camera?
What is depth of field in photography?