Watch the video: Home photography ideas – Shoot beautiful boudoir
Boudoir photography is very big business and, if you're a portrait photography (opens in new tab) specialist, it's a useful skill to master. First off it's worth thinking about the style of shoot; classic glamour has its place, but it's not here.
It's not just about hiding the rude bits – we need a style of photography that celebrates the shape of the model's body without objectifying them. There's an element of empowerment to boudoir photography, which is why more often than not it's the women, rather than their partners, who seek out and pay for this type of photo shoot.
It's a boost for a woman's confidence, and a chance for her to celebrate her shape now and to say, "I can look this beautiful if I want to."
• Get more Home photography ideas (opens in new tab)
So how do we get this sense of empowerment across in the photos? Firstly we talk to the subject – whether it's a partner, a friend, a model or a client – and find out the kind of look she's after and how revealing she would like the shoot to be.
The best portrait photographers learn how to emphasize a person's most alluring assets and play down the unflattering parts. With boudoir, this is vital – and on the technical side, there are choices we can make to ensure that this happens…
• Best online photography courses (opens in new tab)
Boudoir basics
01 The right lens
The most important thing is to flatter your subject, but shooting too close or with a wide lens will distort them. The ideal lens here is a prime with a focal length between 50-100mm, and a wide maximum aperture such as f/1.8. Alternatively, use a zoom with a wide maximum aperture like f/2.8.
02 Keep it steady
In the kind of low light environment you'll be shooting in, stability is important for sharp shots. It's hugely helpful if your camera or lens has image stabilization, but a monopod (opens in new tab) can also prevent shake.
03 Window light
Soft, flattering and cheap, window light is ideal for this kind of shoot as it floods over the body with beautifully and evenly. By moving your subject around, you can have the window in front, to the side or behind them. If the window light is too weak, you could supplement it with constant LED lighting like the Rotolight AEOS.
04 Wardrobe choices
Ask your model to bring a few outfits – and they don't all need to be underwear. Remember, boudoir photography is about creating an alluring mood, not showing the most skin.
05 Keep your subject comfortable
Make your model comfortable by keeping the room warm and providing soft cushions and furnishings. At the same time, remember that two people shooting – especially if suing lights – will warm up the room quickly, so don't make it too hot! Make sure to keep a dressing gown to hand for downtime, too.
Boudoir photography shooting tips
01 Plan the poses
Compile a mood board together before the shoot so you both know what to expect, and go through poses. During the shoot offer encouragement, tell your model how great she looks, give her clear directions and posing tips (opens in new tab) and show her shots on the back of the camera as the shoot goes on.
(opens in new tab)
02 Find the light
Window light is ideal for this kind of shoot. Soft and flattering, it floods over the body evenly. Move your subject around to have the window in front, to the side or behind them. Positioning your model in the doorway channels the light from the window behind the camera.
(opens in new tab)
03 Control the light
As well as flooding a scene, window light can be made more moody by narrowing it into a strip. Here we closed the shutters on a window to the left, leaving just a narrow strip to light the subject from the side. All other windows were closed and artificial lights were off.
04 Camera settings
There's no stock setting for all scenarios, but most of our shots here were taken in Manual mode with the aperture around f/2.8 and shutter speeds around 1/100 sec. We then adjusted ISO to perfect the exposure, with the sensitivity ranging from ISO400 to 1600.
(opens in new tab)
05 Focus on the eyes
When shooting with wide apertures, precise focusing is essential, so move your focus point over the nearest eye and take the time to focus precisely. Review your shots, zooming in to check the eyes. It doesn't matter if everything else is soft, as long as the eyes are sharp.
(opens in new tab)
06 Pose the arms
The arms and legs are often key to posing, so look for ways to make interesting shapes out of them. Move the arms away from the side of the body and it'll strengthen the shape of the pose. A slight side-on angle like this works too, as it presents a slimmer view of the body. Take some posing guides (opens in new tab) to the shoot for inspiration.
(opens in new tab)
07 Try adding light
Sometimes natural light may not be enough. Try using LED light panels (opens in new tab) such as the Rotolight AEOS (opens in new tab) for constant lighting. For our opening image we combined window light with a ring LED to light the face, then added a second LED positioned behind her and to the right to create an edge highlight along the body.
(opens in new tab)
08 Controlling window light
Window light is a 'soft' light source because it channels daylight through a large opening, and it's the size of the light source that determines how soft the light is. We can control the softness of the light by moving the subject closer to or further from the window. Close in, the window is larger in relation to the subject, so the light is softer and fills out shadows. But move her further away and the light source becomes smaller, so the light gets harder and more direct.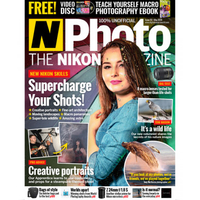 (opens in new tab)
N-Photo: The Nikon Magazine (opens in new tab) is a monthly publication that's entirely dedicated to Nikon users. For the best news, reviews, projects and more, subscribe to N-Photo today!
More videos:
• Photography tips and technique videos (opens in new tab)
• Fine art nude photography: tips and techniques (opens in new tab)
• Portrait photography how to (opens in new tab)
• Commercial headshot tips (opens in new tab)
• Studio portrait lighting: essential tips and setups explained (opens in new tab)
• Cheat sheet: Portrait posing guide (opens in new tab)