Scroll down for your cheat sheet
No matter what lighting or camera techniques you use, without the right pose you'll struggle to shoot successful portraits. But few people naturally strike the most photogenic poses, and even a professional model will need some direction from the photographer.
• Get more photoshoot ideas
Knowing a few of the classic poses and looks that work well can help to transform your portrait photography, which is exactly where this handy guide to improving your portraits comes in. We've provided a range of simple ideas that you can share with your model to help them look their best.
Before you start your photo session, you really need to get a good idea of your model's experience, but they will also need to know what kind of shots you want to take. A more experienced model will have a repertoire of standard poses that can help get the session started, and they will also have a good idea of their best angles.
However, your model will also need feedback from you, otherwise you may just end up with a set of standardised poses and 'looks'. This cheat sheet will give you some good ideas to get started, but you will probably want to add your own angles and ideas too.
With less experienced or amateur models, you are going to need to give them a little guidance and encouragement, and this cheat sheet could be just as useful for them as for you. Why not try them each out in turn?
Click the top-right-hand corner of the sheet below to get it in high resolution –and make sure to bookmark us and check back for more great cheat sheets
Useful portrait photography kit
Our cheat sheet was shot in a studio with professional flash equipment and full size backdrop. But these items are not of reach of the ordinary photographer, and if you can find the space in a living room or garage, it's not difficult to set up a home studio with a lighting kit, a full length backdrop and maybe a couple of lighting modifiers like a softbox or a reflector.
For head and shoulders portraits, an 85mm 'portrait' lens is ideal, but for full length shots a 50mm lens or a 35mm lens might be more practical for confined studio spaces.
The wider your lens, the more important it is to shoot from the right height. Too high a viewpoint will make your model's legs look short, while too low a viewpoint can make their legs look unnaturally large.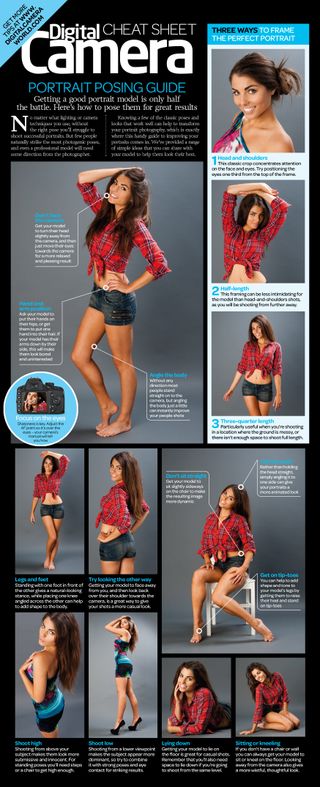 Read more
• More photography cheat sheets
• More photography tips
• Essential portrait photography tips