Alistair Horne got his first camera when he was 11 years old. He started like so many of us, just taking pictures on holiday, and he describes himself as the 'annoying kid' who took pictures at school parties and posted them on Facebook, tagging everyone.
He kept this up until he went to university to study marketing, but then took a road trip which changed everything. He spent a month travelling up the west coast of America, from Los Angeles, through Yosemite and San Francisco to the Pacific North West, then back down through Yellowstone, the Grand Canyon and Zion National park. He reckons he travelled 5,000 miles and took thousands of photos – and fell in love with landscape photography in the process.
When he came back to Scotland he realised he'd hardly taken any pictures in his own country: "I think we don't really appreciate it until we go to other places and come back and go 'oh'!. There's so much to see in Scotland, so I think we're really lucky."
This is where Alistair's interest in editing, Lightroom, and developing his signature look really started, following conversations and friendships with other photographers. And then a commission arrived for a job in San Francisco and he realised he needed to start taking the editing process more seriously. A friend recommended Lightroom, and the rest is history.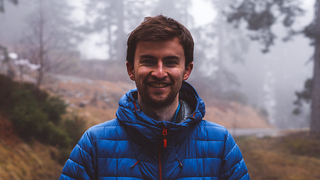 Alistair's kit, style and tips for others
Alistair shoots with a Nikon D750 and likes a 50mm lens for portraits and animal shots and a 24-70mm for landscapes. He also used a 70-300mm on a recent trip to Canada to keep a respectful distance when shooting a grizzly bear ransacking bins in a car park, though he admits he doesn't really have the patience for wildlife photography.
His real passions are travel and photography capturing memories of places, family and friends. He also values friendships with other photographers, recommending both Instagram and camera clubs as a way to meet other photographers and learning their stories.
Alistair explains his own particular photographic style: "I love colour and contrast – I love the orange-green tones of Scotland in the autumn. Colours definitely change in different countries, though," he says, pointing out a shift in his work to cooler tones following his Canada trip.
His next project is a trip to Greenland to photograph the landscapes of this little known territory. After that, he'd like to visit new places like South America, Asia and Oceana. Wouldn't we all!
Alistair's Lightroom tips
Alistair's been using Lightroom since 2015 and finds it really useful for batch-processing his images with his own particular style.
In fact presets are a key to his workflow: "I use VSCO preset packs and then do any other editing after that. I really like preset pack 6 right now, and especially the Portra 160++ preset. It adds a little bit of 'filmy' grain and makes pictures a lot darker. I start with this for 85-90% of my photos.
Alistair's other editing steps tend to follow the same basic path, and it's fascinating to see how he uses the tools in Lightroom to achieve the look he wants to recreate. Photographers seldom use Lightroom in exactly the same ways, and seeing how other people use it can give you ideas and insights you might not have thought of.
His first stop is the Lens Corrections panel to fix chromatic aberrations and apply lens corrections. Then it's the Crop tool, "to get rid of wonky composition".
After a few tweaks in the Basic panel, Alistair then heads to the HSL panel, where he develops the characteristic colour rendition of his photos. Here it's possible to adjust the hue, saturation and luminance of individual colour ranges to achieve subtle and complex shifts in the colour palette of your photos.
Interestingly, Alistair also likes to use the Split Toning panel to control the overall tone in the picture. He may then finish off by adding a little grain and boosting the Sharpness slightly.
But that's just a brief summary of Alistair's editing workflow, so make sure you watch the video to see how Alistair works through a single image step-by-step and explains both his thought processes and settings as he works.
Next time we talk to Carolyn Stritch, a.k.a. The Slow Traveler, to discover how she has forged her own unique style.
Ready to put your new skills into practice? Try Adobe Lightroom CC for free