The Zhiyun Smooth Q3 is the latest iteration of the company's affordable smartphone Smooth Q range, but this third version does things a little differently.
Physically it's undergone something of a makeover, but not necessarily as you might have expected. Gone is the aerospace grade aluminium alloy, replaced by a flimsy plasticky feel, but there's been a definite upgrade to its ergonomics. Where the Smooth Q2 was straight and tube-like, the Q3 has a curved joystick look and feel. It's got a relatively small handle, but it folds-up rather cleverly for extra mobility. However, the chief change is the addition of a fill-light that will make filming a piece to camera possible in all kinds of low light.
So this is a gimbal for vloggers, right? Here's everything you need to know about the Zhiyun Smooth Q3 gimbal and why it should help all kinds of filmmakers and content creators.
Specifications
Compatibility: Smartphone (7-10mm thickness/280g max.)
Stabilization: 3-axis
Weight: 340g
Dimensions: Unfolded: 90x127x279mm folded: 45x154x180mm
Battery life (approx): 15 hours
Key features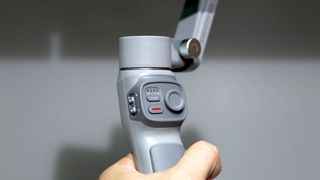 The Smooth Q3 makes a serious attempt at becoming a filmmaker's friend with its three-axis stabilization; it pans (300º), tilts (340º) and rolls (340º). Happily it can take weighty phones like the Apple iPhone 12 Pro Max and Samsung S21 Ultra, though only if they're not wearing heavy-duty cases.
The diminutive handle's button layout is clear and concise, with a thumb easily able to reach a small joystick and a zoom rocker on the side. Two more buttons swap from video to photos, and toggle around four stabiliser modes (PF, L, F and POV). On the reverse is a trigger button to reposition the smartphone, switch between portrait and landscape orientation, and enable both 'PhoneGo' (where the roll axis is locked) and SmartFollow 3.0 Object Tracking modes. On the right-hand side is a USB-C slot to refuel its battery. Sadly, it lacks two-way charging for the smartphone it's hosting; shouldn't gimbals be including wireless charging by now?
Clearly the standout feature on the Smooth Q3 is its built-in 4,300k fill light, which forms the top of the smartphone clamp and can be toggled through three levels of brightness. Better still it can be rotated through 180° so it works just as well for filming through a smartphone's front or rear cameras.
In the box is a USB-C cable, a small detachable tripod, a protective bag and a wrist strap. Users also must download the ZY Cami app, which is oddly insistent on obtaining a user's location and personal details.
Performance and usability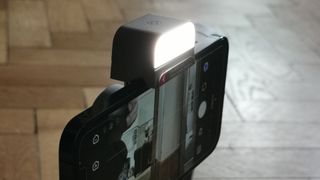 Once it's been balanced properly – and after spending some time learning its fairly intuitive controls – the Smooth Q3 hugely helps make video footage wobble-free while its novel fill-light proves useful.
However, upon first hold of this gyroscopically balanced gimbal we noticed that its handle is small. Really small. Add the plasticky build and it felt akin to a children's toy. The flip-side to that is that the Q3 is very easy to travel with; the entire gimbal collapses in half thanks to a slider.
Its joystick is excellent. It ranges left, right, up and down smoothly and purposefully. However, the zoom is poor. It stutters as its switches between the lenses of a quad camera phone. Hopefully it's because the app was in beta when we tested it.
We do have issues with the ZY Cami app that tethers to the Smooth Q3. It's obsessed with 'glamour effects' (quickly make your own face slimmer, smoother and rosier) and social media-style videos, with 17 'smart' templates with titles such as 'travel vlog', 'cute' and 'fall in love' – mostly TikTok trash – though some are useful.
Happily, the raw shooting experience is full-featured. You can set the ISO (up to 2500), shutter speed (all the way down to half a second), resolution and frame rate (up to 4K 60fps), film in slo-mo, time-lapse and dolly zoom, and take both timed and panoramic photos. The app also allows video creation, edits and sharing to social platforms. Although there's a lot to unpack in the app, some functions – including remote control by another smartphone, online editing, and face-tracking during live-streaming – come under a subscription option.
The fill-light, enabled by enabling 'wakey' in the app, is really easy to use and gives an even daylight effect across the frame. A long press switches it on and off while a short press toggles between three light levels.
Verdict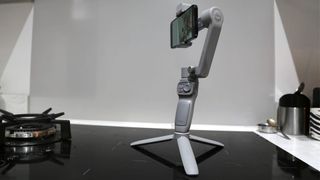 This third generation is a seriously compact and travel-friendly upgrade on Zhiyun's previous gimbals in the Smooth Q range. It's clearly aimed at vloggers and Tik Tok users, but it's got plenty of manual control for pro-users and, best of all, it's just so intuitive to use.
Sure, it's solo filmmakers that will benefit most from its fairly impressive built-in fill-in light, but it's nevertheless a feature that just as easily be used when using the front or rear cameras. We also loved its joystick, though there are things about the Smooth Q3 we're not convinced about. The most obvious is its slightly flimsy feel – the flip-side to its lighter, foldable design – though it can take a bigger, heavier smartphone than before.
We also discovered an issue with a jumpy zoom rocker and we're not convinced that the ZY Cami app needs to collect as much personal data as it wants. But that app is comprehensive to say the least, and helps make the Smooth Q3 an overall impressive addition to the brand's enormous range of gimbals for every scenario.
Read more:
• Best gimbals
• Best camera phones
• Best smartphone tripods
• Best add on lenses for phones