Ugreen has a large range of docking stations that meet the increasing demands of creative professionals. Their 9-in-1 docking station opens up a world of possibilities for 4K video output at 60Hz and significant speed capabilities for uploading and downloading files. This particular model sits in the middle of their range in terms of port extensions and price.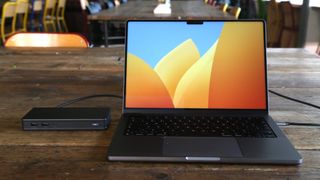 Ugreen 9-in-1 Docking Station: Specifications
Swipe to scroll horizontally
| | |
| --- | --- |
| Hardware interface | USB Type C, USB, Ethernet, HDMI |
| Special features | Dual Different Display for MacBook, 4K@60Hz Media Display, 10Gbps Data Transfer, Pass Through Charge, Gigabit Ethernet |
| Compatible devices | USB Flash Drives, Keyboards, Monitors, Laptops, Card Readers |
Ugreen 9-in-1 Docking Station: Key Features
Files can be transferred in super quick time with 10GB files taking only 16.5 seconds to move across. Transferring 6k or even 4k footage will be done in a flash and help to keep the creative process moving.
This hardware makes it possible to extend your MacBook to two independent displays which is ideal, if not essential, for photo and video editing as well as complex design projects. The fact that it supports 4K means that with compatible monitors you can view your 4K footage in 4K resolution.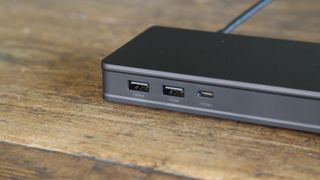 Ugreen 9-in-1 Docking Station: Build & Handling
The build quality of this docking station is top draw. The metal frame gives it both a high end feel and considerable protection for the contents. The bottom of the unit has two rubber strips which grip the surface of your desk and provide a comfortable connection between the dock and desk. It is fairly weighty which means it stays firmly wherever you place it but that might put users off who want something more portable.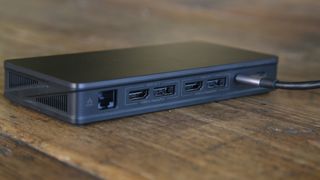 Ugreen 9-in-1 Docking Station: Performance
In terms of speed, it is quick, seriously quick. Through USB A&C, 10GB files are transferred in only 16.5 seconds. It's not just uploads that are quick though, the ethernet port boasts 1000Mbps to keep downloads flowing. The high-speed charging capabilities means that you'll never be left without charge for long.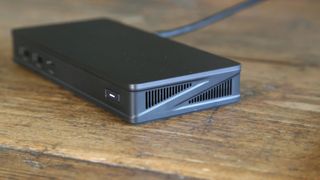 Ugreen 9-in-1 Docking Station: Verdict
This docking station boasts an impressive set of specs and is guaranteed to speed up your workflow. Those needing 8K video output will need an alternative hub but most users will be happy with the 4K capabilities of the dock in question. There are more affordable options available but if speed and reliability is of the essence then there's not much that compares.
Read more: find out more of our top picks for best laptop docking stations.