When it's possible to pick up a basic camera remote for under £15/$15, some might question the rationale behind investing in a pricey option like the Syrp Genie Micro. But to dismiss it as a simple triggering remote would be a misunderstanding of its intended use and variety of features.
Syrp has built a solid reputation in recent years for its innovative camera motion-control equipment, like the amazing Genie programmable motion time-lapse controller. Its latest product – fittingly titled the Genie Micro – is Syrp's smallest product to date: a universal smart camera remote for DSLR and mirrorless cameras.
Syrp Genie Micro: Unboxing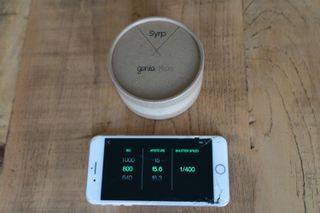 Starting with the unboxing, the Genie Micro arrives neatly packaged in a tiny, round cardboard box, which feels reassuringly eco‑friendly.
Although the device is called Micro, for some reason its diminutive size is still surprising – about the size of a Jaffa Cake, or 5cm-diameter, if that's easier to visualise. Build-wise, there isn't much to say. The device is made from smooth, black plastic, and a small leather tab on the front edge adds a stylish touch.
In the product box you'll find a USB-C to USB-A male adapter cable for connecting your camera to the Genie Micro, and a USB-C to USB-A male cable for charging the device. It also comes with a microfibre lens cloth, and a quick set-up guide to help you get started.
Syrp Genie Micro: Ease of use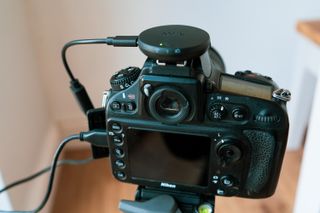 Mounting the Genie Micro onto the hotshoe is as straightforward as you'd think – it simply slides on, and then connects via a cable to the camera (Syrp recommends the original cable that came with your camera, if you have it).
The device has integrated Bluetooth and Wi‑Fi connectivity that extends up to a range of 10 metres, and once you turn on the device with a quick tap to the power button, lights on the top indicate whether these connections are active.
The device has an internal rechargeable Li-ion battery with a quoted battery life of seven hours, which should be enough to get you through the most rigorous of time-lapse sequences. We didn't use it continually for this long, but it was still at half power after a day of intermittent testing.
Syrp Genie Micro: Features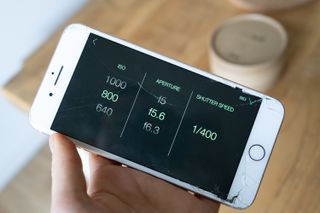 Using the Syrp Genie Micro is very much a plug in and go affair, and once you've downloaded the Syrp app and installed the product (which takes around five minutes in total) you can use the Live Control mode to adjust exposure settings instantly.
The Syrp app interface is simple, intuitive and responsive, and there are several tutorials on there to help you with the device's basic operations. Setting up a time-lapse is also straightforward, and you can choose from six pre-programmed options, or set up your own values for record time, interval and play time.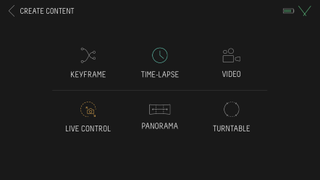 Syrp Genie Micro: Camera compatibility
The main disadvantage of the Micro Genie is that camera compatibility is currently limited. There's a list of tested and working cameras here, and Syrp says that "if your camera is not listed it does not mean that it won't work, however we cannot 100% verify it until we have tested that specific model." Besides the steep-ish price, this is likely to be the biggest failing for would-be users.
Syrp Genie Micro: Verdict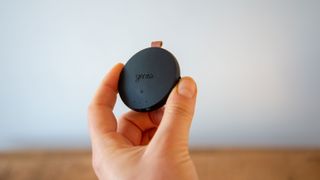 Is the Syrp Genie Micro for you? Yes – if you want to control your camera remotely in diverse ways using a smartphone app, and more importantly, if you have a compatible camera.
Syrp is working through testing as many models as possible, beginning with Nikon and Canon cameras, and the company says it will be adding Sony and other manufacturers soon.
Overall the app interface is smooth and straightforward, with tutorials to help you out if you're not sure what to do.
If the price doesn't put you off, then it's a well-made product that will make your life easier as a photographer or videographer.
Read more
The best camera remotes
10 tips for remote photoshoots at home
How to conduct a remote photoshoot