For decades, the tell-tale sign of a professional photographer or filmmakers has been a big pile of Peli hard cases. They are tough, come in all sorts of sizes to suit everything from cameras and lenses to monitors and tripods, are crash tested, have an air release valve to stop pressure build up, are dustproof and waterproof and can float. Other manufacturers make hard plastic cases, but Pelican (or Peli) is the brand that most people recognise as providing the ultimate in protection from the elements and accidental damage.
But all that protection comes at the price of weight. As kit has become smaller and lighter, and airlines continue to clamp down on weight and size limits for carry-on and hold luggage in aircraft, there has been a demand for a lighter solution.
Pelican reacted with the launch of the Pelican Air range which offers up to a 40% weight-saving over the same-sized standard Pelican cases but with no reduction in durability. They still have features like watertight 0-ring gasket, pressure release valve, double-throw safety latches, rubberized handles, rugged wheels and lockable hasps.
To do this, Pelican shaved every tiny bit of excess weight from parts like handles, and also reshaped the lid. The Air range is made of a new, lighter resin and the walls of the cases have been made slightly thinner. But the important areas for strength, like corners, are just as tough as always.
Pelican 1535 Air: Specifications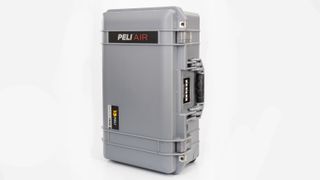 Handles: Front, side, retractable top
Number of latches: 2
IP Rating: 67
Protection: Waterproof, crushproof, dustproof
External dimensions: 21.96 x 13.97 x 8.98 inches / 558x355x228mm
Internal dimensions: 20.39 x 11.20 x 7.20 inches / 522x286x188mm
Weight: 8.69 lb / 3.95kg

Weight with with TrekPak dividers: 9.9lb / 4.9kg
Key features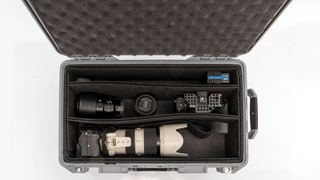 The Pelican 1535 Air is just one of the range but is the largest wheeled case that's carry-on legal on most airlines. To make it even lighter, the padded interior has been completely redesigned to maximize space and for minimum weight.
We tried a 1535 Air case with the TrekPak insert which uses preinstalled wall sections, divider panels, locking pins, and an easy-to-use cutting tool. The border panels fit tightly to the inner of the case, and are held together with pins that you push in. You lay your equipment in the case, measure and cut the divider sections, and lock them in place with the steel U-pins. Extra divider material is included for when you want to reconfigure for different kit. The TrekPak is combined with a 1in foam in the top and bottom for more protection.
By saving interior space, the thin and light TrekPak system gives the maximum amount of interior space for the minimum weight, while still protecting your gear from knocks thanks to its impact-reducing design.
You can also buy the case with Peli's new lightweight Padded Dividers system, which is made from high-visibility yellow material and is a dual-layered system that is easily configured to fit in your kit. The case is also available with Pick N Pluck foam so you can customize your own shapes.
Build and handling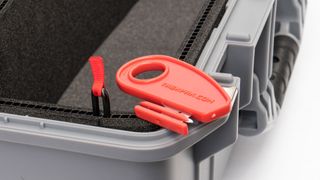 Pelican cases are rugged, made from high-impact resin to withstand low and high temperatures. The corners are rounded to protect against impact, deflecting energy through the case to insulate the contents from damage.
The latches are strong, fitted with stainless steel pins. And there are metal eyelets for locking the case with padlocks. Everything about the case is designed to protect the contents inside.
Peli tests the cases against vibration, leakage and dust-sealing. They have a load inside then are drop-tested on concrete from a height of two metres onto all corners. They are submerged for half an hour to test waterproofing, have a heavy steel dart dropped on them to make sure they're not penetrated and wheeled cases are roll-tested, too. And many of the cases have silent-running wheels and extending, rubberised handles for easy rolling.
Pelican 1535 Air: Performance
Once you've configured the bag to take your kit, it's held securely in place and you know it has the best protection in the business. But that's not the only thing that's the sign of a good roller case.
The handle is easy to extend and the wheels roll well on most flat surfaces like concrete or carpet. But get it on a gravelly car park, or even on a field that might have some mud or loose leaves or grass, and it can soon clog up and jam. It's not just Peli that has this issue with wheels as all bag manufacturers seem to think everyone just rolls their bag through smooth airport lounges all the time.
The latches are secure but not too hard to open, and the padlock hasps are big enough to take even a very large lock. One of the beauties of Peli cases is that on location, they are often pressed into service as makeshift seats or even steps to stand on. And even though the new bags are lighter, they are still easily up to the job.
Pelican 1535 Air: Verdict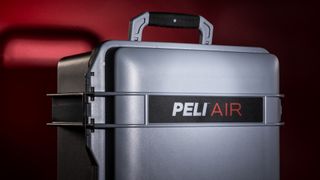 Pelican has taken its popular range of camera cases and made them even better by making them lighter. Yet they are still as durable as ever. They are easy to customize to your own kit, with a choice of three different interior styles. And there are even independent companies that will laser-cut foam to fit your precise equipment, if you want the ultimate custom bag.
The Air range has rightly probed popular so Peli is introducing new models all the time, including deeper versions to swallow up even more gear. The Pelican Air range is the new standard in hardcore, super-protective kit bags.
Read more
• Best hard cases for camera kit
• Best messenger/shoulder bags
• Best camera backpacks
• Best camera sling bags
• Best camera holsters/pouches
• Best roller bags