Think super-telephoto zoom and you're probably thinking of big, heavy lenses that are a chore to carry around and a pain to shoot with for any length of time. This Panasonic lens bucks the trend, with a relatively compact and lightweight construction, taking full advantage of the Micro Four Thirds crop factor to deliver an effective zoom range of 200-800mm, in full-frame terms. That makes it ideal for sports, action and wildlife photography, when you can't get as physically close as you might like.
Specifications
Mount: Micro Four Thirds
Full frame: No
Image stabilization: Yes
Autofocus: Yes
Lens construction: 20 elements in 13 groups
Angle of view: 12-3 degrees
Diaphragm blades: 9
Minimum aperture: f/22
Minimum focusing distance: 1.3m
Maximum magnification ratio: 0.25x
Filter size: 72mm
Dimensions: 83x172mm
Weight: 985g
Key features
Designed in partnership with Leica, the Panasonic boasts an impressive optical layout, which includes an Ultra extra-Low Dispersion element, two regular extra-low dispersion elements, plus a complex aspherical extra-low dispersion element. There are 20 elements in total, packed into a casing that measures just 83x172mm and weighs in at 985g. Although small and lightweight by design, one factor in the downsizing is that the lens has a fairly narrow maximum aperture of f/6.3 at its longest focal length, but that's quite common for super-telephoto zooms.
The autofocus system is rated at 240fps, so it's fast as well as being near-silent in operation, and enables smooth focus transitions when shooting video. The electronically coupled focus ring enables smooth and precise manual adjustments.
Another headline feature is the 'Power O.I.S.' optical stabilizer. It's highly useful in its own right, given the lens's huge effective telephoto reach, but a further bonus is that it works in tandem with the sensor-shift system of camera bodies that feature in-body stabilization. Unlike many modern super-tele zooms, however, the Panasonic lacks switchable static and panning modes for its optical stabilizer, let alone a third mode that applies stabilization only during actual exposures. The advantage of the missing third mode is that it makes it easier to track erratically moving objects.
Even though it weighs less than a kilogram, the lens is supplied complete with a tripod mounting ring, which enables easy switching between landscape and portrait shooting orientations, while maintaining optimum balance. As usual for super-telephoto zooms, the Panasonic grows in physical length as you go from the shortest zoom setting to the longest, with an extending inner barrel. What's more uncommon is that the lens features a zoom lock ring which can lock the zoom setting at any desired focal length.
Build and handling
Build quality is pretty high-spec, based on a 'gapless' construction that offers good dust- and moisture-resistance. The lens feels well built, although the zoom ring of our review sample was a little stiff and lacking in smoothness.
Handling is refined in general. As well as the AF/MF and Power O.I.S. on/off switches, there's an autofocus range limiter switch, but it can only lock out the short section of the focus range, rather than either end. The minimum focus distance is impressively short at just 1.3m, enabling a maximum magnification factor of 0.25x, which translates to 0.5x in full-frame terms, once you take into account the Micro Four Thirds crop factor.
Up front, there's a neat integral lens hood which retracts for stowage. More ideal for long-zoom shooting, an additional lens hood is also supplied that mounts over the shorter one.
Performance
The autofocus system lives up to its billing, delivering rapid yet accurate performance for tracking moving objects. We tested the lens with a Panasonic Lumix DC-G90 and found that the dual optical/in-body stabilization delivered an effectiveness of around 4-5 f/stops. Combined with the easily manageable size and weight of the lens, this makes it ideal for handheld shooting at ultra-long effective focal lengths.
We found that sharpness was generally best when shooting wide-open, which is a good thing considering the lens's modest aperture range of f/4-6.3. Centre-sharpness is outstanding at 100mm but tails off a bit as you progress through the zoom range, as well as dropping off to merely good levels towards the edges and corners of the frame. Chromatic aberrations and distortions are essentially non-issues.
Sample photos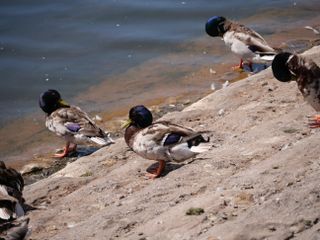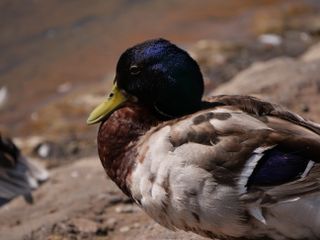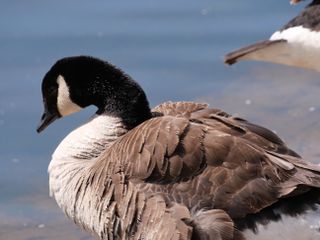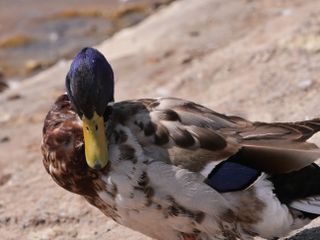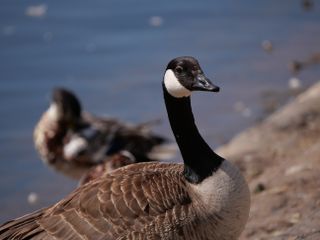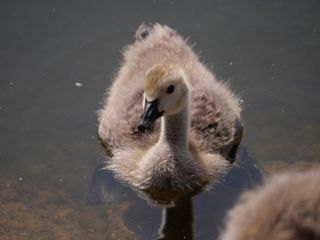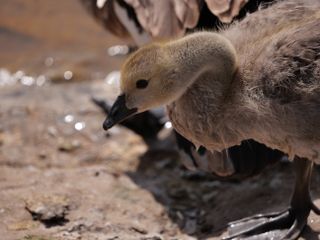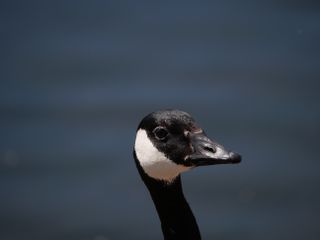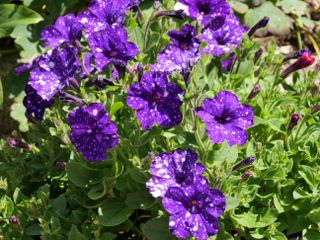 Lab data
We run a range of lab tests under controlled conditions, using the Imatest Master testing suite. Photos of test charts are taken across the range of apertures and zooms (where available), then analyzed for sharpness, distortion and chromatic aberrations.
We use Imatest SFR (spatial frequency response) charts and analysis software to plot lens resolution at the centre of the image frame, corners and mid-point distances, across the range of aperture settings and, with zoom lenses, at four different focal lengths. The tests also measure distortion and color fringing (chromatic aberration).
Sharpness: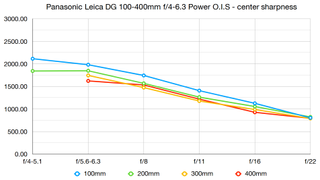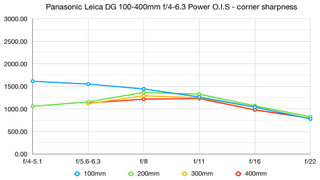 Sharpness is at its best in the central region of the frame, and at the short end of the zoom range. Performance drops off a little as you progress through the zoom range, and towards the edges and corners of the image frame, but usefully remains very good at the widest available apertures.
Fringing: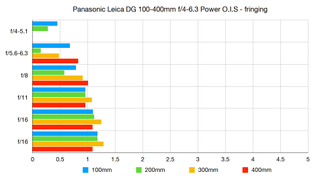 Lateral chromatic aberration is very negligible at most zoom and aperture combinations, even in the extreme corners of the image frame. Technically, it's a little worse at medium to narrow apertures, and at the long end of the zoom range, but even here it's generally unnoticeable.
Distortion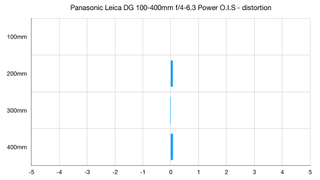 Shorter bars indicate less distortion, so it appears from this chart that the lens produces almost no distortion throughout its zoom range. However, in-camera distortion correction cannot be disabled in current Panasonic MFT cameras, so these scores do not show the 'true' nature of this lens' optical distortion and should not be directly compared with distortion figures from other lenses we've tested which aren't flattered by in-camera distortion correction.
Verdict
A great lens for sports and wildlife photography with Micro Four Thirds cameras, the Panasonic 100-400mm punches well above its diminutive size and weight. The Power O.I.S. system makes it ideal for handheld shooting, and its autofocus system does well to keep pace with fast-moving the action. It lacks the switchable dual or even triple-mode stabilizers of some competing super-telephoto zooms, and has no AF-on/lock buttons but overall performance is impressive and image quality is excellent.
Read more:
The best Micro Four Thirds cameras
The best Micro Four Thirds lenses
The best telephoto lenses
The best lenses for bird photography and wildlife
The best 150-600mm lenses
The best tripods
The best monopods