The E-M10 III is certainly small, but it crams on a lot of exterior dials and buttons, so it's ideal for enthusiasts who expect to be able to take control when they want to. The rear touch-screen and its touch-focus, touch-shutter option is perfect for smartphone upgraders and novices, but this is still very much a serious camera.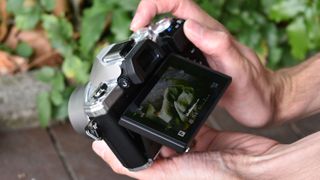 The rear thumb grip has been enlarged to make the small body easier to handle, but most of the rest of the controls are straight from the old model.
At the far left of the top plate is a big on/off switch which might look odd on a camera of this size, but is a really nice echo of the classic Olympus OM SLR cameras. On the right side is a big metal mode dial and two (yes, two) metal control dials. Most entry-level cameras offer just one dial, but the E-M10 III is not your ordinary entry-level camera.
Small as it is, the OM-D E-M10 Mark III handles brilliantly. The dials have a firm, positive feel and the controls don't feel cramped. The four-way navigation pad on the back is a little small, but it works well and Olympus has resisted any urge to add an additional spinning dial around the outside.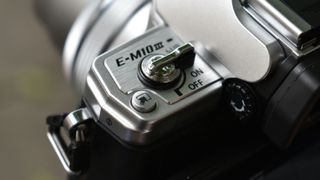 The rear screen tilts up and down, which is really useful, but it doesn't have a fully-articulating hinge. So, while it works perfectly for horizontal shots, it's less effective when you hold the camera vertically.
Advertisement
Our sample camera was supplied with Olympus's 14-42mm EZ 'pancake' zoom and this has already caused some controversy in the Digital Camera World offices. One faction says it's a masterstroke of miniaturisation that makes the OM-D E-M10 III perfect for travel; the other doesn't like the slower startup and motorised zoom action and would rather have the slightly larger (and slightly cheaper) retracting 14-42mm kit lens option.
Olympus packs a lot of very smart shooting options into its cameras, and on the OM-D E-M10 Mark III these have now been made a lot more accessible. The mode dial now has an AP (Advanced Photo) mode which displays the camera's Live Composite mode, Live Time exposures, multiple exposures, HDR mode, silent mode, panorama and bracketing modes.
The camera can even correct horizontal and keystone distortion in-camera. Olympus has been guilty in the past of burying some of its cleverest features in rather complex menu systems, so it's great to see these coming to the forefront.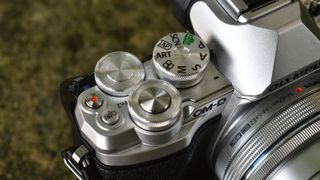 Regular camera settings are easy to get to as well. Pressing the small button next to the camera's power switch displays a touch-sensitive info screen – you tap the setting you want to adjust and then turn the dials to change it.