There are two reasons you might want a Nikon Z 50mm f/1.2 S - faster shutter speeds, and a tighter depth of field. For anything else, there's no point lugging around a big, heavy chunk of glass that's nearly three times the weight of the Nikon Z 50mm f/1.8 S, and costs four to five times the price, depending on where in the world you live. Make no mistake, Nikon's f/1.8 lens might look pretty basic, but it delivers superb sharpness, negligible color fringing and distortion, and is a top performer in every way. So, the question is, how much do you really need an extra 1.33 stops of aperture width?
Specifications
Mount: Nikon Z
Lens construction: 17 elements in 15 groups
Angle of view: 47 degrees
Diaphragm blades: 9
Minimum aperture: f/16
Minimum focusing distance: 0.45m
Maximum magnification ratio: 0.15x
Filter size: 82mm
Dimensions: 90x150mm
Weight: 1,090g
Key features
The key feature of this lens is unquestionably its f/1.2 rating, which enables Nikon's Z system to finally go head to head with Canon full-frame mirrorless in the aperture battle. Even so, Canon already has two f/1.2 85mm lenses (one with a 'defocus smoothing' option) in its super-fast f/1.2 stable as well as the RF 50mm f/1.2L USM. Considering that there are only two primes in the current Z-mount roadmap that are faster than f/1.8, you can't help but feel that Nikon is playing catch-up when it comes to fast glass.
The optical path is quite complex for a standard prime, featuring no less than 17 elements. Of these, there are two ED (Extra-low Dispersion) elements and three aspherical elements. Overall, it's a weighty lens that tips the scales at 1,090g.
As with other up-market Nikon Z-mount lenses, fancy features include an OLED display with a 'DISP' button that enables you to switch between either aperture setting or focus distance, the latter coming complete with digital depth of field markers. For zoom lenses, the display can also show the exact focal length. Other typical features include a customisable Lens-Function button and a separate control ring, in addition to the electronically coupled focus ring. We'll come to those next.
Build and handling
Handling is certainly enhanced by the OLED display and the customisable L-Fn button, especially as the latter can be assigned to any of a large number of functions, via the host camera's custom settings menu. The control ring has a more limited range of custom options but is particularly useful for applying stepless aperture control when shooting movies. Alternative functions include exposure compensation and ISO setting. Both the focus ring and the control ring operate smoothly but with good tactile feedback.
As you'd expect from a modern lens at this price, the 50mm f/1.2 is extensively weather-sealed and its overall build quality feels very robust. The barrel parts are plastic rather than metal but are reassuringly solid without being cold to the touch.
Performance
The unassuming little Z 50mm f/1.8 S sets the bar high for sharpness but the f/1.2 lens beats it at pretty much all directly competing aperture settings. Even wide-open, the f/1.2 lens delivers incredible sharpness and contrast for such a 'fast' lens, with sharpness only really dropping off a bit at the extreme edges and corners of the frame. Even corner-sharpness picks up very well by f/2.8 and remains excellent all the way through to f/16.
We're used to seeing barely any lateral chromatic aberration in Nikon's Z-mount lenses but longitudinal chromatic aberration or 'bokeh fringing' can be more problematic in very fast lenses at their widest apertures. Again though, this is controlled remarkably well, with negligible tell-tale fringing around high-contrast edges around objects that lie just in front of or behind the plane of focus.
There's a slight touch of pincushion distortion but nothing to cause any concern. Vignetting is comparatively pronounced when shooting at or near the widest aperture but this can actually enhance images when you're trying to focus the attention on the central region of the frame. Either way, automatic in-camera corrections are available for both distortion and vignetting.
For an f/1.2 lens, the quality of bokeh can be more important than sharpness. Shooting at f/1.2, the bokeh of this lens is beautifully smooth and the transition between focus and defocused areas looks entirely natural. Our only slight criticism is that bokeh discs (caused by defocused bright spots or lights) can tend to take on quite an irregular non-circular shape towards the edges and corners of the image frame. Bokeh discs also don't stay very well-rounded when stopping down a little, as the 9-blade aperture diaphragm turns them into pronounced 9-sided shapes at apertures of around f/1.8 and narrower. On the plus side, there's virtually no onion ring effect in defocused lights, which is often a problem with fast lenses.. Overall, the Z 50mm f/1.2 S delivers beautifully creamy looking bokeh.
Sample images
Lab tests
Sharpness:
The sharpness scores in the graph below are produced by shooting a monochrome test chart covered in multiple sharp boundaries between black and white. This image is then assessed by specialist software, with the extent of blur on the contrast boundaries at the centre, mid and edges of the image converted into a spatial frequency value to determine how many line widths per picture height the lens is capable of resolving. A higher spatial frequency corresponds to a greater number of finer lines over a given distance that the lens can resolve - this number is the sharpness score.
For such a fast lens, contrast and centre-sharpness are spectacular when shooting wide-open. The centre sharpness scores between f/2 and f/5.6 are some of the highest we've ever recorded! Mid-frame sharpness is more average at larger apertures, but becomes excellent once you stop down to f/2, and if you want pin-sharp clarity right to the corners of frame, you'll need to stop down to f/4.
Fringing:
The chromatic aberration scores are calculated using the same chart we use for measuring sharpness. This time the processing software assesses the sharp black-white contrast boundaries and determines the width in pixels of the colour fringe that divides black from white - the larger the width of the fringe, the greater - and worse - the fringing score.
Lateral chromatic aberration is basically a non-issue and, for such a fast lens, longitudinal chromatic aberration is also very negligible at wide aperture settings.
Distortion: 0.25
There's just a hint of pincushion distortion but it's very hard to spot in real-world shooting, even when the optional automatic in-camera correction is disabled.
Verdict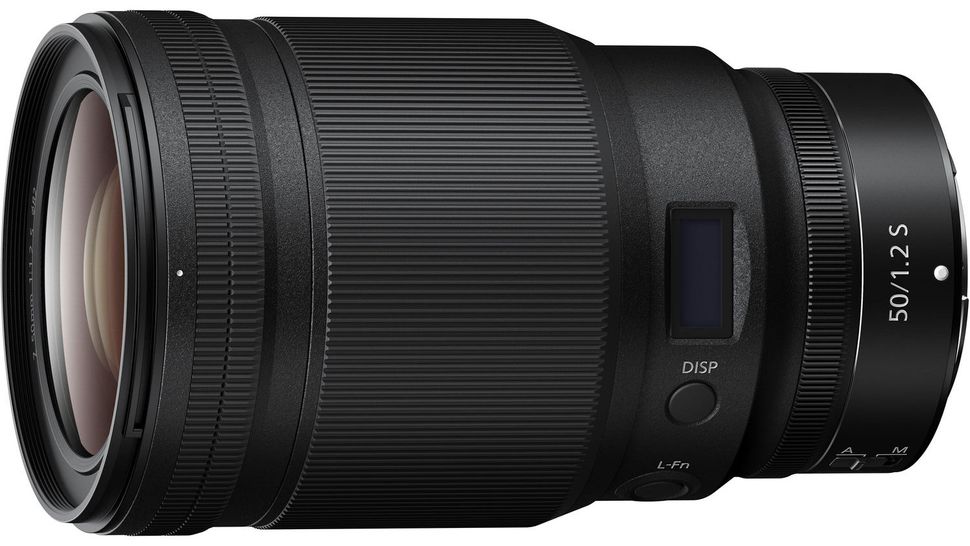 Shooting at a distance of 2m with a 50mm lens on a full frame camera, an increase in aperture width from f/1.8 to f/1.2 gives a reduction in the overall depth of field from 17cm down to 11cm. If you feel that tighter depth of field and the ability to gain 1.33 stops in shutter speed under low lighting conditions are 'must have' features, you'll be able to justify the extra expensive of this lens over the excellent Nikon Z 50mm f/1.8 S, which is much more compact and lightweight as well as being far less expensive to buy. The OLED display, L-Fn button and additional customisable control ring are also nice additions.
Ultimately, the f/1.2 is a fully pro-grade lens that works brilliantly for both stills and movie capture but, for most of us, Nikon's Z 50mm f/1.8 will be the more sensible buy.
Read more:
The best Nikon lenses: lenses to build up your Nikon DSLR and Z system