A new tripod and head system from Manfrotto is always a welcome sight. Unveiled at this year's Photography Show in Birmingham, Manfrotto's 500 Video System is based on the popular 190 tripod. The fluid-head-and-tripod kit has the model number of MVK500190XV, and is designed for video shooters using lighter camera systems such as DSLRs, CSCs and smaller camcorders.
The video tripod half of the kit is a supremely solid aluminum-alloy model with Quick Power leg locks that can be locked and unlocked with simple, fast movements. The leg angles can be individually set, making it easier to set up on uneven terrain, and the entire system can extend to a maximum height of 173.3cm
Fixed atop the central column is the Manfrotto 500 Fluid Video Head, an extensively counterbalanced head that boasts fluid cartridges on its pan and tilt axes, producing smooth camera movement in every direction. Three grub screws on the top disc lock into the head and eliminate any unwanted movement.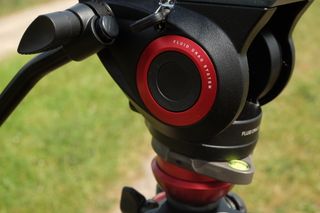 Build and handling
Manfrotto bills this 500 system as compact and lightweight. This is true enough in a broad, relative sense, but if you're envisioning the kind of travel tripod you sling onto the side of a backpack for a day's walking and shooting, then be aware that this… isn't quite that. When closed it still measures a sizeable 73cm and the entire aluminum-alloy ensemble weighs more than 3kg. If you carry this setup around all day, even with a well padded carry-bag, you'll feel it. I found it easy enough to transport this tripod to and from my shooting locations, but I'm an able-bodied man of about average height – anyone who doesn't meet those parameters may well feel differently.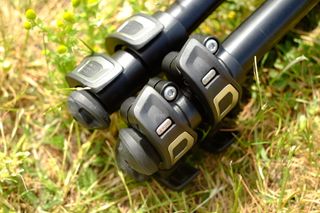 The good news though is that once you get it to your shooting location, it's a dream. The 500 video system is wonderfully quick to set up, using Manfrotto's popular Quick Power Locks that can be swiftly opened with a single hand movement, and easily clicked closed again once the legs are in the desired position. I found as I used the tripod that there was one particular lock that was consistently stiff and needed a little extra force to close – fortunately it never got the point where it was a problem, and I'd expect this to ease up with extended use.
The 500 fluid head uses Manfrotto's sliding, snap-lock quick-release plate – it's the longer version that supports longer lenses and larger cameras, which is handy for video use (though remember that 5kg maximum payload), and it's quick to set up, snapping in easily from above.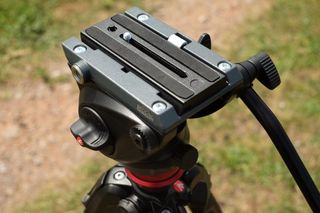 Position, level and angle of the head can be controlled with the tripod's innovative central levelling column – simply twist and untwist to allow total movement of the ball head or to lock it securely in place.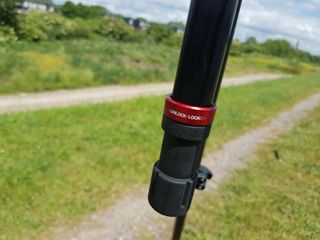 You'll find yourself defaulting naturally to a shooting position with one hand on the head's guiding lever and the other on the levelling column, making quick and fine adjustments to the ball head position in the blink of an eye. Individual locks also control panning and vertical movements, and they've all been intelligently placed to be accessible with the same hand. The central column's height can also be adjusted.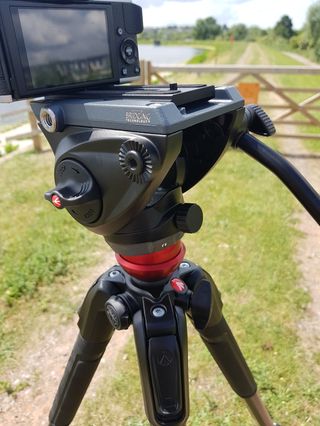 Performance
The Manfrotto Hybrid 500 Video System, frankly, handles beautifully. Creating smooth camera movement is not only easy – it's genuinely enjoyable, and once you've got the hang of where each of your movement controls are located, you'll find that setting up for pan, tilt or free head movement comes naturally and easily. Being able to quickly snap the top plate on and off and fold up the tripod with a few efficient movements means it's easy to quickly redeploy in a different shooting position – with a little practice you can get it done literally in seconds. If you're working on sports or events, this is a godsend.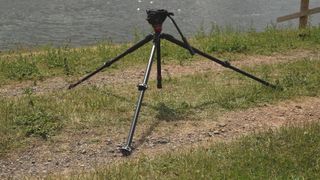 You ideally want a decent amount of room to manoeuvre when using this system, and as we mentioned earlier, it doesn't pack down particularly small. I was rocking a pretty light mirrorless system when I tested the tripod – one of the types of setup the marketing has explicitly been geared towards, by the by – and the ratio of tripod to camera was somewhat alarming.
Verdict
Ultimately, that combination of smooth movement and strong, versatile support is very tough to argue with. The Manfrotto 500 video tripod balances stability and flexibility to impressive effect, and it's so quick to set up that you're already off and shooting before it's occurred to you to notice anything that might annoy you. Having multiple movement controls at your fingertips is a godsend, and the fluid movement of the 500 video head is a joy that never gets old. It's as intuitive and beautifully made, as you'd expect from Manfrotto; as long as you don't mind a fairly sizeable setup, you'll find this an immensely valuable shooting companion.
Read more:

The best video tripods in 2019
The best tripod for your camera
The best travel tripods right now
The best iPhone tripods and supports
The best pan and tilt tripod heads