Hoya is the world's largest manufacturer of optical glass and as well as providing glass to many lens manufacturers, it produces a huge range of filters. The Fusion One Next series was introduced in August 2021, building upon the popular Hoya Pro1D range which is designed for enthusiast and professional photographers. The new Fusion One Next series is aimed at enthusiast photographers and includes a Protector, UV and Circular Polariser, each being available in a wide range of sizes.
Hoya uses its professional-grade optical glass for the Fusion One Next CIR-PL and applies an 18-layer coating to both side to reduce flare and ghosting while helping the filter to shed water droplets and making it easy to wipe off fingerprints.
Meanwhile, the low-profile filter frame is made from aluminium and features a front thread to enable other filters to be attached on top.
Hoya supplies the filter in a slim plastic case. This is fairly basic but it's useful for keeping the filter safe from scratches when it's a in a bag with other photographic gear.
Specifications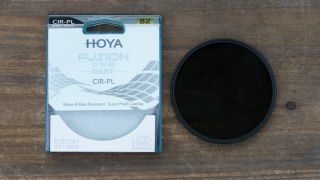 Sizes available: 37mm, 40.5mm, 43mm, 46mm, 49mm, 52mm, 55mm, 58mm, 62mm, 67mm, 72mm, 77mm, or 82mm
Mount: screw-in
Construction: aluminum and glass
Build and handling
While it doesn't have quite the same luxurious feel as the Lee Filters Lee Elements CPL filter, the Fusion One Next Cir-PL still feels well-made, with a reassuring weight yet without being a burden. It's worth pointing out at this point that the Hoya filter is significantly more affordable than the Lee Elements filter.
The rear mounting ring is very slightly larger than the broader adjustment ring, which makes it easy to thread the filter onto a lens, but you need to be careful to grasp the correct area when you want to remove the filter from the lens and be sure to not over-tighten. Both rings have the same ridged surface.
There's a little less resistance in the adjustment ring's movement than with the Lee Elements filter, and it doesn't feel quite so smooth, but it's unlikely to shift accidentally and does the job.
Being a screw-in filter, using the Fusion One Next Cir-PL avoids having to use a filter holder, and you can stack it with other filters, but of course a holder for rectangular filters is the only real option if you want to use graduated filters.
Performance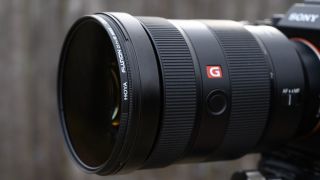 I tested the 82mm Fusion One Next Cir-PL which meant that I could mount it with or without step-up rings to on lenses with filter sizes up to 82mm. Mounted directly on to a lens with an 82mm thread, I was unable to spot an increase in vignetting at 24mm.
As with other polarizers, it can sometimes be hard to find the point of maximum polarization, but the Fusion One Next Cir-PL does a great job of enhancing a blue sky and bringing out clouds when the lens is pointed at around 90° to the sun. It's also good at reducing reflection and boosting color saturation.
When I tested the Fusion One Next Cir-PL on the Nikon Nikkor Z 24-70mm f/4 S mounted on the 45.7Mp Nikon Z7 II, I was unable to see any change in image quality beyond the increase in saturation and warming of the colors.
I found the Fusion One Next Cir-PL cuts out up to around 1.3EV of light so the camera settings need to be adjusted accordingly.
Verdict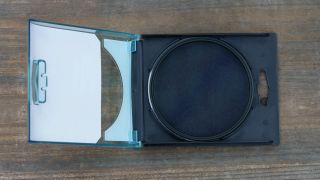 Hoya's Fusion One Next Cir-PL is light, easy to use and available in a wide range of sizes. As usual, the cost increases with the size of the filter but they're reasonably priced. This makes buying the largest available (82mm) and using step-up rings on smaller lenses an attractive option.
The slim profile helps to keep vignetting at bay but it also means the mounting ring is thin you need to take care to grasp the right part when removing the filter.
Read more:
• Best filter holders
• Best ND grad filters
• Best polarizing filters
• Best neutral density (ND) filters
• Best variable ND filters
• Best lens protection filters
• Best light pollution filters
• Best close up filters
• Camera filters explained