The PowerShot G5 X Mark II has been launched at the same time as the PowerShot G7 X Mark III, and comes with the same new 'stacked' CMOS sensor and DIGIC 8 processor, to allow a step-change in video recording capabilities, up from full HD to 4K, plus improved high-ISO performance, and an unusual fully-automatic 30fps burst mode which captures images in Canon's own highly efficient CR3 RAW format.
The G5 X also has a new 5x zoom lens, which is both longer than the lens on the original PowerShot G5 X, with a new maximum 120mm equivalent focal length, but also offers a fast f/1.8 aperture at the widest zoom setting which only drops to f/2.8 even at full zoom. Its lens alone makes the G5 X Mark II look like it could potentially be one of the best compact cameras to buy right now, and its 1-inch sensor gives it an instant advantage in image quality over regular point and shoot cameras and even the best camera phones.
Other notable features in this new camera include in-built focus bracketing (up to 100 shots), in-camera panoramas at full resolution and revised user interface that offers a very similar look and feel to Canon's own EOS cameras – Canon says that its premium Powershot models like this one are often chosen as 'second' cameras by EOS fans. With that in mind, Canon has also updated the Picture Styles to more accurately reflect the ones on its DSLR cameras.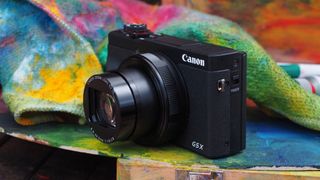 Specifications
Sensor: 20.1MP 1-in stacked CMOS
Image processor: DIGIC 8
AF points: 31-point contrast AF
ISO range: 125 to 12,800 (exp. 25,600)
Max image size: 5,472 x 3,648
Metering modes: Evaluative, centre-weighted, spot
Video: 4K UHD at 30p, 25p
Viewfinder: Pop-up EVF
Memory card: SD/SDHC/SDXC (UHS I)
LCD: 3-inch tilting touchscreen, 1.04m dots
Max burst: 30fps (full auto)
Connectivity: Wi-Fi, Bluetooth
Size: 110.9 x 60.9 x 46mm
Weight: 340g (body only, with battery and SD card)
Build and handling
The original PowerShot G5 X had a rather appealing 'micro-DSLR' design which included an electronic viewfinder in a housing on the top of the camera. The new G5 X Mark II is very different. The viewfinder housing has gone and the EVF is now incorporated into the body via the pop-up/slide-out arrangement first used by Sony on its RX100 series cameras.
This has allowed a smaller, neater, rectangular body design that means the new model is much more pocketable than the old one – on the other hand, it has lost a lot of the character and charm of the original design, even if it is more practical. Hmm.
The new G5 X Mark II looks very similar to the G7 Mark III launched at the same time, which we were told is deliberate. The control layout and external appearance is very similar and you have to look closely to tell which is which.
The retracting viewfinder does keep the camera shape more compact, but it does feel a bit of a drag having to pop it up and then slide out the eyepiece before you can use it. It's not the highest resolution EVF on the market with 2.36 million dots, but it's sharp and clear and does the job.
We do like the overall feeling of quality, the 'stacked' mode dial and EV compensation dial and the customisable lens control ring.
Performance
The PowerShot G5 X Mark II uses the same sensor, processor and autofocus system as the G7 X Mark III, and feels very similar to use, with fast and positive AF at normal focus distances and zoom settings, and especially rapid and effective face detection.
We were using a pre-production camera, so it's too early to reach any conclusions about image quality, but we are keen to run the G5 X Mark II through our usual lab and real world tests, especially with its new 24-120mm equivalent f1.8-2.8 5x zoom. That's a very handy focal range to have in a compact camera, and it has an unusually wide maximum aperture right across its zoom range.
Early verdict
The new Canon PowerShot G5 X Mark II is certainly more powerful and practical than its predecessor. It now has a longer-range 5x zoom lens, a more compact design thanks to its pop-up EVF and far more powerful 4K video shooting capability. It's curious, however, that the G5 X Mark II does not have a mic socket, while the G7 X Mark III does – so the cheaper model might actually be a better choice for video.
And while the G5 X Mark II does boast a better lens and a smaller body, it has perhaps lost a little of the charm of its predecessor. It's also being launched at what feels like a pretty stiff price of £849.99. The good news for fans of the old G5 X is that Canon plans to keep it on sale alongside the new model but at a lower price point.
Read more:
• The best point and shoot cameras to get right now
• The best Canon cameras, from PowerShot to EOS
• These are the best cameras for vlogging