Canon has a history of producing innovative designs for camera. These concept cameras, however, are normally just shown off at trade shows to give a glimpse of what the future may look like... but they don't as a rule get beyond this blueprint stage. The Canon Ivy Rec is different... this has gone turned from a mockup to a reality thanks to a Kickstarter campaign, that served to prove that there was real demand for this camera.
In terms of the features, there is little for us to say. This is about as basic as a digital camera to get. Think of it as a stripped down action camera, that has had its viewfinder taken off. It shoots HD video, and can take 13 megapixel stills - using a fixed lens that offers a wide-angle of view that is equivalent to a 25mm.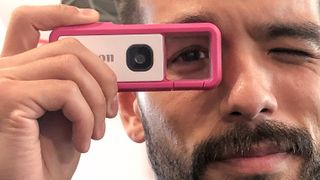 The design is the novelty.. this is purposefully designed to clip to your bag or belt, and to carried around as you travel. Its chunky design shouts outdoor - and feels like it could be made for use by sailors, or by construction workers. Available in four colors, this is also a camera that is obviously designed to be a great camera for kids – and you can see this being a hit with five to 10 year olds that so far have not been allowed their own camera phone.
Canon Ivy Rec: Features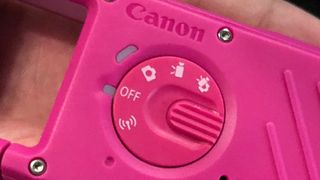 The key to the camera's success is that it works in conjunction with a mobile phone or tablet... this allows you to see your images whilst you are out and about. You can also take the microSD memory card out, of course, and look at your images on a computer. However, you do get extra functionality via the Canon Mini Cam app. The concept is similar to various accessories that smartphone manufacturers have tried to popularize in the past, such as the HTC Re from about five years ago. Obviously, if you do give this camera to a kid, they may be ever hounding you to see their images on your phone.... you have been warned.
As to the camera, the control dial is a single, simple control dial on the back. As well as off and wireless playback, there are three shooting options... stills, video and a hybrid mode. With the hybrid mode you press and hold down to record video, and give a short press to get a still image.
Canon Ivy Rec: Specifications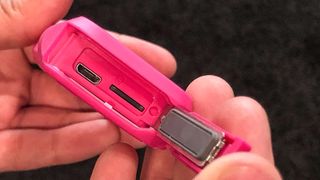 Stills resolution: 13MP (4160 x 3120 pixels)
Video resolution: ,1080p @ 60fps, 1080p @ 30fps, 720p @ 30fps
Sound recording: via built-in mic, mono only
Recording formats: JPEG, MP4
Lens: 25.4mm (35mm equivalent)
Aperture: f/2.2
Focusing range: 50 cm - ∞
ISO: Auto (from ISO 100-3200)
Image stabilization: Yes, electronic
White balance: Auto
Exposure adjustment: fully auto
Connectivity: WiFi, Bluetooth
Memory: via MicroSD card
Battery: rechargeable lithium polymer 660mAh
Canon Ivy Rec: Handling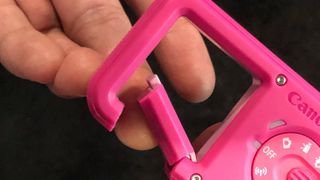 The camera not only looks and feels solid, its specs make this a camera that is design for a reasonablea amount of rough and tumble. It is waterproof down to 2m (6 feet) so can be a poolside companion, or a beach accessory. It is also shock proof - so apparently can be dropped from a height of 2m.
In use the rubberised release button is relatively stiff, presumably to minimize the risk of accidentally taking images when you don't want to.
To frame the images you hold the square hole created by the clip directly to your eye. This simulates the wide-angle view that the lens will capture - but precise framing of your shot is going to be a struggle. The camera gives you the option of shooting standard compact camera 3:4 ratio images, or the 1:1 square format favored by Instagrammers.
There is a sealed door that hides the microSD card slot and the mini USB charging port, that is sealed to protect them from water ingress. And at the front, there is a metal plate around the lens that can be replaced from the default one with the Canon icon to a custom one... already a number of designs can be bought, with others sure to come, to help you personalize your Ivy Rec experience.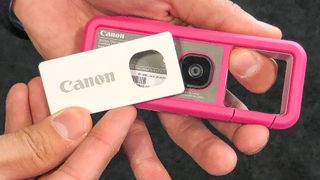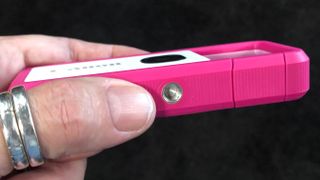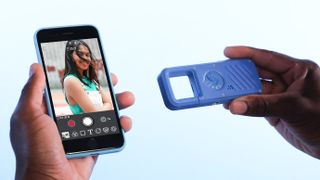 Read more:
Best action cameras
Best cameras for kids
The best pink cameras
The best body cameras
The best Canon cameras