Whether you're in the market for a good VPN for torrenting, a Fire Stick VPN or an Apple TV VPN, it can be difficult to narrow down exactly which VPN service will be best for you. However, ExpressVPN is one of the best VPN services around, offering professional features and multiple layers of protection that will keep you secure when you're browsing online.
ExpressVPN supports a wide range of platforms, with apps for Windows, Mac, Android, iOS, Linux and many other operating systems as well. Plus, ExpressVPN also features manual setup guides for the best streaming services, such as Apple TV, Fire TV and more.
ExpressVPN uses its own DNS servers to protect your internet traffic and high-end encryption that helps to protect your activity online being leaked or spied on. It even features a kill switch that will immediately activate and block your internet connection if the VPN happens to drop – perfect for keeping you and your data safe online.
With a vast network of over 3,000 servers spread across 160 cities in 94 countries, ExpressVPN offers an impressive amount of coverage. For comparison, rival VPN service TunnelBear only features 34 countries in its entire network!
For those concerned with privacy, you'll be heartened to note that ExpressVPN's privacy policy explains that the service doesn't log any sensitive information. ExpressVPN has even had its servers recently audited to ensure that the company is following its own policy correctly.
However, our favorite feature has to be ExpressVPN's 24/7 support, with agents available on live chat that can walk you through any technical issue you experience. This means that you should be able to resolve any potential problems within a matter of minutes, as opposed to the hours or days you could experience elsewhere.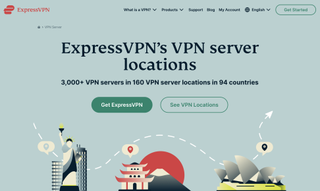 ExpressVPN plans and pricing
ExpressVPN has three plans, beginning with $12.95/mo. While this isn't overly cheap, it's worth keeping in mind that competitor services such as CyberGhost, Hotspot Shield and VyprVPN all charge a similar price as well. Plus, while you can find VPN services for as little as $9, the quality that you receive from ExpressVPN more than makes up for the few dollars difference in price.
However, if you want to cut down the price, you can sign up for ExpressVPN's 6-month plan, which drops the monthly price down to just $9.99/mo. Alternatively, the annual plan works out at just $8.32/mo, which is a substantial 35% discount on the monthly subscription.
It's worth noting that other VPN services can cost much less. For example, Windscribe is just $4.08/mo on an annual plan and Speedify's three-year plan costs just $3/mo. However, be aware that many vendors boast low initial prices that then increase later. For example, NordVPN begins at $4.92, but later renews at $9.92.
If you want to check out ExpressVPN's service for yourself, but you don't want to commit to paying for a year, ExpressVPN's 30-day money-back guarantee means you have ample time to test it out without worrying about potentially wasting your money.
ExpressVPN privacy policy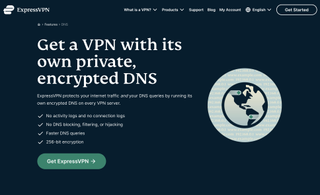 ExpressVPN offers a comprehensive privacy policy with a long list of features to back up its data protection promises. One of the ways that ExpressVPN sets itself apart from other companies is how open it is about its features. While other VPN services might throw in a few references to technical terms, VPNExpress goes a step further, explaining that it uses a 4096-bit SHA-512 RSA certificate with AES-256-CBC to encrypt its control channel and HMAC (Hash Message Authentication Code). This means that VPNExpress is able to protect against regular data being altered in real-time.
Meanwhile, Support for Perfect Forward Secrecy automatically assigns the user a new secret key every time you connect, replacing it every 60 minutes while the session remains open. This means that even if a hacker is able to somehow compromise your system, the most they'll get is just 60 minutes worth of data.
ExpressVPN also runs its own private, zero-knowledge, 256-bit encrypted DNS on each of its own servers to prevent data abut your online activities leaking out of the VPN tunnel. This is an advantage over other VPN services that might offer DNS leak protection that's outsourced to a third-party, such as OpenDNS. This is because using an unencrypted DNS gives attackers the chance to intercept, filter, block or alter your requests.
Interestingly, ExpressVPN has recently gained an ioXt Alliance certification. This process involves scoring the company on details such as cryptography, network security, automatic updates and more. Other VPN services such as Private Internet Access and NordVPN are also certified as well.
Performance
When you're looking for a good VPN, speed is often one of the most important factors. However, ExpressVPN boasts lightning-quick speeds that will enable you to surf the internet without experiencing any frustrating lags or delays.
Our testing process began in a US location with a 1Gbps connection. Using the standard ExpressVPN Windows 10 app to connect to our nearest location, we then check the download speeds reported by multiple speed test sites and services (including TestMy.net and Fast.com). We fetched at least five results from each site and then repeated the test using three protocols (OpenVPN, IKEv2 and Lightway). We ran the entire test at both morning and night in order to look at any potential variations between the two sessions.
We found that ExpressVPN's OpenVPN speeds were well above average at 270-280Mbps (services including CyberGhost, IPVanish and VPN Unlimited couldn't even reach 200Mbps). Meanwhile, ExpressVPN's IKEv2 speeds were at an impressive 300-310Mbps and ExpressVPN's Lightway protocol had an astronomical 490-630Mbps.
To test how ExpressVPN's service held up over long distances, we then tested the connection from the UK to Malaysia. This reached 68Mbps on a 75Mbps connection, which is what could be expected with no VPN at all.
ExpressVPN and streaming services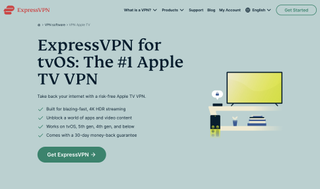 ExpressVPN supports over 25 services and platforms, including Amazon Prime Video, BBC iPlayer, Netflix, Disney Plus, YouTube and more. After running a series of tests on these services from different ExpressVPN locations, we found that Netflix, Disney Plus and Amazon Prime performed particularly well – with all three locations unblocking the services.
BBC iPlayer was a little trickier, with only two out of four ExpressVPN servers enabling us to view the content. However, this is still better VPN protection than many of the other VPN services.
ExpressVPN verdict
ExpressVPN is a fantastic VPN service that's not only lightning-fast, but also gives the user plenty of protection when surfing the web. Its unblocking abilities make it essential for anyone who frequently travels and wants to watch their favorite streaming platforms – and the 24/7 live chat support means that you'll never have to wait for hours if you encounter a problem.
While it might be a little more expensive than most VPN services, its 30-day money-back guarantee ensures peace-of-mind so you know you're getting a good product for your money.
Read more
Best Apple TV VPN
Best Amazon Fire Stick VPN
Best VPN
How to watch HBO Max
Best streaming services