With Canon's flagship EOS R series of mirrorless cameras very much in the spotlight, the fact that at the other end of the scale it's released a second-generation version of its digital instant camera, may well have escaped your attention. Sold as the Canon Zoemini S2 in Europe and Australasia, and as the Ivy Cliq+2 in North America, this hybrid device cleverly combines a digital compact camera and instant printer.
While Fujifilm's Instax range of Polaroid-like instant print cameras may well have saved its fortunes, Canon has been far less aggressive in promoting its own instant print alternatives. Perhaps it's just gently testing the water, and the market? Or just maybe – whisper it – its own product is not actually very good.
Unlike Fuji's Instax range, which utilizes photochemical film, Canon's Ivy Cliq+2 has something in common with the instant print cameras currently being marketed under the Kodak brand. Like Kodak, Canon favors Zero Ink or 'Zink' technology, using dye-infused paper that reacts to heat.
Experience has taught us that results from such cameras often more closely resemble crude photocopies than true photographs. So we're interested to see whether Canon has been able to get the best out of this print format this time around, and improve on what we've seen in the past.
Ivy Cliq+2: Specifications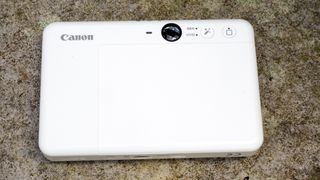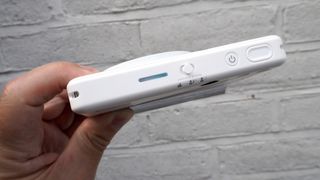 Capture resolution: 8 megapixels
Print resolution: 314x600 dpi
Lens: 25.6mm equivalent in 35mm terms, f/2.2
LCD monitor: No
Viewfinder: Optical
Battery life: Sufficient for up to 25 prints
Dimensions: 12.1x2.2x8cm
Weight: 188g approx.
Key features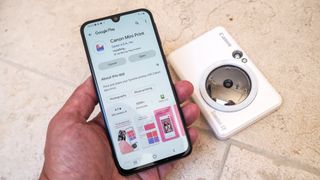 Rather than the beermat-sized Polaroid prints of old, most instant print cameras these days strictly offer credit card sized output, often with the ability to peel off the back of the print and use it as a sticker. It seems clear then who the target audience is for these cameras – kids and teenagers in the main – and the Canon Ivy Cliq+2 is no exception. And yes, you can buy its Zink photo paper in sticker sheets, if desired. Canon suggests it's therefore an ideal gift for someone into scrapbooking. Actual print resolution here is a reasonable 314x600 dpi.
Also hoping to appeal to a youthful audience is the fact that this particular instant print camera – or '2-in-1 mini photo printer camera' as its maker more cumbersomely calls it – is available in a choice of three colors (the options vary in different countries). We had a Pearl White iteration in to take a look at, which is both shiny and attractive; its mirrored lens surround effectively acting as one big selfie mirror. The focal length of the supplied lens is a wide-angle 25.6mm in 35mm film terms, and minimum focus distance is a standard 30cm.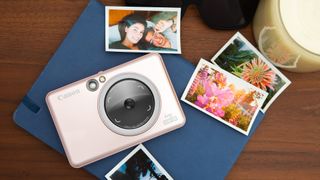 While it resembles a compact digital camera, slips easily into a pocket and impressively weighs just 188g, unlike some hybrid devices the Canon Ivy Cliq+2 doesn't feature a compositional or review screen of its own on the backplate. If downloading the Canon Mini Print app however, it can be used in tandem with a smartphone or tablet, and so is able to also print images direct from such 'smart' devices – not just those taken with the camera itself. That's the theory.
Rather than just otherwise being your basic point-and-shoot instant print camera, this latest iteration also allows us to add borders and color filters via the app, print in black and white via a button on the device itself, switch shooting modes and deploy either standard flash or a ring-light effect for selfies via eight built-in LEDs encircling the lens. Given the above, the camera is not without appeal – going via the spec sheet, at least, and before we actually start using it in earnest.
Rivals
There is a handful of similarly slender Kodak-branded instant print cameras doing the rounds that are very close to this Canon offering. We've the Kodak Step Touch and the Smile Classic to name but two. But frankly performance and print quality is no better than here, so we wouldn't go out of our way to recommend them as alternatives.
However, if wider format prints closer to the Polaroids of old are more your aim, do check out Fujifilm's retro-styled Instax Square SQ40, released in summer 2023. Inevitably bigger prints do necessitate a physically larger camera when compared with the credit card-sized output Instax 'Mini' models lower down its range, but we reckon it's worth it for better picture quality. If it's credit card results comparable in size at least to those from the Canon Ivy Cliq+2 you're after, however, then do also take a look at the Fujifilm Instax Mini 12 model, released in spring 2023.
Handling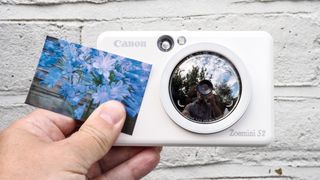 Once we've got the Canon Ivy Cliq+2 out of the box, the first step is to make sure it's fully charged and operational. Once that's been achieved the next stage involves loading the helpfully provided starter pack of paper into the back of the camera. A shove of the thumb and a rear cover slides off to allow us to do this.
Along with the starter pack of 10 sticky-backed Zink photo paper sheets, we also helpfully get a USB cable that acts as a means of charging the camera/printer's internal battery when said cable is plugged into a laptop or desktop computer, or if a mains plug is attached to it. A grey wrist strap is also in the box, with lugs for its attachment provided both left and right of the camera's top plate. Other than that the package is pretty bare bones.
There's no ability to attach a lens cap or lens cover for example, as on a digital camera proper. As on our smartphone, the lens is open to the elements and in fairness not something this device's target audience will give a second thought to.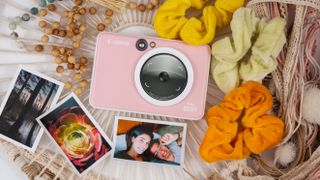 A shiny faceplate coupled with a physical depth not much wider than a smartphone – it's roughly a finger's width – means that there's otherwise not much to get a firm grip on here. Certainly there's no rounded handgrip as found on Fujifilm's rival, albeit bulkier, Instax Mini models. The Canon Ivy Cliq+2 is not a great deal larger than a pack of playing cards overall, and it's incredible to think that the workings of both a camera and a printer have been shoehorned into this slender device. Unfortunately that's where the wow factor largely started and ended for us.
Next to the USB port on the camera itself – again, as on a smartphone, there's no provided cover for this – is a vacant slot for the use of an optional microSD card. Compatibility with up to 256GB media is offered. The advantage here is that we can digitally record the 8 megapixel resolution pictures we take, framed via the small round window for the optical viewfinder, so we have another copy alongside the actual printed image. In other words, added flexibility for how we share, record and preserve the snapshots.
But, because there is no screen on the rear of the camera itself, just like any bog standard instant print camera, every time we squeeze the shutter release button whatever we've captured is automatically and instantly printed, whether our framing is awful or not.
Well, we say instantly – it takes a little while for the print to emerge as the internal mechanics grind and whirr, but the process is speedy enough that little heads won't immediately get bored, with prints output in around 45 seconds or thereabouts. We did still miss having a screen on the back that would allow us to quickly review what we've shot it must be said.
Performance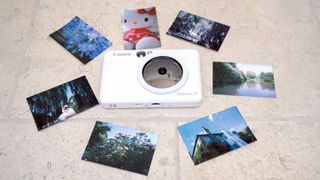 On the Canon Ivy Cliq+2, battery life lasts for up to a modest sounding 25 prints. But it's probably rare that any of us is going to be outputting 25 prints from this device on the trot, and one or two at a time is more likely the norm.
Unfortunately, the quality and thermal technology surrounding 'Zink' prints hasn't improved since the last time we examined such output. Its 2x3-inch mini prints display visible banding – the likes of which we normally see when an inkjet printer is running out of ink – and there is a general murkiness and lack of definition that reminds us at times of results from a pinhole camera, or a color photocopier. Saturation can be bolstered by selecting the 'Vivid' setting via a button press on the camera back – altering Caucasian skin tones to the extent that it appears as if fake tan is being worn – while the 'B&W' option selectable via the same button can actually produce more forgiving results, resembling something from a retro Box Brownie camera, which is not without its charm.
OK, so we suspected the results described above might well be the case and the teenage audience this device is aimed at may be much more forgiving than us. But there is an alternative. The results from a Fujifilm Instax Mini or Instax Square camera, while hardly 'gallery quality', are nevertheless streets ahead for our money.
It's a real shame as build quality here is great and the slim-line camera looks much cooler than its Fuji competitors. But if we're putting image quality first like any photography related website should do, then this Canon would not be our first choice.
Sample digital images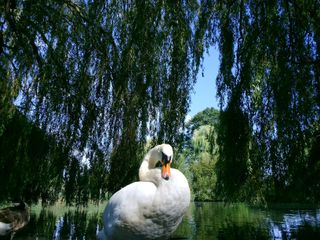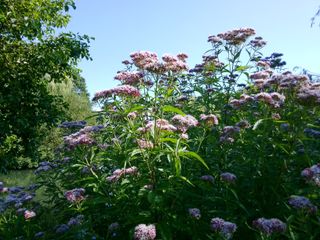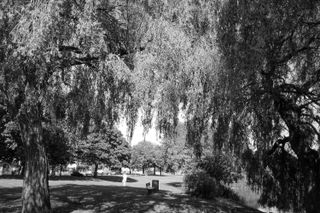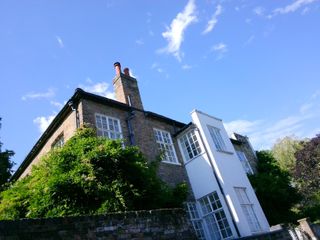 Verdict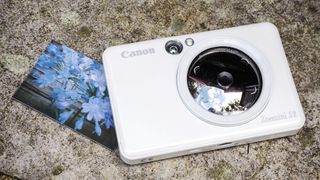 The Canon Ivy Cliq+2 looks the business and is remarkably portable with it, seeing as both a digital camera and printer have been shoehorned into a device barely a finger's width. But in practice, we're struggling to recommend it without attaching a bunch of caveats. If you just want something that's a bit of fun to create uniquely personalized photo stickers with, that will quickly be discarded, then it's fine. But if you want something that takes great photographs, or even just produces 'good' quality instant prints, then, unfortunately, we'd have to direct you elsewhere.
Also check out the best instant cameras and the best digital instant cameras