Designed for full-frame Canon DSLRs, the Canon EF 24-70mm f/4L IS USM is a standard zoom for general-purpose photography, covering the same focal range as the pro-spec 24-70mm f/2.8 L II but in a more convenient and attractively priced package. So what exactly is the USP of this lens, and what sets it apart from the other best Canon lenses in the same or similar focal ranges?
For walkabout handheld shooting, one problem with 24-70mm f/2.8 zooms is that they're pretty hefty. Most of them weigh about a kilogram, which is a lot when added to the weight of a full-frame body. With dimensions of just 83x93mm, a weight of only 600g and a filter thread of 77mm, this lens is something of a downsized delight. It's almost as small and compact as the Canon 15-85mm lens for APS-C format cameras, despite being full-frame compatible. This is enabled by the constant f/4 aperture rating, which is a full f/stop slower than standard f/2.8 lenses many photographers have become accustomed to, though it's hardly what you'd call 'slow'.
A major advantage over the Canon 24-70mm f/2.8 lens is that this one features an image stabilizer, and it's a late-generation four-stop system with a 'hybrid' action. This detects and corrects vertical/horizontal shift as well as regular vibration when the lens is in macro mode. A switchable 'macro' mode is available at the long end of the zoom, boosting the maximum magnification ratio to a class-leading 0.7x, which far outstrips any other lens on test for extreme close-ups. Build quality is brilliant as well, with weather-seals and fluorine coatings used in the construction of this lens.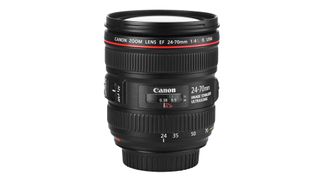 Performance
A solid performer, the lens has fast, accurate and quiet ring-type ultrasonic autofocus, which also comes with a manual override facility for when you want to make small focus adjustments yourself. The stabiliser also lives up to its four-stop billing, and the hybrid mode works well to keep things stable even when the lens is in macro mode, expanding the user's overall options and encouraging experimentation with different subjects and setups.
Image quality is very pleasing overall, with good contrast and sharpness, although vignetting at wide apertures is a little severe for an f/4 lens and bokeh isn't quite as smooth as you'd get from f/2.8 lenses. Two aspherical and two UD (Ultra-low Dispersion) elements help to maximise the optical quality of the lens.
Read more:
The best Canon telephoto lenses in 2019