Fancy travelling the world, all expenses paid, taking pictures... and earning £80,000pa ($100,000) a year? Sounds too good be true. But this is just the job ad that has gone up on an online site specializing in finding work for photographers.
A UK family is looking for a photographer to travel the world with them for the next 12 months and document their experiences. Offering a salary of £80,000 plus travel, food and accommodation expenses, the job will involve travelling outside of the UK for up to three months at a time.
The request came through the photographer marketplace Perfocal.com's website this week, after the family's previous photographer left due to 'family' reasons, and they've been unable to fill the vacancy since early September.
The family states that they will be travelling to and from their many residences and holiday homes across Europe, America, South America, and Australia, where the photographer will be asked to take photos of the family documenting their lives and experiences. Some of the highlights include the Formula One Grand Prix in Monaco, Mardi Gras in New Orleans and skiing at Val d'Isere.
The family say that the candidate must be suitably qualified with at least five years' experience shooting lifestyle images. Hopeful candidates will need to go through a rigorous interview process and be subject to a full background check, as well as spend a weekend with the family, which they say is to make sure the 'right chemistry' is there.
The selected photographer will be expected to work up to 10 hours on days of work, will be given full sick pay and 30 days holiday. The role will entail travelling across the world all year round, with some trips lasting up to three months. The photographer will need to be able up their kit and leave home at any given moment.
The successful candidate will be given their own living quarters at all travel locations and will also be given 'extensive perks' within the role, something the family says they'll discuss during the interview process.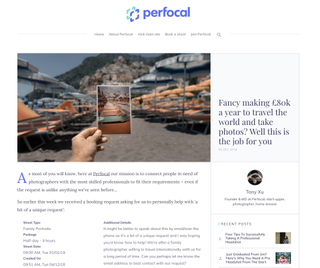 Have camera, will travel
Due to the father's work, the family has asked to remain anonymous until they shortlist photographers, however they have also pleaded with Perfocal to find someone as soon as possible, as their first trip starts in early February.
Perfocal is an online marketplace connecting professional photographers with customers across the UK. Since launched this March, the company has served more than 100,000 images to date, and offers photographers a unique service by both editing and delivering their images for them – leaving the photographers with more time to attend shoots.
Perfocal founder Tony Xu said, "We process many different types of quotes through the site every week, however it's been a while since we've seen one this enticing! We have photographers with experience in travel, family and lifestyle photography and, while this job request that surprised us given our usual requests are for single session photography, we are all about connecting customers with great photographers!
"While Perfocal can't help the family to process applications, we can certainly help them create a shortlist by helping to promote their offer and we're excited to see whether they'll be able to find a candidate they're happy with. With such an amazing opportunity, I can only imagine the amount of applications they're going to get through."
Read more:
22 tips for selling your pictures as stock images