VTech is to launch a camera for kids that tries to offer young photographers the best of both worlds, with an instant print camera that can also shoot digital stills.
The VTech KidiZoom PrintCam will not use standard instant film, but instead use the thermal paper that is more usually used by cash registers. The advantage of this is that each print will cost just pennies - giving a more affordable hobby for children compared to standard instant cameras. The disadvantage is that prints will be in black and white - and will deteriorate over time if exposed to sunlight.
But the ephemeral nature of the prints is mitigated by the fact that the camera can shoot two megapixel stills images, which can be backed up onto a microSD card for posterity.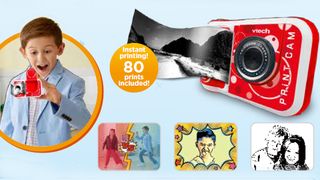 As with other VTech cameras, the PrintCam set up to make photography fun for young snappers. There is a flip-up lens that means that you can shoot selfies with ease, as well as more traditionally framed images.
The camera will come with over 40 digital effects that can be applied to images, and three built-in games. In addition there will be over 60 printing templates, so you can customize your black-and-white prints.
The KidiZoom PrintCam will feature a 2.4-inch LCD color screen, and a 4x digital zoom. It is powered by a rechargeable lithium ion battery and is aimed at children five years old and up.
The VTech KidiZoom PrintCam is scheduled to launch in the fall and will cost $74.99, including your first roll of thermal paper.
Read more
Best camera for kids in 2021
Best drones for kids
Best instant cameras
Best hybrid digital instant cameras
Bob Books photo book review
Photobox photo book review