If you're like many of us you probably have a camera shelf that has at least one of the best 35mm film cameras that you love using – or at least loved to use before the color film prices increased dramatically!
Well, a Kickstarter from I'm Back Film now takes your old dusty film camera and makes it a Micro Four Thirds digital camera with 20MP of resolution, thanks to a crafty 35mm canister insert – but with the extra baggage of a grip, too.
While the funding target of $27,700 / £22,800 / AU$43,900 was hit in just 17 minutes, the Kickstarter now has over $213,000 / £177,000 / AU$340,000 pledged to the cause, at the time of writing, with over 40 days still to run, which is an impressive feat. Still, we must acknowledge that this is a Kickstarter, so please be aware that this product might not ever reach the market - so there is a risk with any investment you make.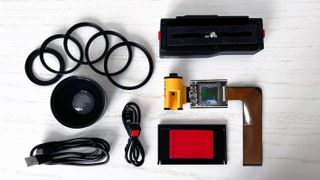 I'm Back Film is at a pivotal stage. The company has already produced its first functional printed circuit board assemblies and device design prototypes, a significant milestone that the company claims is "close to our dream. But to make this dream a widespread reality, we need your support."
While this is a novel idea – and by the number of backers, many people are interested in seeing this project come to the market – it isn't completely without its flaws.
Obviously, with a Micro Four Thirds sensor inserted into a 35mm full frame film camera, you are going to have a 2x crop factor (which will double the effective focal length of your lens). However, to battle this effect, I'm Back Film has also produced an adapter to attach to your lens, so you still get your full-frame image with no cropping – albeit with a little distortion, as can be seen in the sample images below:
50mm lens on a full frame sensor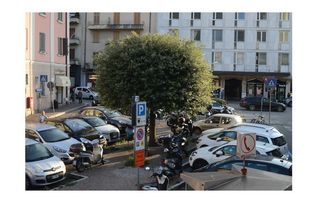 50mm lens on I'm Back Film with adapter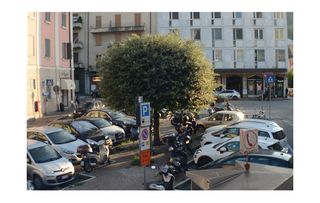 While I still think this is a rather novel idea, and even though it will suit a load of 35mm film SLRs from Nikon to Leica-M cameras, this isn't just an insertable film canister with a digital image sensor; it also requires the added bulk of a grip on the bottom of the camera, along with wires connecting to to the camera back. To me, it feels like it is an "almost there" product more than a finalized one.
If they could minimize the overall bulk, and just have it as its 35mm canister with the sensor, I can see this being a really nice product to have when you want to use your old film camera but have the convenience of digital tech. I'd certainly buy one, but not in its current form – but what do I know?
If you're interested, check out the video above and take a look at the Kickstarter page.
Editor's note: As with all crowdfunding projects, there is no guarantee that the final product will match the early depictions in the campaign – or that the final product will be completed or delivered at all. DCW does not endorse this or any other crowdfunding campaign.
If film is your bag, check out the best film for 35mm cameras, along with the best film scanners to scan your own negs.