Ever been trying to take a macro shot with your phone and wished you had a little light with you? Enter LEDCard – a DIY, credit card-sized ring light that is sure to save the day.
The open-source, Li-Ion powered, pocket-friendly ring light was created and shared by inventive GitHub user, Helge Wurst (MisterHW). The device was designed to be useful on the go and optimized for better macro shots when using your smartphone.
• Check out the best ring flashes for macro photography
The LEDCard is not only a handy tool to provide additional lighting in darker situations, but it can also double as a macro lens. It has a space that accommodates a molded acrylic lens, which can be inserted into the card base to produce high-quality and well-lit macro shots without the need for extensive gear.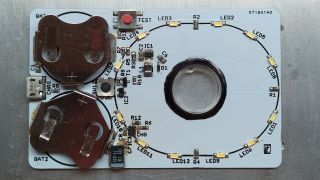 Some of the best camera phones nowadays are equipped with macro lenses or AI modes to support close-up imaging, and also possess flash capabilities. But what sets the LEDCard apart is that the ring light will cast balanced light from even directions onto the subject, and the molded acrylic macro lens can boost the results of weaker smartphone macro lenses.
In sharing the entire creative process online – including design files, Gerbers, and schematics – Wurst enables others to create their own DIY cards based on his instructions, as he describes his initial prototypes and how they were built, as well as their design flaws, and demonstrates how the system all connects together.
Wurst first started the project in 2017 and was intended to offer a battery powered solution for the need to document electronic assemblies, with improved lighting in certain situations when shooting close up, and to offer an enhanced focus for macro photography without the bulk.
LEDCard-1D even saved a cycling trip back home through the forest when my bike lamp failed. Used it to have bursts of light every 1-2 seconds to keep on track. Good times!December 30, 2022
The first prototype of the LEDCard-1A saw it fixed to a device using notches in place for rubber bands, though Wurst found that covering the bottom side of the card with tape would be more effective at preventing the board from sliding off of the back of a smartphone casing. The second prototype saw an additional two power levels added for medium and maximum brightness levels.
As for the lens, Wurst trialed multiple 16.5mm diameter plano-convex molded acrylic lenses, which can be bought for as cheap as two dollars online, and mounted them into the LEDCard using clear epoxy and Al tape on the back of the PCB.
While Wurst's most recent iteration is the LEDCard-1E, he recently confirmed to DPReview that this is not the final form of the design. Future improvements will include a diffuser for the ring light, as well as improved LEDs, a better power source, and better optics, and potentially some sort of pop-up reflector.
• You may also be interested in the best macro lenses, as well as the best cameras for macro photography, and not forgetting the best extension tubes for macro photography and the best lenses for iPhone and Android camera phones.