We'll never again complain that a new pro camera is practically the size of a car. Not now that we've seen the real thing, anyway; this replica of a vintage camera is not only the size of a car, it is one – to the extent that it can actually be driven.
It was created by manufacturing startup Frigate, which is based in Trichy, India. The car is based on quite an unusual style of bellows camera, with two lenses rather than one. As far as we can tell, it looks like the basis of the design was this Stereo Field Camera by Meagher, which was in use around the 1880s.
• Read more: Best film cameras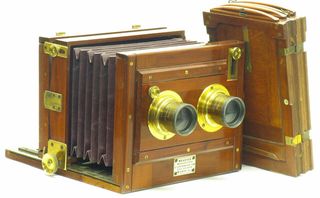 The varnished wood construction, black bellows and brass Petzval-style lenses are all quite distinctive. According to auction website Bonhams, these cameras have tended to sell for about £700.
The project was commissioned by the Vintage Camera Museum in Kampong Glam, Singapore, where the car is now due to be delivered. It'll be in good company, as the museum itself is also shaped like a camera, and houses a collection of more than 1,000 rare and vintage cameras.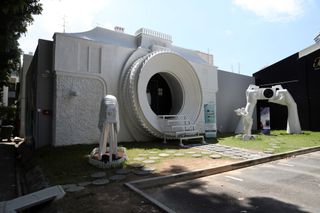 Sadly the car doesn't take pictures, but it was clearly a heck of an undertaking nonetheless. According to V Tamizhiniyan, founder and CEO of Frigate who spoke to Times of India about the project, the process involved basically stripping off almost the entirety of a small van, except for the chassis, brakes and engine.
Once this was done, the parts were replaced with the camera structure, which was created from scratch. The bellows were recreated using a foldable rexine – a faux-leather material that's kind of a mix between cloth and plastic.
The company posted a short video of the car making its first movements on its LinkedIn page.
The makers say that the entire process cost around 465,000 rupees (equivalent to a little more than $6,200 / £4,500 / AU$8,450), required a workforce of about 30 people, and took about 8 months to complete.
Vintage and retro cameras that you can actually shoot on:
Canon AE-1 review
Nikon FM2 review
Pentax K1000 review
Fujifilm X-T30 review
Olympus OM-D E-M5 Mark III review