We've covered Pergear products before, including a budget lens. We also know that 'tis the season for action camera releases – GoPro and DJI have just released their latest models. What we were a bit surprised to see was a spec list that seemingly challenges those market leaders for a fraction of the price, yet here it is.
The Pergear site shows a 5K 50-megapixel action camera with 170-degree field of view, electronic image stabilization, wi-fi sharing, and dual displays, much like the DJI Osmo Action 4 or the GoPro Hero 11 and GoPro Hero 12 Black from our guide to the best action cameras. But this Pergear 5K ActionCam sells for $80/£67 - a fraction of the price of a leading GoPro or DJI model.
Digging into the specs it seems that the best GoPro, rather than DJI, has been the main inspiration since only the rear 2-inch IPS screen is a touchscreen while the 1.3-inch front selfie display is a monitor. Also 5K is close to GoPro's headline feature of 5.3K, while DJI has opted to concentrate on better 4K performance with bigger sensors and, notably, there is no discussion of the image sensor size on Pergear's own site.
Pergear does list a number of accessories in their standard package – DJI and GoPro will both expect a bit more cash for extras. These include an additional battery (for a total of 2), an external battery charger, a USB-C cable, a remote control, a waterproof case, and assorted mounting brackets. There is even a 64GB memory card in the bundle.
Of course, such a dramatic difference in price and what you get for your money does beg some questions that we cannot immediately answer for you. Those we can't answer without testing.
We might speculate that Pergear is adding a product sourced from another manufacturer. After all, we can see on Amazon UK a very similar-looking device called a Lipa AT-M40R 5K Action Camera but it doesn't seem to be in stock.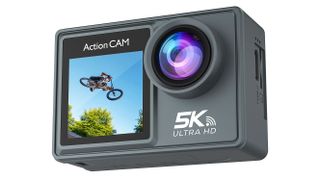 Another odd thing is that the feature list describes the device as 'Compatible with Quik app'. That's GoPro's Quick app. Without having seen the camera (of course, we've asked for the opportunity to test one) this may just mean that the videos can be added to an edit in Quik, not that the camera will actually pretend to be a GoPro).
Until we get our hands on the device, we've got to say it looks exciting but specs are definitely not everything. Plus, of course, not only do we want to review the device – we'd be a bit more confident if we saw it in mainstream retailers like Amazon, not just the company site. Let's just say that, for now, we're interested!
To get a sense of Pergear's breadth, read our review of the Pergear 35mm f/1.4 prime, while if you're looking at action cameras and can't afford the most synonymous brand, we have a guide to the best GoPro alternatives.