CES 2020 might be over, but we're still reeling from the exciting technology on display at the show. Some of the most intriguing tech came from the Canon stand, where they were showing off their concept cameras - and the Canon cameras of the future certainly look as cutting edge as we would expect.
Not all of the concept Canon cameras being shown were completely new, as some of them were concept cameras from last year that had been developed more and improved upon. This means that these cameras are much closer to their final stages of development, so they could potentially be released this year.
Read more: Best Canon cameras
While we likely won't see all of these cameras appear, Canon do have previous form in bringing fun concept cameras to market. The Canon Ivy Rec began its life as a concept camera, but after a successful crowdfunding campaign was released to the general public. These side-projects are a great way for Canon to flex its technological muscles and develop unconventional projects that might fill an unexpected gap in the market.
With pictures courtesy of DP Review, let's take a look at some of the most interesting concept Canon cameras that were on show at CES.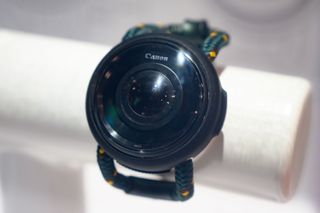 Canon showed two wearable cameras at CES 2020. One was a dual-lens model that would feature twin medium-wide and medium-telephoto focal lengths. However, we're more excited about the second camera, which features a 180-degree lens. This would make it a great action camera for shooting point-of-view video and photos of activities like skiing or mountain biking.
Our only concern with this camera is how exciting the POV of a hand would be (rather than the more traditional chest or helmet mounts you usually see). However, this is definitely a concept we'd like to see Canon develop further.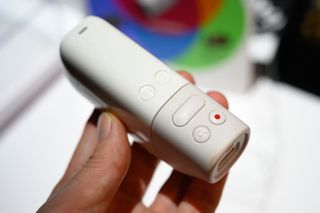 Now this is definitely an exciting Canon camera. According to DP Review, "this is a compact, variable telephoto stills / video camera that puts extreme telephoto performance literally in your pocket. The user can switch from 100mm, 200mm and 400mm equivalent focal lengths using the zoom button, and images are captured with a full press of the larger pill-shaped button in the middle of the control cluster."
Apparently this concept camera is almost finished and could be released relatively soon. Out of all of the concept Canon cameras shown, we definitely think this one has the most potential. We could see this being a perfect fit for wildlife and sports enthusiasts who don't want to have to deal with lugging around heavy kit.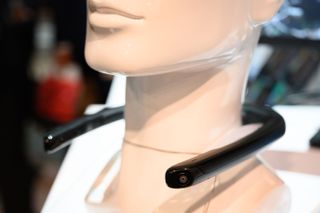 This is a bit of a weird one, but it's exciting to see Canon explore unusual avenues. This wearable product is an augmented reality camera intended to be worn around your neck. Quite what the AR element of this device would be, we're not entirely sure. However, like the camera wrist watch, we could see this being popular with action vloggers.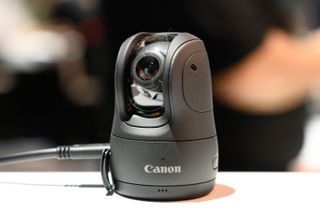 While this isn't quite as exciting as a pocket-sized 400mm camera, or wearable 180-degree camera, this home security camera is still pretty interesting in its own right. This 'Intelligent Capture' AL camera is designed to automatically track human subjects and shoot photos on its own initiative. It can be controlled by voice and will capture 'good scenes' and then send only the most interesting shots to your smartphone via an app.
While we might not see all of these cameras come to market, they're certainly fascinating ideas. We'd put good money on the compact telephoto camera being released to consumers as a not-quite-sequel to the Canon Ivy Rec, so we'll be keeping a keen eye out for it as the year progresses.
Read more
Best cheap Canon camera deals: get the best prices on Canon gear
Best Canon lenses: go longer, wider and closer with your Canon camera
Canon vs Nikon: who makes the best cameras? Let's see...