Over the last four years, the latest incarnation of the iPhone Pro Max has become my favorite camera companion, while my Canon DSLR has sat patiently on the shelf waiting for me to rekindle our long-term relationship. A newly acquired iPhone 15 Pro Max has just hammered another nail into the coffin of my Canon DSLR. Here's why.
When shooting with my DSLR I needed to cart around a kit bag full of lenses, so I could whip out a telephoto to capture candid street photography pictures. I'd then have to swap to a wide-angle lens to fit architectural landmarks into the frame. The iPhone 15 Pro Max packs 7 cameras into its palm-sized frame, with focal lengths ranging from an ultra-wide 13mm to a periscopic zoom-enabled 120mm lens. It's this new 5x optical zoom that makes me the most excited about the iPhone 15 Pro Max.
• What is a periscope lens on a phone – and do you need one?
The 15 Pro Max is only 8.25mm deep, but it bounces light off multiple mirrors to get the lens far enough away from the sensor to achieve a focal length of 120mm (hence the term periscopic). I find that this extra reach over iPhone 14 Pro Max's 77mm zoom enables me to remain a 'fly on the wall' while I capture candid close-ups of people from a distance.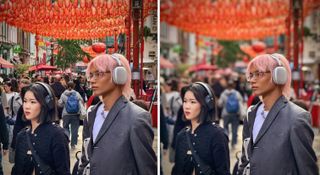 This freedom to remain less conspicuous than I was with a DSLR and a long lens motivates me to snap far more street photography-style images than I'd normally do. I feel like I've developed a superpower!
What is even more exciting is the fact that I can use the 5x (120mm) zoom camera while shooting in the Camera app's Portrait mode. This enables me to add a DSLR-style background bokeh that makes distant people stand out sharply against blurred backgrounds. This combination of software-added bokeh to a powerful zoom enables me to mimic a classic DSLR telephoto look more effectively than I could using previous iPhone models.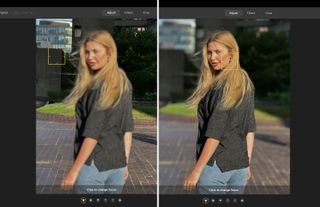 When shooting telephoto images with my DSLR I'd set the camera to shutter priority, and choose a shutter speed fast enough to freeze the subject and avoid the shake-induced motion blur that zoom lenses are prone to. This could lead to a sharp but under-exposed shot that I'd need to brighten up in post.
The iPhone 15 Pro Max captures pin-sharp and well-exposed telephoto shots instantly, due to advances in its sensor-shift image stabilization. As well as moving the sensor horizontally (x) and vertically (y) to counteract camera shake, the 15 Pro Max also vibrates the sensor along the depth (z) axis. This physical three-dimensional movement ensures a telephoto shot that's free from shake-induced blur.
As a result, every telephoto shot is sharp, well exposed, and ready to share there and then – which is great if you want to satisfy your social media feed's need for 'as it happens' photo content.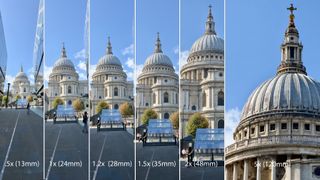 Having enjoyed a day shooting street photography I was keen to see how the 15 Pro Max got on with a professional model. I met Eli at London's Barbican Centre, which has a great range of Brutalist architecture backdrops.
Normally I shoot in Apple's ProRAW format so I can have full control over colors and tones in the editing stage. Thanks to the main 24mm camera's wide f/1.78 aperture, I can get a strong and natural bokeh while shooting RAW portraits.
However, thanks to iOS 17, if you shoot a JPEG of a person then a depth map is generated as well (even if you haven't shot in Portrait mode). This gives you the freedom to add an adjustable bokeh to a wider range of JPEG-format shots in Apple's Photos app.
This depth map isn't available if you shoot in RAW, so I found myself shooting far more JPEGs than I'd usually do. As an iOS 17 bonus, you can now change the focal point of a JPEG as well as the blur amount in Apple Photos, which gives photographers even more control in the post-production stage.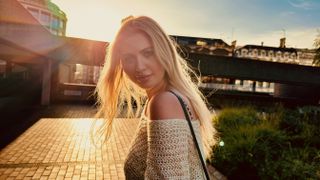 Model Eli hadn't done a shoot with an iPhone before, but as a professional she gave it her all. Over the two-hour shoot, I enjoyed switching from capturing close-ups to wide-angle portraits with a few taps on the iPhone's display.
I was also able to enthuse Eli by showing her the results of a shot immediately on the iPhone's vibrant HDR display. By shooting with a low-profile iPhone at the Barbican we weren't interrupted by security personnel (which can happen if you're in possession of a 'big camera', as policemen like to call it!).
All in all, I've loved my first week using the iPhone 15 Pro Max's cameras and, in 3 separate shoots, I've notched up 56,000 steps, capturing a wider range of subjects than I'd normally do. The iPhone 15 Pro Max and I may be in our 'honeymoon period' but I am sure we'll be exploring new photo opportunities together for a long time to come. (Just don't tell my DSLR.)
The best camera phones come in all shapes and sizes, from the best iPhones for photography to the best Android phones – featuring the best Samsung phones to the best Oppo phones.