According to the latest industry reports, Samsung is working on a gargantuan 150-megapixel image sensor that would power the highest resolution camera phone ever made.
In fact, not only would this 1-inch, 150MP sensor result in the highest resolution camera phone ever made, but it could be the highest resolution camera ever made.
The report originated from a Korean newsgroup, and was picked up on Twitter before being shared by outlets including SamMobile. A huge pinch of salt is recommended with this one but, after the 108MP sensor that featured in the Samsung Galaxy S20 Ultra, it's hard to ignore.
Remarkably, it appears that the initial target was actually to build a 200MP image sensor, with Xiaomi, Oppo and Vivo all showing interest in acquiring the technology.
"The 200 million-pixel sensor yield that was previously desired cannot be delivered at the time desired by partners," states the initial report (via machine translation), which notes that the project was subsequently scaled down to 150MP.
"Currently, all three companies have requested samples from Samsung since December last year, and it seems that the contract has recently been completed."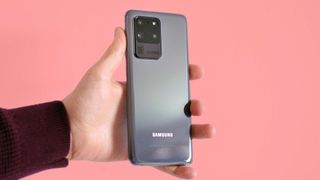 Much as was the case with Samsung's 108MP Isocell Bright HMX sensor, which debuted in the Xiaomi Mi Note 10 even before it appeared in Samsung's own flagship phone as the HM1, it appears that the Chinese company will once again take the lead on rolling out the new tech.
"Xiaomi is developing with the goal of adopting in the fourth quarter of this year, and Oppo and Vivo are developing with the goal of combining with the Snapdragon 875 in the first quarter of next year."
It would certainly follow, then, that Samsung would subsequently employ the sensor in a more refined state (after the other companies have effectively beta tested it) in the Galaxy S21 Ultra next February.
The report further noted that this new 1-inch sensor, which is much larger than the current 108MP offering, will again feature Samsung's Nonacell array. Where the 108MP HMX sensor seen in the Xiaomi Mi Note 10 possessed a Tetracell array, enabling clusters of 4 pixels to be grouped into a single larger photosite for 12MP images, Nanocell (also used in the S20 Ultra) groups 9 pixels for 16MP images.
That, of course, is based on this actually being a 150MP sensor. When Samsung's 108MP version was first rumored, it was referred to as a 100MP sensor; if this new chip likewise actually has 158MP or even 152MP, it would be the highest resolution sensor in any consumer camera – including the medium format Phase One IQ4.
Read more:
Samsung Galaxy S20 Ultra 5G review
Xiaomi Mi Note 10 review
The 10 highest-resolution cameras you can buy today