Previously exclusive to the Asian territory, the Panasonic Lumix GX880 Micro Four Thirds camera has now been officially announced for the European market.
Known in the East as the GF10W / GF90W, the fashionable GX880 is a 4K-capable camera that's aimed at style-conscious social shooters such as bloggers and content creators. Don't let that, or its modest 16MP sensor, put you off, though – this stylish snapper has some great tricks up its sleeve.
Panasonic is making the most noise about the camera's 4K functionality, as it records 4K video at 24, 25 or 30fps, as well as 1080p footage at 60fps (mercifully with no 30-minute limit). It also features 4K Photo mode, capturing a 4K burst from which you can extract an 8MP still image.
A similar technology has been employed in Panasonic's Post Focus mode, which enables you to take photos and then choose your point of focus after the fact.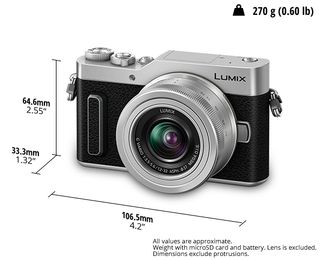 The camera achieves this by recording an MP4 file, during which it scans and racks focus through the focal plane (effectively focus stacking using video instead of multiple stills). From this, you can choose your preferred plane of focus and extract an 8MP photo.
The Rorschach test for whether or not the GX880 is the camera for you is its 180-degree flipping selfie screen, which is central to the camera's numerous selfie shooting features.
These include hands-free selfies in the form of Face Shutter and Buddy Shutter, which take photos when you cover your face with a waving hand, or when your face comes close to another face in the frame respectively.
A number of software-driven assists are also incorporated, such as the new Night Mode (which captures and composes the subject and background separately for more vibrant images) and Background Control (like Portrait Mode on camera phones, rendering the background in or out of focus to make the subject stand out).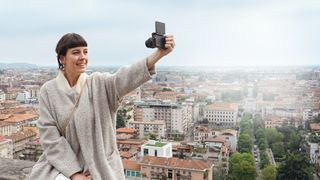 Perhaps its neatest trick, though, is that in selfie mode one of the function buttons on the top-left of the camera can be used as a shutter when the camera is turned backwards towards you (where it now sits at the top-right), meaning you no longer need to take selfies left-handed!
If all of this sounds a little familiar, it's because the Panasonic Lumix GX880 bears more than a passing resemblance in style and substance to the popular Olympus PEN E-PL9 – another fashion-focused camera with 16MP sensor, 4K video and flip-up selfie screen.
Panasonic's offering, however, comes in a little bit cheaper, making it an intriguing proposition for casual, street and travel photographers. The Panasonic Lumix GX880 comes bundled with the Lumix G Vario 12-32mm f/3.5-5.6 ASPH Mega O.I.S. lens, and will cost £399.99 when it is released at the end of June.
Read more:
The best Panasonic cameras in 2019
Olympus PEN E-PL9 review
The best Micro Four Thirds lenses for your Olympus or Panasonic camera