Nikon has developed a brand new camera specifically designed for macro photography: the Nikon Tanken Camera, where "Tanken" translates as "Exploration" or "Expedition".
The Nikon Tanken Camera was exhibited at Maker Faire Tokyo 2019 – "a family-friendly showcase of invention, creativity and resourcefulness". As such it's a camera that's intended for families and children, to encourage youngsters to get out with the unit and explore nature.
Buying a dedicated macro photography setup can be incredibly expensive, not to mention difficult to use, making it cost-prohibitive for children. Nikon's new camera looks to make it possible for kids to shoot insects cheaply and easily, particularly in Japan where bug-spotting is a popular summer pastime.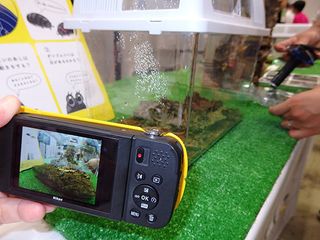 The device features a distinctively long, anteater-style lens similar to the Laowa 24mm f/14 2x Macro Probe lens, and features four LEDs mounted at the end of the lens tube to illuminate subjects in dark crevices (it is unclear at this time if the lens is, or is intended to be, waterproof).
Nikon's exhibition at the show featured a scaled-down section of a tree, with a hole containing insects inside. The lens could poke into the hole, enabling curious users to illuminate and photograph the creatures inside.
The Nikon Tanken Camera is a project by Nikon's nascent Life Imaging Lab design team – an R&D team comprised of six people from across Nikon's creative departments, tasked with sharing and developing ideas outside the scope of their daily work.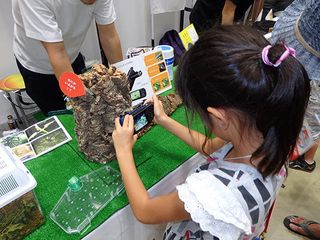 "I haven't decided to commercialize it, but I tried to make a prototype of what this camera is like," Life Imaging Lab's Teppei Okuyama told BCN Retail (via Nikon Rumors), of the original concept to create "a camera that makes fun of bugs fun".
While a commercial release hasn't yet been decided upon, these kinds of concept cameras do sometimes make it to market. Of the eight Canon concept cameras showcased at CP+ this year, we know that at least two will see release – including the Canon Ivy Rec, which was crowdfunded in the US.
The BCN Retail report mentions crowdfunding as a possible option for commercialization, so we're hopeful that we see more of the Nikon Tanken Camera in some shape or form.
Read more:
The best camera for kids in 2019: child-friendly cameras for all ages
The best macro lenses in 2019
5 tips for choosing and using… macro lenses