Film photography is great fun, which is one of the reasons why the form has been making such a big comeback over the past couple of years. However, the film itself is usually pretty boring.
Enter Kiki Pan 320, a new black and white 35mm film is designed in England, manufactured in Germany and distributed in Hong Kong – where its packaging was designed by somebody who decided that it should look like a cat, and be named after one as well.
• Looking for the best 35mm film for your camera?
Yes, pick up a roll of Kiki Pan 320 and you'll be greeted by a delightfully designed box that looks like a black cat – complete with cute little pads on the bottom, and a bright pink starfish on the rear. The cat is actually a specific one, named KiKi – and it's owned by the founder of Camera Film Photo, which distributes the film, himself an avid street photographer.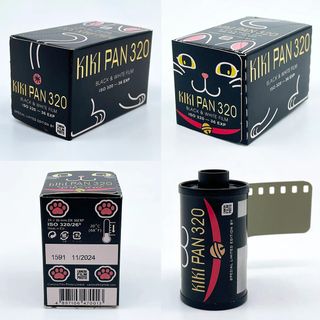 Described by Japanese retailer Cura (to add a fourth country to the mix) as "a completely new, traditional black-and-white film", this ISO320 speed film "has a large grain, making it ideal for street photography and travel photography. It produces a very sharp image while being unique."
Camera Film Photo itself describes the stock as, "a brand-new roll film, not a self-roll film with a sticker label, provides classical high speed panchromatic film result. It is available to process by most of the standard B&W developers such as Rodinal, Berspeed, HC-110, etc. it also can be processed by Monobath."
A 36-exposure roll of Kiki Pan 320 sells for $8.25 / £7.25 / AU$11.25. And while some may describe independent, limited edition rolls like this as novelty film stocks, there is an increasing place for low-price film – especially with news that Kodak is hiking prices by as much as 40%, with a 36 roll of E100 set to cost $42.58 / £35.08 / AU$61.85!
If you want to pick up some feline flavored film, head over to Camera Film Photo – and you can check out some sample images below.