More DJI Action, er, DJI action — watch the "Time to Shine" event LIVE with us.
More conversation AND more Action from DJI? Is this the rumored DJI Action 4? We'll find out at 2pm BST / 9am EDT...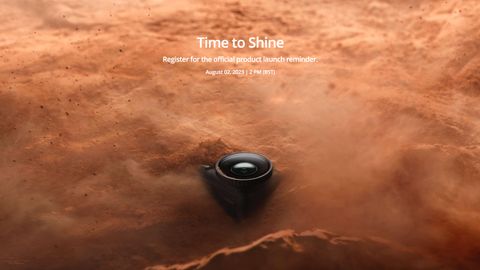 (Image: © DJI)
DJI have only just released the Air 3 with a big live video – now comes the second in as many weeks. This time the teaser image placed a camera lens, and the corner of a housing, under the sand so we feel safe in saying it's probably not another drone on the way. So what? Mini 2? Action 4? Let's find out together at 9am EDT / 2pm BST – the video will play live on this page.
Refresh
We don't have a lot to go on here except the teaser image, but it looks like an Action camera, similar to the DJI Action 3. If that's what it is, perhaps this time DJI can supplant GoPro? More updates as we get them.
Less than four hours to go, but unlike the Air 2S before the DJI Air 3 launch we've not seen any especially exciting deals on the DJI Osmo Action 3, so perhaps there will be a surprise? Or perhaps any sales will happen after the event?
The live link hasn't been up long, so not a lot of input from the fans yet, but we're keeping an eye out.
With a little over an hour to go, the chat seems convinced that we're going to see the rumored DJI Osmo Action 4, and they're expecting to see a larger imaging sensor. It's certainly true that action cameras in general – even GoPro themselves – generally struggle in low light.
OK, here we go... (oh, and I'm even less convinced by the 'Inspire 4' prediction from the chat than last time :) !
Yep – OSMO Action 4. Built for adventurers. And with a 65% bigger 1/1.3-inch sensor. That's A LOT bigger.
Impressive specs – it can go a bit deeper (18m), and built-in color calibration we're promised. It can be cold. It has native vertical, as before.

All those action shots in the video encouraging on the low-light front.

Thank you for reading 5 articles this month* Join now for unlimited access
Enjoy your first month for just £1 / $1 / €1
*Read 5 free articles per month without a subscription
Join now for unlimited access
Try first month for just £1 / $1 / €1
Get the Digital Camera World Newsletter
The best camera deals, reviews, product advice, and unmissable photography news, direct to your inbox!
Thank you for signing up to Digital Camera World. You will receive a verification email shortly.
There was a problem. Please refresh the page and try again.