LIVE: The Photography Show 2022 is open right now!
The leading photography and video event opens its doors again – here are the unmissable camera deals, reveals, and speakers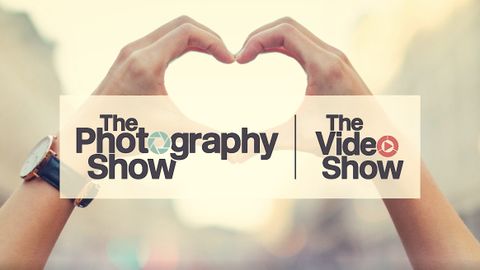 The UK's leading show dedicated to imaging – The Photography Show & The Video Show – is back again for 2022. The Show is open on September 17, 18 and 20 from 10:00 to 17:00 each day.
Here's everything you need to know about the show. As last year, The Photography Show & The Video Show is an in-person imaging extravaganza – and is a must-attend event for photographers and videographers of all experience levels, from eager enthusiasts to practicing professionals.
You can see over 250 of the biggest brands in the business, including Canon, Sony, Nikon, Fujifilm, Olympus and Sigma, chat to industry experts, watch kit demos and take advantage of exclusive show discounts where you can make serious savings on new cameras and accessories. It's the place to be if you're interested in photography.
We'll be here to bring you all the latest weird and wonderful news from the show, plus camera deals, highlights from industry talks, and more.
Stay tuned here, or even better, if you're in the UK come and visit!
Get your tickets to The Photography Show.
As DCW's Managing Editor, and the previous Editor of the global magazine Digital Photographer, Lauren has been covering the photography and tech industry for over ten years. She's been at The Photography Show for the last five years, covering stories from the event and hosting pro sessions.
Refresh
The first day is here, folks – and doors are just about to open. Can we just check this image out as proof that sun DOES exist in Birmingham?!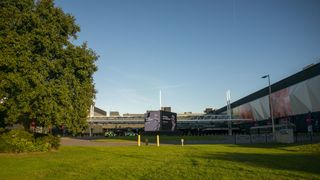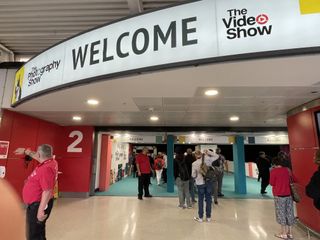 The doors are open, the queues are mounting, but they're filing through fast (and yes, that is my finger in the corner)!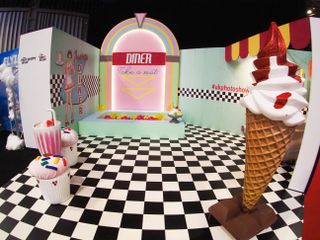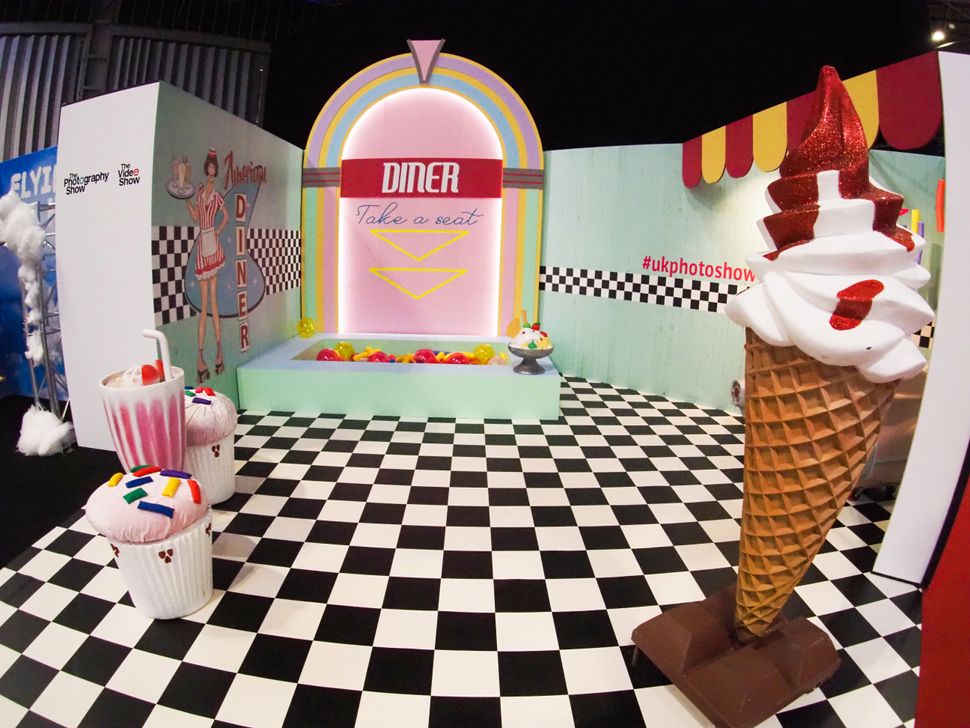 Make sure you stop by the Creator Playground – there's a ridiculous amount of quirky and cool stuff to point your camera at!
There's a giant Pentax K1000 SLR, complete with oversized roll of Kodak film. There's a psychedelic zebra with a disco ball, neon sunglasses and feather boas. A replica 1950s American diner, with giant ice creams and a balloon pit. A flamingo-themed chaise longue. A swing seat with fluffy clouds. A neon funfair tunnel with a wacky mirror at the end… go and have a play!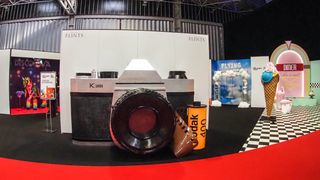 As you can see, we've been working very hard indeed, and not at all taking full advantage of the opportunity for silly shots at the Creator Playground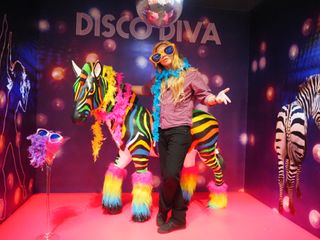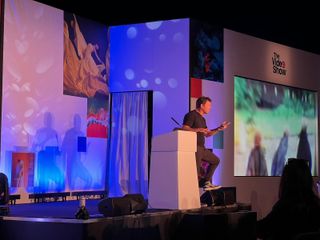 Chase Jarvis is signing his book Creative Calling NOW
Chase Jarvis (one of today's headline speakers) will be signing copies of his book Creative Calling outside the Super Stage Entrance, from 14.30. Bag a signed copy to take away for £15 – that's less than the online price – and prepare to be inspired by this renowned photographer, creator and entrepreneur!
Let's talk about... the talks!
The Photography Show is home to talks from some of the world's leading names in photography, and you can ask them anything you like at the end of their sessions. Today we've got Chase Jarvis and Colin Prior headlining the stage, but tomorrow it's Cristina Mittermeier and Jack Harries – to major movers when it comes to conservation and climate change action.
The live photography demonstrations are out of this world. Watch world-class photographers, working professionals and brand ambassadors light and shoot a scene right in front of you!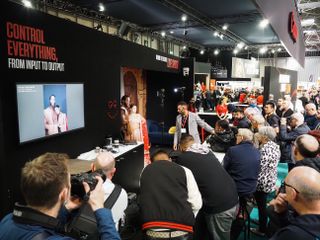 WHOA! Canon's $13,000 wildlife bazooka lens is here, and we've had our hands on it!
If you're serious about wildlife or sports photography – and you've got a serious limit on your credit card – Canon's 600mm f/4L "big white" lens will rock your world.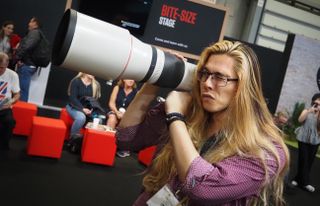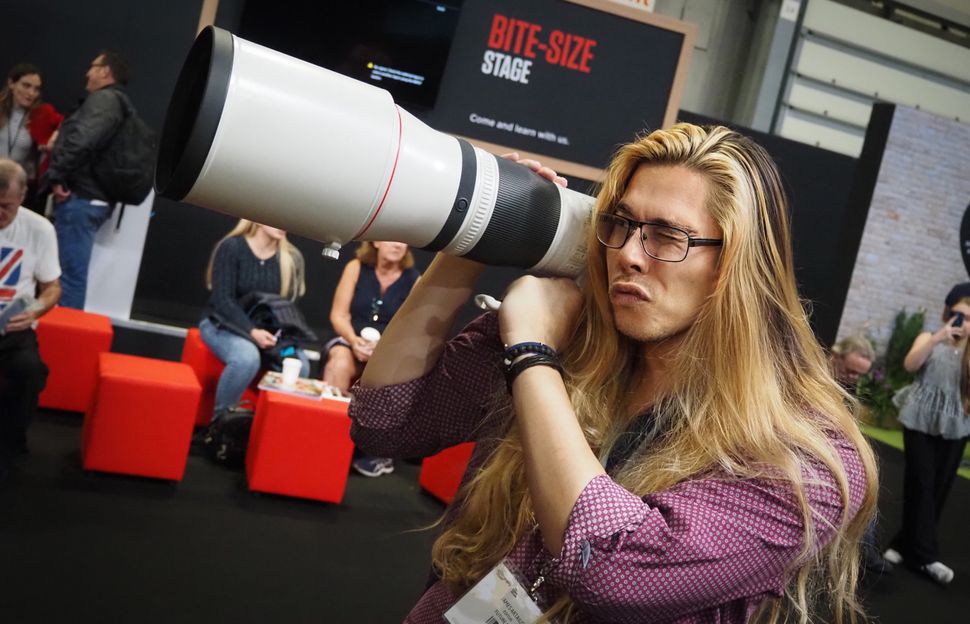 Colin Prior is signing books NOW

Landscape photographer Colin Prior has been wowing the Super Stage crowd with behind-the-scenes stories from the front line of epic landscape photography. He is about to start a book signing session outside the Super Stage Entrance, from 16.30. Get something to grace your coffee table and personalized, too!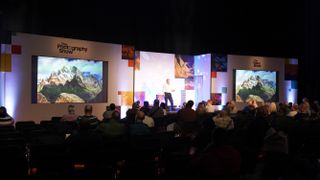 Day two of The Photography Show is just about to kick off - and the sun is shining in Birmingham! A packed schedule of talks to see today - and some great show deals on kit... we can't wait (and it is not too late for you to come too)!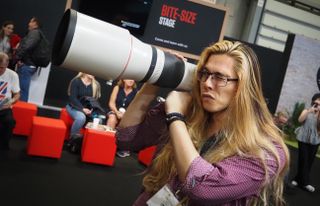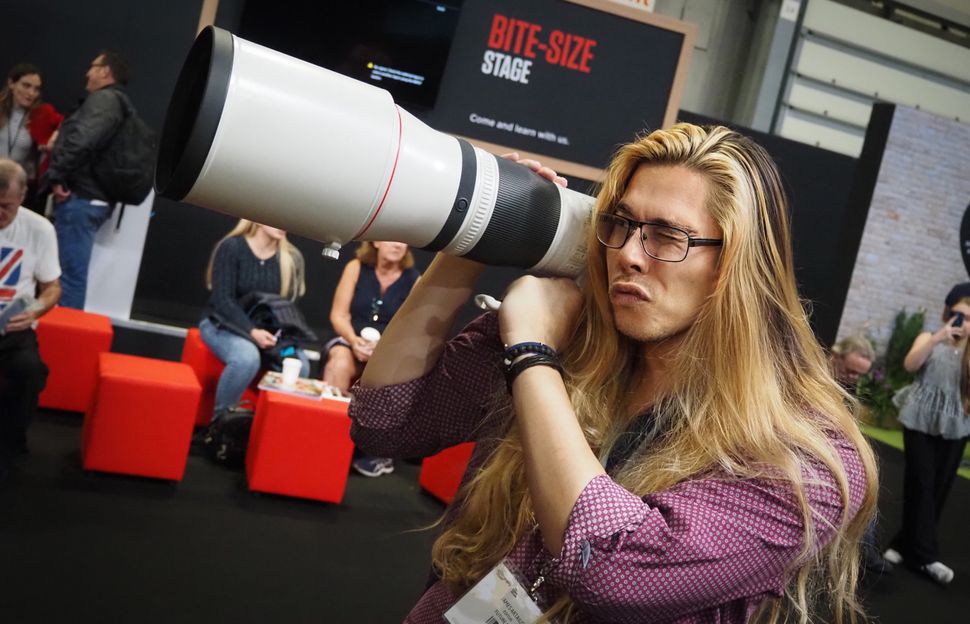 This is our own James Artaius getting is hands on Canon's new 600mm f/4 lens at the show yesterday. There is plenty of glass here to suit the optical needs of every photographer.
Canon's $13,000 telephoto lens is a wildlife photography bazooka
Luminar Neo workflows talk starting at 11.15
Keen to discover more about Skylum Luminar Neo and how it can save a ton of editing time? Then make sure you catch Luminar Neo ambassador Mathew Browne's talk about time-saving workflows in this leading software – in the Editing & Post-Production Suite at 11.15.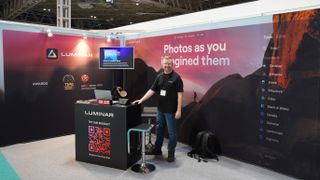 Digital Camera World's very own Editor James is on the Creator Stage!
If you're looking to get started on your vlogging journey but don't know where to start, this session is for you! James will talk you through the basics of vlogging and how to get started.
It's from 11:00 - 11:30 on the Creator Stage!
And if the talk inspired you, check out the best cameras for vlogging.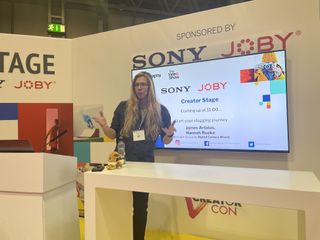 So many great live shooting and lighting demonstrations going on!
Get here, and get playing with gear!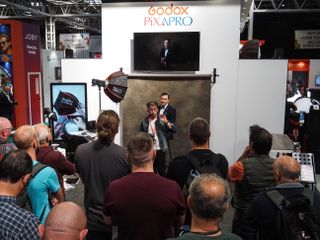 Cristina Mittermeier is signing books NOW
Renowned photographer and conservationist Cristina Mittermeier is about to finish her Super Stage talk. She'll be signing copies of her book 'Amaze' outside the entrance to the Super Stage at 2.25 pm – anyone who appreciates beautiful photography of the natural world and conservation should own a copy of this book… and you can get a personalized copy at The Photography Show today!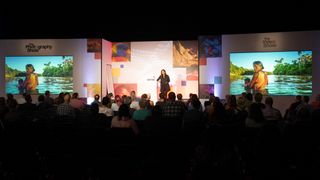 It's the last day of The Photography Show 2022 today – following a day off yesterday as a mark of respect for the funeral of Queen Elizabeth II.
If you haven't made it to the show, what have you been missing? Well, we've just received a great vlog from Angus Davidson, who shares his experiences from The Photography Show & The Video Show 2022! Check it out below.
Kaylee Greer is signing books NOW

Dog photographer Kaylee Greer has been giving the Super Stage audience an incredible insight into her colourful and creative dog photography. Kaylee will soon be signing copies of her book 'Dogtography' outside the Super Stage Entrance, from 11.50. Supplies are limited so make sure you get in the queue!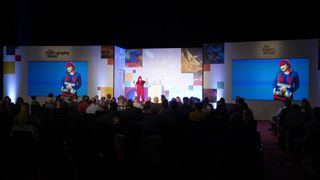 Thank you for reading 5 articles this month* Join now for unlimited access
Enjoy your first month for just £1 / $1 / €1
*Read 5 free articles per month without a subscription
Join now for unlimited access
Try first month for just £1 / $1 / €1