The Xiaomi 13T and 13T Pro have been announced with Leica camera systems. This makes the 13T the first in the more affordable T-series to boast the iconic photography brand's imaging support.
For a bit of context, the Xiaomi 13 Pro launched earlier in 2023 with an impressive 1-inch sensor, and the Xiaomi 13 Ultra introduced a variable aperture to a Leica-branded phone.
The Xiaomi T line has always sat below the flagship Pro, which, in turn, sits below Xiaomi's top-of-the-line Ultra. So, considering these new phones have two higher-tier alternatives, it's significant that a relatively midrange device got Leica's seal of co-branding approval.
A quick glance at the specs and things start to make sense. Unlike the Xiaomi 12T, there's no poor 2MP macro camera on the 13 series, which means every camera on this phone is good enough to take a quality photo. There are also no gimmicks this year – no 200MP sensor – so all the specs look like tried and tested smartphone camera building blocks.
All this is a good start, but there's some real meat to the 13T and 13T Pro's camera story worth diving into in detail.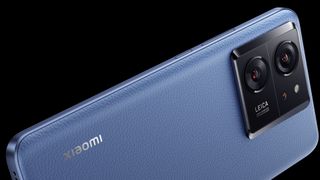 Xiaomi 13T and 13T Pro cameras
The Xiaomi 13T and 13T Pro have the same camera hardware, so they are almost identical when it comes to imaging. That means the 13T brings Leica mobile photography to a lower price than we may have ever seen before – not just in the Xiaomi camp.
The primary camera has a 50MP resolution thanks to its large 1/1.28" Sony IMX 707 sensor with a 24mm focal length and an f/1.9 aspherical lens, complete with OIS.
Xiaomi gave us a breakdown of the lens elements, which include an IR filter, a lens edge ink coating to help reduce stray light, a COC material to help absorb unnecessary light, and ALD reflectance technology to reduce glare. None of this is revolutionary, but this attention to detail isn't typical at the Xiaomi 13T series's starting price.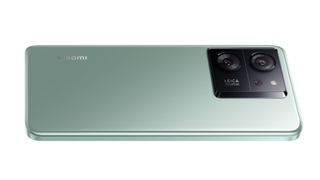 The 50MP telephoto camera has a 50mm focal length to deliver a roughly two times optical zoom. This doesn't pack OIS, but it's still novel to see at the phone's positioning, and with a wide f/1.9 aperture, it should deliver respectable foreground and background separation.
Finally, there's a 12MP ultra-wide camera with a 15mm focal length and an f/2.2 aperture.
Leica offers two photographic styles: Leica Authentic & Leica Vibrant Look, and if you're not afraid to dive into Pro Mode, there's also a Custom look, which lets you adjust aspects of JPG processing at a pre-processing level.
Both phones can record 4K video, though only the 13 Pro can capture at up to 60fps, and it can also shoot 8K video, something the vanilla 13T can't do. What's also great for videographers looking for a relatively low-cost smartphone is that the 13T and 13T Pro both shoot 10-bit log video, and support LUT previews when capturing with the main camera.
A panel discussion on smartphone photography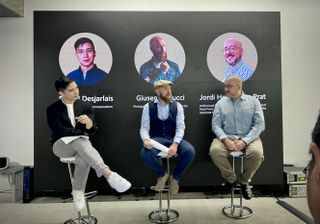 It isn't every day that a smartphone brand pulls together a panel with a photojournalist and photography professor who have used the phone it's launching. But to set the scene for Xiaomi's 13T and 13T Pro and announce a new initiative with the University of Barcelona, that's precisely what the Leica partner did.
Discussing how smartphones are changing photography and potentially eroding what it means to be a professional photographer, the session explored the question: can you be a photographer just using a smartphone?
Professor Jordi Hernández Prat from the Univesity of Barcelona specifically told the room what he's learned teaching photography today: many of his students use cameras as an extension of themselves and capture images that reflect the medium, and that's no bad thing.
Given the 13T and 13T Pro's price and positioning, we can see it being an obvious choice for creative students unable to pay iPhone 15 Pro prices to access features like RAW photography.
Photojournalist Giuseppe Nucci commented on ways smartphones are getting ever closer to DSLRs, and how they deserve to exist in their own right as photography tools. He commented that his peers don't print huge landscapes, so smartphones meet a real need for consumers and journalists alike, with a focus on the 13T Pro.
Xiaomi 13T and 13T Pro: tech specs
There's a lot more to the new Xiaomi 13T and 13T Pro than cameras.
Both phones have a lot in common. Firstly, they look the same and can be had in a vegan leather Alpine Blue or a glass-backed Meadow Green or Black. Whichever color you go for, the phones have plastic frames, and that stops both from feeling like seriously premium flagships.
The two 13Ts also feature fantastically bright screens, climb up to 2600 nits, and have 6.67-inch Full HD AMOLED displays with full DCI-P3 coverage. And what's especially impressive is that the panels across both phones is one of the smoothest screens you can buy, with a 144Hz refresh rate. The screens are also HDR10+ and Dolby Vision ready, and they also display with 2880Hz PWM dimming, which could help with eye comfort.
The Xiaomi 13T and 13T Pro also have large 5000mAh batteries and dual speakers with Dolby Atmos support. You're also getting IP68 dust and water resistance, whichever you pick up, making them two of the lowest-cost phones with this level of shielding.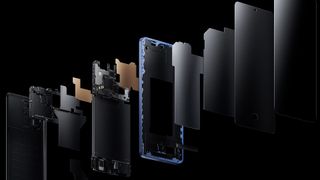 Now, onto the differences: the first are the MediaTek internals and storage/RAM options. The flagship 13T Pro is powered by the latest Dimensity 9200+ chipset and pairs that with up to 1TB storage and 16GB RAM. By contrast, the more affordable 13T runs with MediaTek's humbler Dimensity 8200-Ultra chip, and it caps out at 256GB storage and 12GB RAM.
Costing £549 (roughly $670) and packing a generous 256GB storage, the cheaper of the new phones – the Xiaomi 13T – could fast become the best sub-£550 camera phone on the scene. As for the 13T Pro, it starts at £649 (around $790).
After a few days with Xiaomi's new phones, we've reached some early conclusions: you can definitely get better-looking, more premium-feeling phones for the price – the plastic frame is a tell-tale the 13T isn't a flagship – but it seems to be best-in-class in other key areas. Specifically camera and screen features and specs.
We've got both phones in for a combined review, so check back for camera samples and a full breakdown of performance to see if our first impression stacks up after a week of using these entry-level Leica co-branded camera phones.
Check out our top picks for best camera phone for alternatives to the Xiaomi 13T and 13T Pro.