Leica is teasing that a new camera will be launched next week, but it won't be any old camera – it's being called "uma lenda reinventada" or "a reinvented legend".
Okay, it won't be any old camera – though 'reinvented legend' does suggest that it will be an old camera of some sort, being given new life. The company did, after all, recently resurrect the Leica M6 film camera, so we could be seeing another beloved old body brought back to the market.
• The best Leica cameras span everything from compacts to medium format monsters
The information comes courtesy of an email blast from Leica (as shared by the folks at Leica Rumors) with a save the date notice for April 15 – which, curiously, is a Saturday, not usually a day on which cameras are launched. Let alone legendary ones.
The outlet notes that the announcement date will likely vary by time zone, with April 14 being noted by its other sources – so the camera could be announced in some regions on Friday.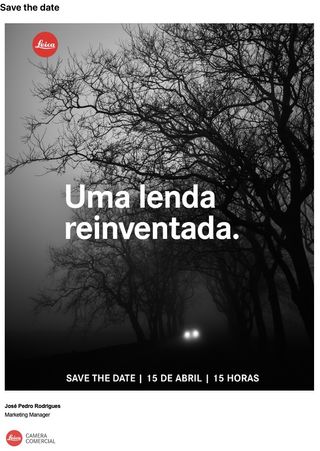 So what could we be seeing from Leica? What constitutes a legendary camera, given that the Leica badge alone makes almost every body it graces feel legendary?
There are plenty of possibilities. Our own Leica aficionado (read: addict), Sebastian Oakley, mused last month what cameras could be on the way next year, to mark the 70th birthday of the Leica M.
"What I could see happening is Leica reproducing the Leica M3. In fact, it wasn't so long ago that Leica was still making the M3 from new old parts, and also reconditioning used M3s for owners… One has even turned up on eBay that was completely rebuilt by Leica in 2013, and by the look of it Leica still has parts to keep these awesome film cameras going."
Could we see a new M3 next week? I bet I know at least one person who would be in line to buy one!
If you enjoyed this article, make sure to check out our Leica M11 review, along with the best Leica M lenses and the best Leica SL lenses.