If you have a dream to shoot some of the biggest names in history, from pop culture to celebrity, and everything else in between then you're in luck as streaming masterclass platform, BBC Maestro has partnered up with world-famous photographer Rankin to teach you how to be a master at portrait photography, and you don't need to use one of the best medium format cameras to do it!
The course consists of 35 video lessons delivered by Rankin himself and starts with learning the essentials of any camera system, the course develops looks at how composition can tell different stories with our subjects and deep dives into cameras, lenses, lighting, portraiture, working with your subject, and finally post-production.
BBC Maestro, an online course platform run by the legendary broadcaster, is now seeing a 40% off access to all the masterclasses, so if you have another hobby now is the time. Edgar Wright has a filmmaking course, for example, or (a little further from DCW's territory) Marco Pierre White teaches cooking).
Courses are reduced to just £72 /$72/ AU$107.40 for a one-year subscription to all the courses with access to over 100 hours of video lessons a year, or, if you just want to learn from Rankin, then you own this course for life a price discounted to just $53.40 /£47.40/ AU$83.40 (approx $57 / AU$90). These offers finish at midnight (GMT) on October 31.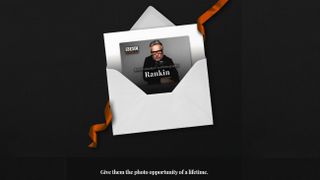 Better yet if you're struggling to think of what to give to a photographer friend or loved one in your life as a special present, you can also gift BBC Maestro courses or a whole BBC Maestro subscription making you the favorite gift giver of all!
Who is Rankin?
Rankin has photographed some of the most recognizable celebrities and public figures in history, including The Rolling Stones, David Bowie, Kate Moss, and even the late Queen Elizabeth II.
As well as his portraiture, Rankin has shot iconic music videos for the likes of Miley Cyrus and Rita Ora, created advertising campaigns for brands such as Rolls Royce and Samsonite, and published over 40 books and magazines, including Dazed & Confused, which he co-founded with Jefferson Hack in 1991.
His work has been featured not only on the glossy pages of Vogue, GQ, and Rolling Stone, but also on the walls of the world-famous Victoria and Albert Museum in London, and MoMA in New York