Since the quirky pop star Björk posed for him in 1994, Rankin has spent over 25 years shooting the biggest names in music – from 1970s icons Debbie Harry and David Bowie to modern-day artists such as Rita Ora and Akala. Nearly 200 of his classic music portraits feature in his new book Play, which combines his bold portraiture with his behind-the-scenes stories of working with music legends.
Last year was a busy one for Rankin, with a number of major projects alongside his usual workload. One of the most significant of these was his series of 12 portraits of key NHS workers, to mark the National Health Service's 72nd anniversary, made even more poignant by the COVID pandemic. He discussed this very project in his headline hour-long talk on the Super Stage at The Photography Show: Spring Shoots, which you can watch on demand right here.
On top of the NHS project came his Sky Arts TV series Rankin's 2020 and the digital exhibition Lost for Words, which featured famous people photographed alongside background images of those close to them who had died. The idea of Lost for Words was to highlight the need to discuss grief and death openly.
Despite his hectic work schedule, Rankin took time out to talk to Digital Camera about the book Play; his inspirations; his journey through documenting the biggest faces in the music business; his creative approach, his marriage of film and digital work; and some of his more bizarre encounters with music legends.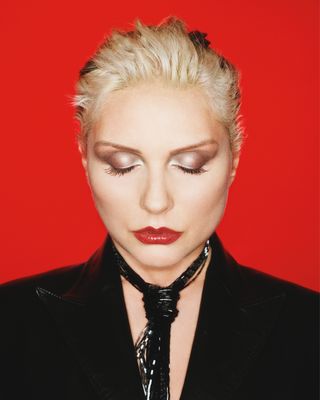 Are there any photographers you admire who shoot music photography, and how did they inspire you or your work?
A lot of the photographers I really looked up to when I was just starting out took incredible images of musicians. It was album covers that were among my first photographic inspirations. Whether it was David Bailey taking pictures of the Rolling Stones or Gered Mankowitz' images of The Jam, these photographers were taking incredible portraits, and seemed to just get to the essence of the people they photographed. I guess my love of portrait photography has some roots there.
What circumstances led to you first photographing musicians?
My first big session with a musician was with Björk. Her record company reached out to Dazed & Confused, and asked if I wanted to do a press session. It was nerve-wracking since she was already iconic by 1994, and I was right at the beginning of my career.
How does getting commissioned for portraits of musicians normally work?
This all depends on the project. I shoot musicians for press imagery, where their team will reach out and commission me, but sometimes I invite people in to be photographed for editorials for my magazine Hunger.
Tell us more about your creative thought processes for your music portraits.
I'm a big believer in letting people express themselves. Musicians, in their nature, have to be performers, and I'm here to capture that. A photo shoot where the person I'm shooting is uncomfortable or not being themselves will never work – so I talk and get to know the sitter… and we go from there.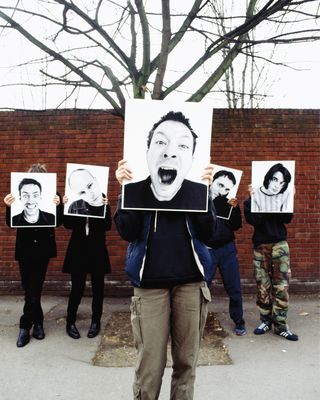 Do you have a favorite musician you've photographed?
There are quite a few people I've photographed where I would jump at the chance of photographing them again. The Rolling Stones are undoubtedly up there. And maybe Bono – he's got an incredible energy, and can really connect with a photographer.
What are the biggest challenges when you photograph famous musicians?
Photographing icons comes with its own set of challenges. If you're photographing someone iconic, like Debbie Harry, then the hardest thing isn't anything to do with them – it's all to do with you. These are people where you have seen thousands of incredible images of them, each of these iconic shots are burnt into your mind. So when I approach a shoot with them, I have to try to shut that out.
It would be so easy to be referential, but you get a better image if you connect with famous musicians and shoot them as they are, not how you imagine them to be. But, ultimately, the images you put out have to fit the story: Björk needs to look like Björk, Madonna like Madonna.
What's the most surprising thing that's happened while you were photographing a musician?
I've been mobbed when photographing a musician in public, but I guess for international stars that would be part and parcel. Maybe when David Bowie turned up to our Dazed & Confused shoot with a wolf mask, which he proceeded to wear for quite a long time – I honestly thought I was going to have one of the most iconic faces in music sit for me and no-one would know who it was!
Do you have any favorite lighting set-ups for your portraits?
I wouldn't say I have one particular style I use all the time. I like to take my cue from the person I'm photographing, and what they're saying with their musical persona. Some musicians suit lots of shadow and contrast, others something softer. The majority of my work is studio-based, so I can control all of the elements. I think I'm probably more wedded to the location of my shoots than the set-ups themselves.
Did your approach to music portraits change between working for Dazed & Confused and, later, shooting for Hunger?
My style has definitely changed over the last 30 years. I was brasher, invasive and more 'in your face' with Dazed; I think I've mellowed a bit now, though. I give the person I'm shooting more room. It feels like more of a collaboration, rather than an interrogation.
Many of the subjects in Play appear to be relaxed, yet edgy – were you going for a certain look, or has that evolved over time?
I've tried to define my look many times in the past. It's one of those things I get asked a lot. In reality, though, I don't know if I have a style per se, more of a way of connecting. I go for an emotional connection with the sitter, a bond that will come across – hopefully not just for me, but for the audience who looks at the image later.
What, if anything, do you do to relax the subjects in your portraits?
Ask any one of my team, and they'll say I like to talk. I don't go prodding, I don't tease or provoke; I will talk and joke with you. I know even superstars don't always like having their photo taken, so my aim is to make it as comfortable as possible.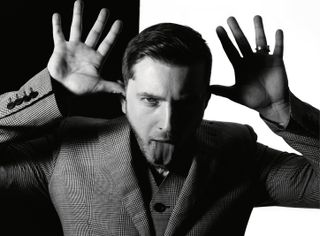 Play by Rankin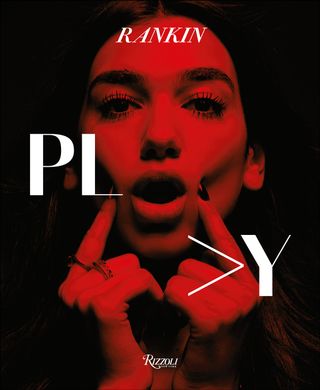 Play by Rankin
Published by Rizzoli Books
(ISBN: 978-0-8478-6881-0)
Available now
www.rizzoliusa.com
Your music portraits span more than 25 years – do you have any favorite music from this period, or do you prefer older music?
Music has always played an important part in my life. There is always music playing in my studio, and it's not all one era. I've learnt to let my team take control of the Spotify playlist, and so I get a real mix of my heroes, like The Rolling Stones, and some 1990s nostalgia, like The Stone Roses and Oasis. They also turn me on to new artists – the first time I heard Celeste's music would have been when I was on set.
Has the digital camera era changed your photography or your way of working?
I do love film: the excitement and love I have for my analogue cameras, especially the ones I was using when I started my career, is definitely there. However, the shift to digital, with the increase in the number of shots I could take and the chance to instantly review my work… it changed my way of working completely. Now I can show and talk models through what I'm thinking, and my team can see everything every step of the way. It's increased our communication, and helped bring the collaborative spirit I love into every shoot.
What was the image selection for the book?
It's always difficult to narrow down your selection. There are always more images and more people than pages in a coffee table book. Once we hit on the idea of splitting the chapters down into themes, not chronologically like other retrospectives have been, it was easier to identify the glue that was holding the images together. Sometimes the thing that takes the most time is working out the narrative, not choosing which images to use to tell it.
Going back through my archive, the funniest thing I came across was how many of these images the artists didn't like at the time. Their hair was out of place, they didn't like the shoot's concept, they didn't like me… but now, how those images seem to perfectly embody who they were; like all of the little bits that make a shoot. The hair, make-up and styling all come together to codify their career.
I'm always trying to do that with my work. I'm taking a photograph not just to capture that person at that point in time… I want to create that picture; the image that tells you everything you need to know.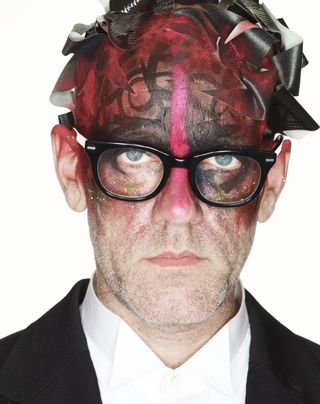 If anyone were thinking of buying Play, how would you describe it to them?
Rock 'n' roll photography publishing.
What is your current kit for shooting portraits?
Lockdown has thrown a little bit of a spanner in the works for portrait shoots right now. The key thing for me, though… a face mask!
What advice would you give to young aspiring photographers for shooting portraits?
Find your own way to connect with the sitter and be empathetic. It can be daunting in front of a photographer's lens, so find a way to make them relax and trust you. Remember, you're building the image together.
What's up next for you?
I'm busy as always! But I've got some great projects with flowers, something I began experimenting with during the first lockdown. I'll be releasing more of these over the next couple of months. They're something a little personal and outside the box for me, so that's exciting.
Read more:
The 50 best photographers ever
Best books on photography
The Photography Show Spring Shoots