CES 2021: Kingston has announced a new modular desktop card reader dock, named the Workflow Station, and a selection of compatible card reader modules. The aim is to speed up your file transfers by enabling multiple memory cards or USB storage devices to simultaneously transfer content to a PC or Mac.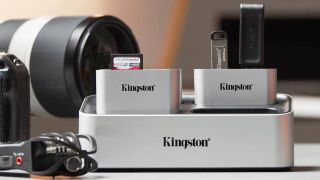 The Workflow Station connects to your computer via a 10Gbps USB 3.2 Gen 2 Type-C connection, and each card reader module slots into one of the dock's four bays, each of which contains its own USB Type-C plug. This enables you to use the reader modules as conventional standalone card readers linked via a Type-C cable, though each reader module can only transfer at 5Gbps USB 3.2 Gen 1 speed.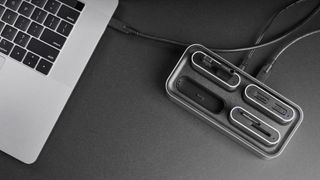 At launch three types of Workflow modules are available: an SD reader containing two UHS-II SD card slots, a microSD reader - also with dual slots - and a USB miniHub featuring one USB-A and one USB-C port - useful for adding to the USB ports on a laptop.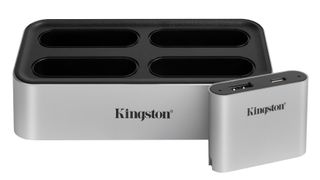 The Workflow Station dock measures 160.27 x 70.27 x 55.77mm, so is best suited to desktop use rather than life on the go. But at 63 x 17 x 50mm, each reader module is much more portable.
It should be noted that this modular/dock concept isn't new - Lexar's Professional Workflow card reader ecosystem was a very similar setup launched back in 2013. However, Lexar released many more types of reader modules in addition to SD and microSD, expanding its appeal to professional photographers. We can only hope Kingston releases CFexpress/XQD, CompactFlash or even CFast 2.0 modules in due course to extend the Workflow Station's versatility.
The Workflow Station is available to pre-order now from B&H, priced at $190.
The Kingston Workflow SD Reader and Kingston Workflow microSD Reader, each priced at $51 at B&H.
Read more:
The best memory card for your camera
SanDisk Extreme Pro CFexpress Type B Card and CFexpress Card Reader review