Photographers know, better than most people, that beauty is in the eye of the beholder. And that's not just true of the pictures we take – what might be an opus for one photographer might be considered hopeless for another photographer – it's also true of the kit we take them with.
There are plenty of examples of camera equipment that are genuinely beautiful to photographers, but to anyone not obsessed with cameras they just look like another grey box or cylindrical lens. Most photographers would agree that the Leica M-10R and Olympus PEN-F are both glorious to look at, but their beauty is usually lost on non-cameraphiles.
Well, regardless of whether you're afflicted with Gear Acquisition Syndrome or you couldn't care less about camera design, we're confident that you will agree with us when we say that this is the most beautiful camera lens we've ever seen.
Meet the MS Optics Apoqualia-II 28mm f/2, the latest magnificent piece of equipment from Japan's Sadayasu Miyazaki ("MS Optics" stands for "Miyazaki Sadayasu", the traditional name ordering in Japanese culture).
Like previous MS Optics glass, the Apoqualia-II 28mm f/2 is designed, manufactured and hand-assembled by Mr Miyazaki. This lust-worthy lens features a traditional Urushi Wajima lacquer finish (a 10,000-year-old Japanese art using sap from Urushi trees), on top of its anodized aluminum construction. It had already been available in black and gold lacquer, but now comes in this stunning red variant.
This rangefinder lens is designed for the Leica M mount, and its optical Gauss formula is as considered and minimal as its extraordinary exterior, featuring five elements in four groups, with all glass surfaces featuring multicoating for maximum light transmission.
Its sleek, svelte design weighs a mere 70g, measures 50mm in diameter and just 9.8mm in length, featuring a 28mm P.75 filter thread. It possesses 6 aperture stops, from f/2 to f/16, and has a minimum focus distance of 0.9m.
Of course, it can be easily adapted to pretty much any mirrorless camera should you want to add this beauty to your collection – though we'd just as happily keep it on our camera shelf than actually use it. However, the real trick is actually buying one; as you can imagine, they're both very rare and very elusive.
All three lacquer finishes sell for ¥129,900 (approximately $1,242 / £968 / AU$1,716), but have sold out almost everywhere. Though if you pounce quickly, you can snag the last gold edition currently available on eBay below…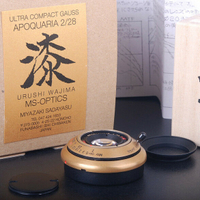 Read more:
The best Leica cameras: from classic rangefinders to modern mirrorless
Best wide-angle lens: ultrawide zooms that get everything in the picture
Leica M-10R review