Apple has officially launched its latest iPhone update with iOS 14 – and there are plenty of exciting details to sink your teeth into, including home screen widgets and crucial updates to the way we view videos. iOS 14 was announced at Apple's WWDC 2020 event, which was the first WWDC to be run digitally due to the coronavirus pandemic. However, despite the online-only setting, Apple didn't disappoint.
We've rounded up the most exciting features that can be found in iOS 14 – and when exactly you'll be able to access them.
• Read more: Best iPhone for photography
When will I get iOS 14?
There's no official confirmation about the iOS 14 release date yet, but if previous years are anything to go by then we'll be seeing the final software in September of this year. However, if you just can't wait to try out the latest updates, the public beta is set to launch in July. This will allow you to try out the iOS 14 update, but be warned – you might experience potential software problems as Apple iron out the kinks before the official release.
iOS 14: Home screen widgets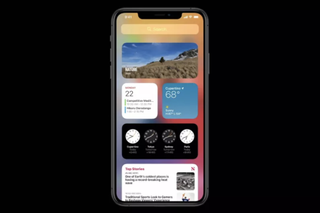 The home screen widgets are probably the biggest change that iOS 14 is bringing. They come in a variety of different sizes and can be used on both your home screens and in the Today view of your phone. Apple called these widgets 'data-rich', saying that the company has learned from the way widgets work on the Apple Watch and now want to bring that functionality across to the iPhone.
iOS 14: App Library
On a similar vein to the home screen widgets, another significant update is the App Library. This will appear at the end of your home screens and essentially files different services away without you having to manually do it. So, for example, all of your social media apps will be sorted automatically into a social media folder. We can see this being super useful – especially for those of us who have tons of apps and struggle to remember where we've placed them.
iOS 14: App Clips
Have you ever needed to use an app for one specific function, but you're loath to download it entirely? Well, now Apple has a solution for that. App Clips is a new functionality for iOS 14 that allows you to use an app without having to download all of the files that come with it. You'll be able to access these apps through a card that pops up at the bottom of your screen, allowing you to use specific features of certain apps without having to download them from the App Store.
Apple has said that App Clips could appear in a variety of ways. They could pop up after someone refers to an app within your Messages. Alternatively, Apple is also issuing NFC tags that you might see in your day-to-day life. So, for example, if you're in a coffee shop that's running a promotion for a free hot drink through its app, you can quickly tap its NFC tag and use the app without having to download it. If you're happy with the app, you can then download the full version from the App Clip without having to go to the App Store.
iOS 14: Siri
Up until now, Siri has always taken up the entirety of your screen when you activate the voice assistant. However, now Siri has been redesigned so that it'll appear as notifications at the top of the phone, just like regular notifications. There has also been a variety of less visible upgrades that Apple believes will make Siri a more useful voice assistant.
This includes a translation function that has live conversation support and the fact that Siri apparently has 20 times more facts than it did three years ago.
iOS 14: Picture-in-picture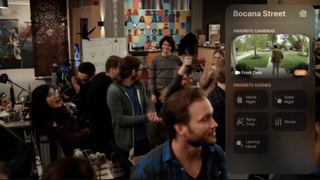 Fed up of Netfllix pausing every time you want to read a message on your phone? Us too. The new picture-in-picture functionality will allow you to keep watching video at the same time as using other apps. It should also work for FaceTime calls as well, allowing you to check something quickly on your phone without disrupting the visual connection.
iOS 14: Messages
The Messages app will be getting some interesting updates, including the ability to pin your conversations with your favorite people to the top of the app. If you tend to use group messaging a lot, you'll be pleased to hear that this function will also be getting some improvements. You'll be able to include inline replies for messages and @mentions that will allow you to notify specific people in the group chat.
iOS 14: Maps
The main update to Apple Maps is that the app will be getting Guides, which will be editorial content about a place. This means you can find out exactly what the place's main attractions are without ever having to leave the app.
The other improvements mainly regard cyclists and electric cars. Cyclists will now have the option to search for quieter roads or cycle lanes – and the app should even be able to let you know whether there's a steep incline as well. At the moment, this feature is only available for New York City, Los Angeles, San Francisco and some cities in China, but Apple has said that it will be expanded to other cities as well.
Meanwhile, if you have an electric car, then there are now specific routes to help you make your journeys. Plus, the app will even tell you where the charging stations are as well.
Read more
Best lenses for iPhone and Android phones in 2020: add on phone lenses
Best budget camera phone: these are the best cheap camera phones right now
Best iPhone for photography in 2020: from the iPhone 7 Plus to 11 Pro