I've spent years writing about camera metering systems, their pros and cons, how they work and which one to use. There's a lot to talk about. There's multi-segment metering, center-weighted metering, averaged metering, and even Canon's Partial Metering.
But then I stood back and realized I don't use any of these myself. Instead, I rely on my camera's digital display, the histogram and some rather obvious common sense.
If I'm shooting a landscape and the sky is so bright it looks washed out on the LCD and/or the histogram is clipped, then that's a clue I need to apply a dash of EV compensation to bring it back within range. If I'm shooting a white cat in a snowstorm or a black cat in a coal cellar, it's pretty clear I'm going to have to add some EV compensation to get the tones stacked up towards the highlight end of the scale or the shadow end, just to get them to reproduce as actual white or actual black, not some mid-gray tone.
In short, it doesn't much matter what the camera's meter tells me – it's what I see on the back of the camera or in the EVF that matters.
So metering patterns don't matter any more?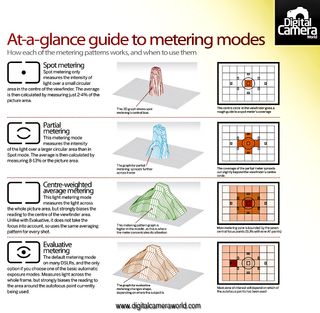 Well they do, but mainly as a good first guess at the correct exposure. Modern multi-pattern metering will generally set the exposure pretty reliably for capturing the widest tonal range and a pleasing-looking image. Center-weighted and averaged metering can be good too if you'd rather sacrifice shadow detail to maintain detail in the highlights.
Spot metering… well, spot metering needs a little care because if you meter from the wrong area, or an object with an intrinsic light or dark tone of its own, it can lead you up the garden path.
But with all of them, it's your camera's display and histogram which will actually tell you what you need to know, and whether you need to apply any correction.
The point is that these different metering patterns were born in the analog era, when there was no way to check your exposure was correct once you'd taken the picture (or while taking it). Choosing the right metering mode was important in arriving at a best-guess exposure. If we didn't have LCDs, histograms and instant playback, it still would be.
But we do have these things. And to my great regret (because I'm a bit of a metering nerd), I have to admit that these days I simply use my camera's default metering to get the exposure in the right ballpark and then dial in a little EV compensation if I think the image needs it.
Spot metering can still be useful for things like stage shows, silhouettes or backlit effects but, even here, it's often just as quick to dial in EV compensation to get the right result than it is to switch metering patterns and try to peg the exposure to different areas.
There are lots of scenarios when arriving at the correct exposure for a subject or scene and sticking to it is a good plan, and that's what Manual mode is for. But for arriving at the correct exposure in the first place, I'm going to use the LCD. It tells me what the camera is going to do and makes it easy to see what correction to apply.
This array of different multi-segment, center-weighted, averaged and spot metering patterns are an old and complex solution to a problem I don't think we have any more.