The Amazon Prime Big Deal Days just keep on spitting out great camera deals, and some of the best ones aren't even at Amazon!
This Delkin Black 150GB CFexpress card and reader are £89 off at Wex right now – and I bought this very bundle myself, because for my money (quite literally) they're the best CFexpress bundle on the market. In fact, Nikon recommends using Delkin Black cards for the Z8 and Z9. So if they're good enough for me and Nikon, you should definitely grab them if your camera uses CFexpress!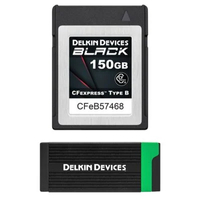 Delkin Black 150GB CFexpress card + reader | £288| £199
SAVE £89 This is the card and reader I personally use! The 150GB card is big enough to store big bursts of stills and fast enough for chunky 8K video, and the super-quick reader also accepts UHS-II SD cards. A killer combo!
The Delkin Black 150GB CFexpress card is the one I use when I'm shooting on my Canon EOS R5, and whenever I use a Nikon Z8 or Z9 for a job. In fact, Nikon specifically told me that to achieve peak shooting speeds and performance the Z9 should be used with this card. It's fast, robust, and reliable – it's my go-to CFexpress card!
Equally brilliant is the Delkin CFexpress reader, which is the best memory card reader in my opinion. Not only does it read both CFexpress and UHS-II SD cards, it is brilliantly designed – unlike some of the weird soft-curved shaps of other readers, this rectangular block sits neatly next to my devices, fits neatly into my camera bag, and the clamshell closure over the CFexpress card is a great finishing touch.
Do yourself a favor and pick up this combo – you won't regret it!
Take a look at the best CFexpress cards, and the best memory cards across all formats. And here's a quick explainer about what all the memory card symbols mean!