A pair of pistol cameras are going up for sale at the Wetzlar Camera Auctions in October, offering collectors an opportunity to purchase two of the more colorful cameras ever produced.
The Doryu 2-16 Pistol Camera carries an estimate of €12,000 ($14,226 / £10,657 / AU$19,397), while the Mamiya Pistol Camera is expected to fetch up to €11,000 ($13,040 / £9,769 / AU$17,781).
Pistol cameras are perhaps the most exotic example of photographic esoterica. Similar to cameras produced in the style of rifles – such as the Leica Gun Rifle, which sold for $293,000 last year – these unique bodies squeeze film cameras into the form factor of a sidearm, often requiring specialist film stock.
• Read more: Best film cameras
Pistol-shaped cameras are believed to have been developed at the behest of Japanese police forces in the late Forties. They were intended both to record criminal activity, and to document crimes and riots without putting officers in danger (by looking through viewfinders and being unable to see attackers).
While the first examples are the Gemmy and the Seiki 16, which emerged by 1950, the Doryu 2-16 and Mamiya Pistol Camera actually competed for widespread adoption by police forces in the mid-Fifties. Here's a closer look…
Doryu 2-16 Pistol Camera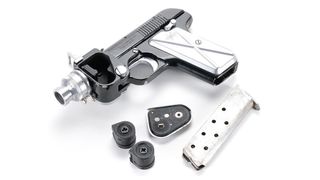 Produced by Japan's Doryu Camera Company in 1956, intended for police and surveillance use, the Doryu 2-16 is a 16mm film camera with a fixed DOL 20 mm f/3.5 lens, which also possesses facility for magnesium flash pellets.
It was designed as a replacement for the original model, the Doryu 1, which was produced in 1952 and accepted 9.5mm film – the absence of which prompted the development of its successor.
However, it was beaten to market by the Mamiya Pistol Camera in 1954 and the police forces selected the competing model instead. This led to the Doryu 2-16 being made available to the civilian market.
Mamiya Pistol Camera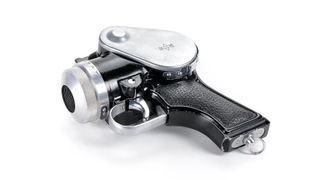 According to Camerapedia, as few as 250 Mamiya Camera Pistols were produced. Part of the inventory of the police headquarters in all 47 Japanese prefectures, these 35mm half-frame film cameras were never available
Its official, original name is actually Fast-Action Camera; Mamiya Pistol Camera was apparently adopted later. It features a 50mm 5.6 lens, with fixed focus that sees subject sharpness between 3-20 meters at its minimum aperture.
Its diaphragm possesses only two blades, resulting in a square hole, with aperture and shutter settings controlled by a single ring. Its six shooting 'modes' (from 1/50 sec and f/5.6 at position 1, to 1/150 sec and f/16 at position 6) is an early form of programmed exposure.
Both bodies will be open for bidding on 10 October as part of the next Wetzlar Camera Auctions – check out the individual listings for the Doryu 2-16 and Mamiya Camera Pistol.
Read more:
The best film cameras: recapture the magic of film photography
Best film: our picks of the best 35mm film, roll film, and sheet film for your camera
The best Leica cameras: from classic rangefinders to modern mirrorless