Ever since the launch of the original Google Pixel back in 2016, Pixel phones have been some of the best camera phones on the market, producing image quality to rival any competitor. Now the 8th Generation Pixel and Pixel Pro phones are due to be revealed on October 4th and are expected feature the most advanced camera hardware and image processing of any Pixel phone.
Little is officially known about the phones, other than the basic teaser info currently on the Pixel 8's holding pages. However, Google really should hire a better plumber, as Pixel 8 leaks have been almost constant for the last few weeks, with many seeming very credible.
Here's everything we know (or has been rumored) so far about the Google Pixel 8 and Pixel 8 Pro:
Google Pixel 8 Pro camera specs
Main Camera: 50MP. Some rumors speculate this could be a Samsung GN2 chip with an f/1.68 aperture
Ultrawide Camera: 48MP
Telephoto Camera: 48MP. Potentially a Samsung GM5 sensor with an f/2.8 aperture, 5x optical zoom and Super Res Zoom up to 30x
Front Camera: 10.5MP. Rumored to have dual phase detect AF, f/2.2 aperture and a 95-degree field of view
According to a leaked report from Android Authority, the Pixel 8 and Pixel 8 Pro may be using Samsung's ISOCELL GN2 sensor. Though still 50 megapixels like the Pixel 7, the 1/1.12" GN2 sensor is physically larger than the Samsung GN1 sensor used in the Pixel 7 Pro, resulting in a 1.4μm pixel size - that's up from the ISOCELL GN1's 1.2μm. The end result is the GN2 should capture up to 35% more light, theoretically meaning better low light image quality.
The new sensor can also record 8K video, and the GN2 reportedly supports Staggered HDR, whereby the delay between successive shots taken in an HDR sequence is reduced, resulting in faster, more reliable HDR image capture.
Google Pixel 8 Pro camera specs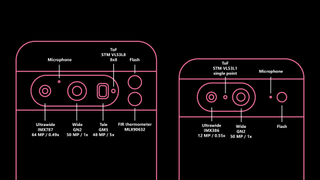 Main Camera: 50MP. Some rumors speculate this could be paired with an f/1.68 lens. Super Res Zoom up to 8x
Ultrawide Camera: 12MP Sony IMX386, f/2.2 aperture
Front Camera: 10.5MP. Rumored to have dual phase detect AF, f/2.2 aperture and a 95-degree field of view
Camera modes
A detailed video showing what the new phones will have to offer in terms of their camera processing has been leaked by tipster Kamila Wojciechowska. It reveals camera features like:
A new Pro Mode, exclusive to the Pixel 8 Pro. This will give users added control over more advanced camera settings like shutter speed and ISO, enabling greater photographic freedom.
Night sight is back, so expect uncannily detailed low light images, even in almost complete darkness.
Astrophotography mode makes a return, too.
Super res zoom, enabling 8x zoom with the Pixel 8, and 30x zoom for the '8 Pro.
Real Tone, for improved color accuracy, for lifelike, realistic skin tones.
Magic Editor: this looks like a clever feature, enabling you to switch faces in a photo with minimal effort. According to leaked Google Pixel 8 marketing, in the future it will also be able to "add custom edits and studio-quality enhancements, improve lighting and background, move a subject, and more".
Best Take: combines similar photos of a group of people into one shot where everyone looks at their best.
Video
The switch to Google's new Tensor G3 SoC means the Pixel 8 should be capable of 8K30 video recording, at least in terms of its raw processing ability. Whether or not Google will be able to deal with the thermals side of this is another matter. We do know that the Pixel 8 will feature:
Video Boost: "automatically adjusts color, lighting, stabilization and graininess to make every moment more cinematic"
Audio Magic Eraser: uses Google AI to reduce background noise
Real Tone: now in video, to represent skin tone nuances more accurately
Night Sight: for enhanced low light video quality
Another leak by tipster Kamila Wojciechowska has revealed the upcoming Google store pages for the Pixel 8 and Pixel 8 Pro. They confirm specs like the 50MP main camera, 48MP ultrawide camera, 48MP telephoto camera and 10.5MP selfie camera.
The Pixel 8 Pro's 'Super Actua' display measures 6.7 inches and will have a 1-120Hz variable refresh rate for increased responsiveness. The Pixel 8's refresh rate will range between 60-120Hz. Slim screen bezels, equal in thickness on all four sides, should make for a high screen-to-body ratio. It's also been rumored that Pixel 8 and Pixel 8 Pro's display brightness will be boosted to 1,400 and 1,600 nits, respectively.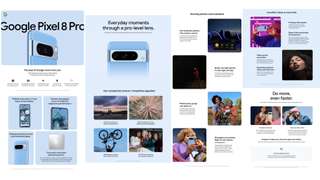 Tensor G3
Power will come from Google's own Tensor G3 System on Chip. Again, Kamila Wojciechowska has leaked the tech specs of this from a source within Google. You can get the full details here, but in summary the new chip is said to be a much more modern than the G2, with core count reaching 9 (up from 8 in the G2), and the speed of each core also being boosted. This should mean the G3 chip is capable of 8K30 video recording, or 4K at 120fps, either in H.264 or HEVC encoding.
Swipe to scroll horizontally
Google Tensor generations comparison

| Header Cell - Column 0 | Tensor G3 | Tensor G2 | Tensor |
| --- | --- | --- | --- |
| Big cores | 1x Cortex-X3 @ 3.0GHz | 2x Cortex-X1 @ 2.85GHz | 2x Cortex-X1 @ 2.8GHz |
| Mid cores | 4x Cortex-A715 @ 2.45GHz | 2x Cortex-A78 @ 2.3GHz | 2x Cortex-A76 @ 2.25GHz |
| Little cores | 4x Cortex-A510 @ 2.15GHz | 4x Cortex-A55 @ 1.8GHz | 4x Cortex-A55 @ 1.8GHz |
Body color options
Pixel 8 Pro: Obsidian (black), Sky Blue, Porcelain
Pixel 8: Gray, Peony Rose, Obsidian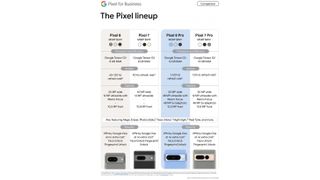 Pricing and availability
The Pixel 8 and Pixel 8 Pro will launch on October 4th. Pricing is as yet unconfirmed, but thanks to more leaks, it seems the Pixel 8 will start at $699 (up from the Pixel 7's $599 MSRP), however the Pixel 8 Pro will remain at $899.
The Pixel 8 will be bundled with the Pixel Buds Pro while the 8 Pro will come with the upcoming Pixel Watch 2.
Though we can be fairly confident in many Pixel 8 rumors and leaks, it's still worth taking much of the above with a pinch of salt. At least we don't have long to wait until the official October 4 launch announcement, which will take place at 3pm EDT / 12 Pacific / 8pm BST (5am October 5, in Sydney).
Read more:
The best Google Pixel phone
The best camera phones
The best budget camera phones