Picking up the new iPhone 15 at my local Apple Store had a lot more in common with going to the doctor than the frenzied excitement of a major tech launch, which I still crave.
It probably doesn't help that the Apple Store has a distinctly sterile feel about it and, like many hospitals on a busy day, to cope with extra demand some impromptu queuing had been added with pull-out barriers.
• Check our guide to the best iPhone 15 Pro Max cases
The real shame, though, was the order pickup slot system that has been implemented for some years now. I'm old enough to remember queuing up for the first iPhone. That felt exciting and somehow important. If memory serves, we all knew we'd get one. We'd ordered ahead. But Apple nevertheless contrived to have us all wait outside the store at the same time.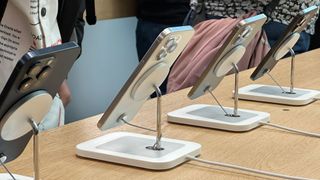 This was also in the wake of Steve Jobs' iPhone presentation, which made global news, rather than the announcement of a well-received but distinctly incremental device using a pre-recorded video.
Oddly, despite the fifteen-minute arrival slots (just like the doctor), there were still a few slightly confused-looking Apple team members and security staff guiding three or four people in a check-in style queue.
Admittedly, perhaps I missed the fun as Apple's computer gave me a lunchtime appointment – shamefully I just walked into the store to a desk with 'Pickup' and was served in a couple of minutes.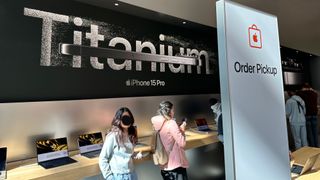 After my QR code in an email was scanned, I waited a couple of minutes for a bag to be brought out with my handset. The customer before me was so unexcited by the whole thing she that was picking up an iPad, though to be fair the store was a little busier than the average Friday.
The device was handed over without any effort or ceremony on the part of the server. In the past they have attempted to inject a little feeling that you're making a momentous purchase, but perhaps we all know that's a bit silly now?
I was a little surprised that no one even directed me to the cases section, and I had to wander there on my own in search of protection. There, however, I saw that – while costly – Apple's post-leather option, "FineWoven" might not have the ideal longevity (on their first half-day in the store, they were already scratched all over). I left without one.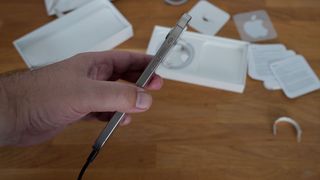 When it comes to the subject itself, the iPhone 15 Pro Max I was collecting, the medical comparisons don't end. For one thing, the titanium does look quite surgical. Also, my doctor always encourages a bit of weight loss – and you can really feel that has happened to the iPhone 15 Pro Max when you pick it up.
As it happens, despite the slight reduction of excitement that has happened over the years, I've matured a little, too. When I picked up that first phone, despite my excitement, I was also young enough to leave it in the box and head out for a night on the town. This time, within two hours it was charging from a USB-C cable (and not the one in the box)!
I want to go test that camera right away – and I know that the team here is doing that, too.
We're already reviewing the iPhone 15's cameras but now is also a good time to check out the best iPhone 15 Pro Max cases and, if you're getting the Pro iPhone, the best portable SSD for copying files to or recording video live.