Film photography enthusiasts rejoice! Ricoh has set a date of Spring 2024 for its new Pentax film cameras.
In December 2022, Ricoh announced plans to create a new series of Pentax film cameras. Now, more details have now emerged regarding camera types and release dates. During an interview on the Faut Pas Pousser Les ISO podcast, Yazid Belmadi of Ricoh Imaging Europe announced that the film camera project will start by releasing two small compact cameras in Spring 2024.
• No need to wait – these are the best film cameras available right now
Belmadi added that they will be technically high-end without the high-end price tag, but for now the more detailed specifications have been left to our imagination.
Compact cameras have been growing in popularity as a budget-friendly way into film photography, especially with the rising price of film. The small form and reduced film size make them approachable for beginner film photographers.
The compact cameras are, however, just the first step in the new Pentax film project, with two SLRs set to follow. "[SLRs are] the cornerstone of this type of camera," said Belmadi when asked about the SLRs, but at present there is no confirmed release date for them.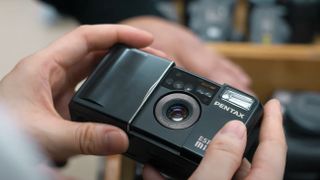 The Ricoh-owned Pentax understands that it has a strategy for creating "very, very, very niche products," and this time is no different. Instead of following the latest trends in the camera market, Pentax has created this film camera lineup in direct response to surveys of Japanese consumers.
"The project to release film cameras is the fruit of extensive consultation with a number of players in the photo industry, particularly Japanese consumers, since experience has shown us that it works quite well when you make products in response to consumer demand, as they are those primarily concerned."
Creating products in direct response to what consumers want is a great idea, and an approach with which Ricoh continues to find success. By appealing to the desires of the consumer, the new film cameras are already in demand.
Pentax rarely misses the mark when creating its signature niche products, and I am sure this is to follow suit. Despite costs, film photography is having another resurgence – and Ricoh is set to fulfill the demand for new film cameras, with what I am sure will be modern elements. Roll on 2024!
Check out the best Pentax cameras along with the best Pentax lenses right now. Will the new film compacts be able to challenge the best compact cameras in the digital age?